Our open, friendly campus is characterized by green lawns and a blend of modern and traditional architecture (historical tour). The 330-hectare (817-acre) site features Victorian turrets, modern concrete, glass and steel, hand-hewn century limestone, brick walkways, landscaped plazas, and a 165-hectare Arboretum.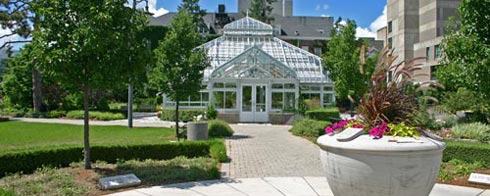 With over 5,000 students in our single and family residences, Guelph has one of the largest and well-established university housing systems in Canada. We offer a variety of Residence Learning Communities, including Academic Clusters and Living-Learning Centres, bringing together students with common interests.
Hospitality's on-campus eateries reflect the types of restaurants and food courts that are most popular with today's students. From casual coffee houses to the renowned Creelman Marketplace, Guelph offers 16 different dining venues to suit any schedule or taste.