Information Technology (IT) in the Experiential Learning Hub
The Experiential Learning Hub (EL Hub) connects students with experiential learning opportunities on and off campus to facilitate continued growth and development. Through programs like co-op, career education and community-engaged learning, the EL Hub aims to enrich the experience for U of G students beyond the core academic curriculum. Their work aligns with the Student Affairs mission to develop the person, the scholar and the citizen.
The IT team in the Experiential Learning Hub consists of a small but mighty team of two individuals: Christy Niven, Manager of Employment Services and Systems, and Lindsay Shirley, Analyst II, Business Systems. Together, Christy and Lindsay support all operations for the EL Hub's main system, Experience Guelph, which is U of G's implementation of Outcome by Orbis Communications. Experience Guelph is an experiential learning platform that hosts a diverse range of experiential learning and career opportunities for students.
As a leader in experiential learning, U of G was one of the first universities to partner with Orbis on the launch of modules that track and promote experiential opportunities, which were embedded in our existing platform, Experience Guelph. Since then, Experience Guelph has become the resource hub for all experiential learning opportunities and professional development services for U of G students. Christy and Lindsay continue to work closely with Orbis to help foster innovation in the higher education sector.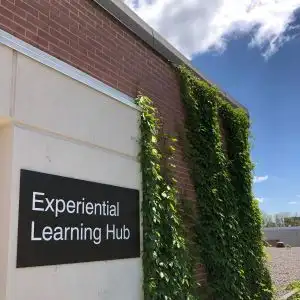 Recent Success Stories from the EL Hub

The Experiential Catalogue
The Experiential Catalogue is a one-stop shop where students can search for all on- and off-campus EL opportunities with the ability to filter by experience type, competency or college. The catalogue was a two-year-long development and a collaborative effort between the EL Hub and the Experiential Learning Advisory Committee. The latter has representation from U of G colleges, administrative areas and student groups, ensuring that a diverse range of experiential opportunities are included. The U of G Experiential Catalogue was launched in 2021 and has been featured globally by Orbis' parent company, Simplicity, as a great example of successfully executing this software.
Click here to view the Experiential Catalogue.
Launch of the Professional Career Development Record
In partnership with Orbis and Computing & Communication Services (CCS), the EL Hub successfully launched the Professional Career Development Record (PCDR) in fall 2021 after a three-year process. The PCDR is a tool within Experience Guelph that formally recognizes student involvement and skills developed through experiential learning opportunities over the course of their undergraduate and graduate years. It is a way of tracking co-curricular accomplishments and credits, enabling students to better identify their transferable skills and apply them to future opportunities.
"The PCDR will allow students to recognize their strengths and transferable skills, build their confidence and help them see the connection between their experiences and their future path." – Daniel Poulin, Manager, Experiential Learning Development and Recognition
The Future for the EL Hub
As a leader in this space, the U of G EL Hub continues to innovate and advance their experiential learning systems. This fall, the team will launch a communications plan to share the benefits of PCDR with students in order to encourage adoption. U of G students can also expect a growing list of EL opportunities and filtering capabilities within the Experiential Catalogue in the coming semesters. They will continue to maximize Experience Guelph's capabilities to support experiential learning on campus by partnering with academic departments that offer externships, internships and badges.
Upcoming Initiatives: Let's Talk Chatbots
The EL Hub acknowledges the need for 24/7 support for students when it comes to career help. Chatbot solutions are currently being discussed to fill the gap outside of regular office hours. Have ideas? Christy and Lindsay would love to hear from you! To connect, reach out to Christy at cniven@uoguelph.ca.