Written by:
E'layna Baker, OAC Communications Intern
Hi, there! My name is E'layna Baker and I am entering my fourth year of studies in the Bachelor of Arts program in food, agricultural and resource economics at the University of Guelph (U of G). I am an international student who grew up on the small island of New Providence, located in The Bahamas.
Having the opportunity to attend a university as welcoming, engaging and spirited as the University of Guelph has been nothing short of an amazing decision. I originally became interested in U of G because of its high-standing reputation in the field of agricultural research and innovation, as well as the familial feel of the quaint town in which it resides.
During the time I've spent here, I've been really lucky to have access to attentive faculty and be a part of an interdisciplinary curriculum. I can definitely say that the education I am receiving here, as well as the social development the campus promotes, is building a solid foundation for my successful future career in the agri-food sector.
The experiences I've had until this point, even shaped my decision to apply for the position of OAC Communications Intern. I wanted to get experience in a role that would allow me to put some of the things I've learned into practice while developing new skills. As part of my internship, I will be writing a series of articles in a blog post format. They will follow my personal journey as a University of Guelph student.
Deciding on a university can often feel intimidating and even downright daunting, so that's where we will start. When picking a school, we tend to fear the unknown and clamor over alternatives as if our lives depended on making the perfect choice. To help other students with their own decision, I'm sharing my journey that led me to the University of Guelph.
---
Finding U of G through Google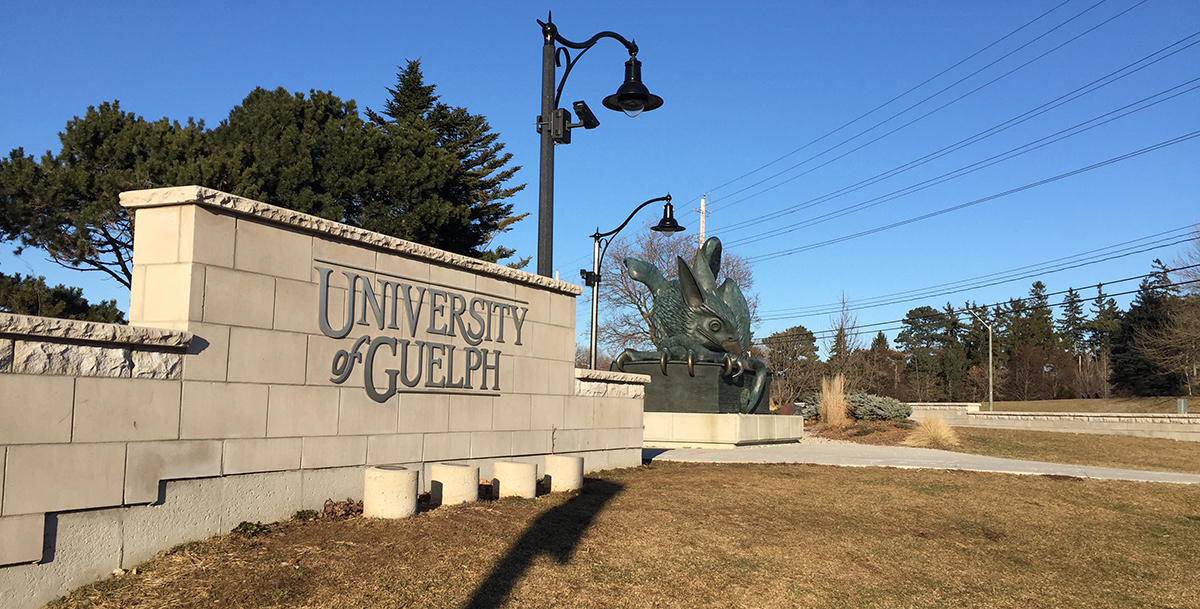 As I entered my senior year of high school, thinking of universities felt like a chore. For starters, I was anxious about a number of things – not knowing exactly want I wanted to study, not having enough money to fund a four-year degree, the unshakable uneasiness when I thought of uprooting my life to live abroad. I can vividly remember the image of my grade 11 and 12 self, furiously browsing online for a university that 'spoke to me'. And to be completely honest, I didn't know what I was looking for in a university… until I found U of G.
At the beginning of grade 12 I began to seriously think about what kind of university program I could choose that would combine my interests with the potential to fulfill a need in my home country. I eventually settled on choosing a program in the field of food and agriculture, and that decision led me to discovering U of G.
At the time I remember reading an article stating that U of G was the top university in Canada, and among the top 10 schools worldwide, to study food and agriculture. I remember feeling so intrigued by this school that I would often just browse the website in the evenings after school, watching videos and reading articles about current students, faculty and the various food programs.
Meeting a U of G Recruiter Sealed the Deal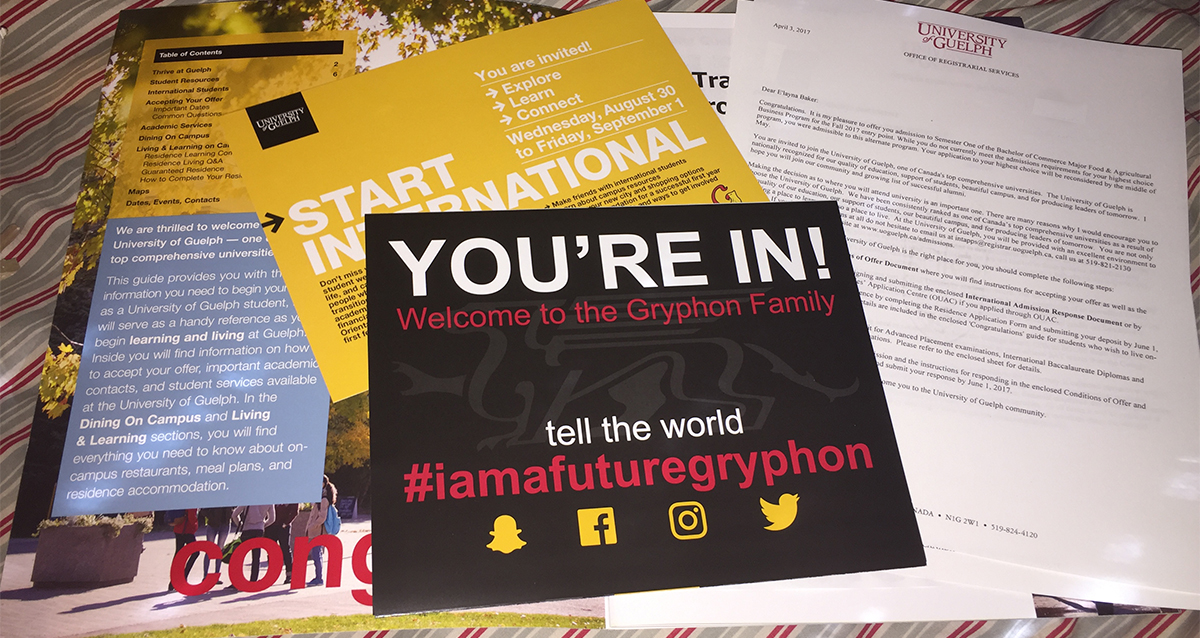 I was excited to attend a college fair located at one of the hotels on my island, after learning that a recruiter from the University of Guelph would be present. At the fair, I spoke enthusiastically with the recruiter and told her how U of G was my top choice. I remember her genuinely sharing in my excitement and reassuring me of all the reasons why I should definitely apply.
I think my positive experience with the recruiter really helped to shape my perspective of the school as a welcoming, diverse and lively environment. It was also amazing to me that the recruiter was a young, charismatic black woman. She had box braids in her hair and her voice was just so warm. I saw so much of myself in her and that energy was just what I needed to let go of much of the anxiety I had surrounding applying to Guelph. She even gave me a number that I can reach her at, so that I could stay up-to-date on the status of my application. To this day, the number is saved in my phone as "GUELPH (red heart, yellow heart)". Not long after that, I applied to the University of Guelph along with two other Canadian universities. However, my heart was so fixated on Guelph that I didn't even bother to stay up-todate with my application status at the other schools once I got a preliminary acceptance to Guelph.
Stepping onto the U of G Campus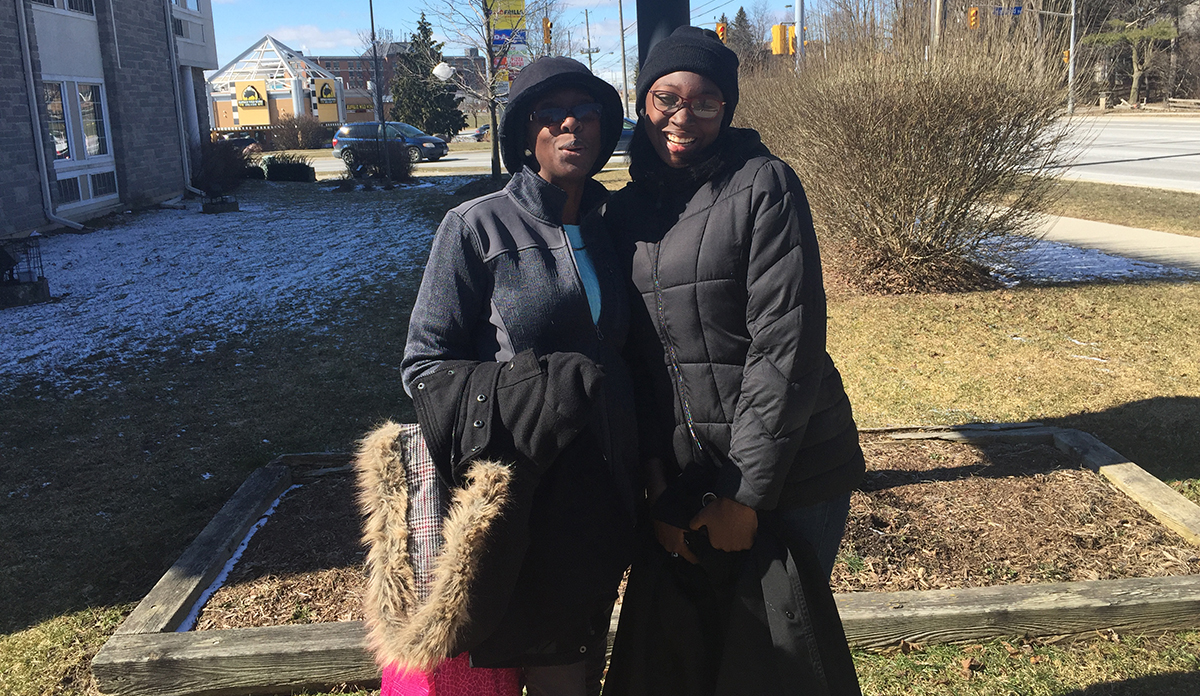 My mother was so enthralled by my excitement that she offered to pay for me to visit the city and take part in a campus tour. This trip was particularly exciting for me because it was by first time in Canada and the first time I had been in such a cold climate. We later found out that the weekend we came to Guelph was the coldest weekend that winter!
We knew nothing about the city aside from the facts I knew from the copious amounts of reading I did from Google searches like, "what is Guelph like", "things to do in Guelph", and "what do university students like about Guelph". I remember the campus being so beautiful and I loved how many of the buildings and architectural features had a rich history behind them.
The facts the tour guide shared ranged from the construction of the residence buildings to the world-famous cannon located in the heart of campus. My mother also fell in love with the city during our visit. I remember her acknowledging how peaceful and charming it was in comparison to the surroundings of the Toronto Pearson Airport, which we had just left.
Connecting with Campus Resources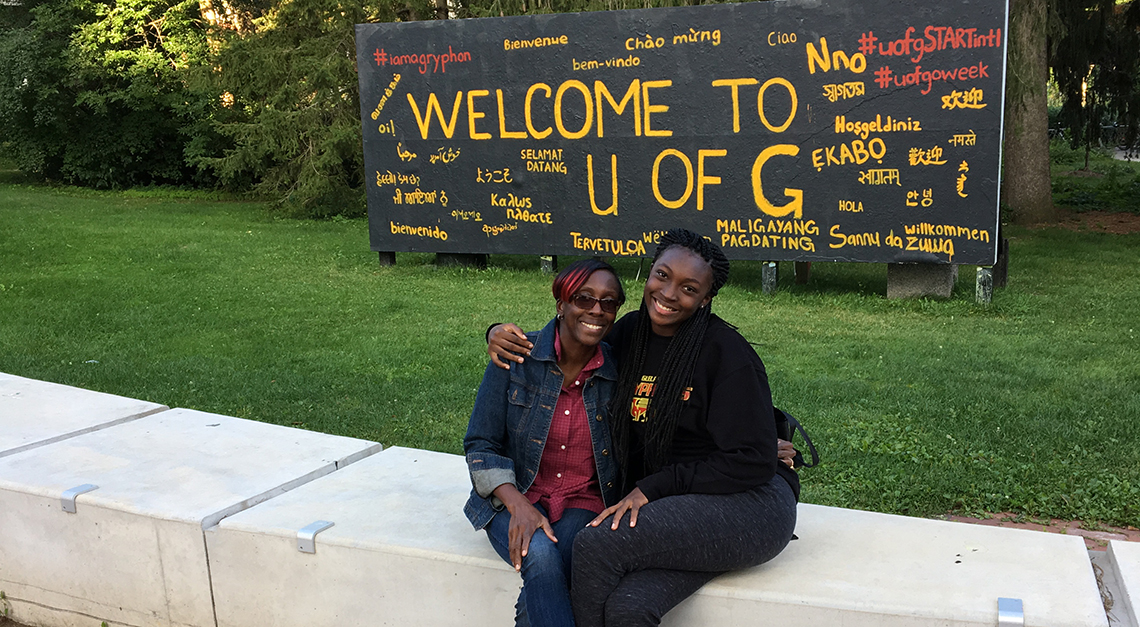 After my acceptance, a lot of the positive things I found out about U of G through the website started to manifest. I felt as if there was truly a place here for me and that the university cared about my social and emotional development in the same way that it did my academic and professional development.
For example, the overwhelming support for international students. Before my first year began, START International [1] was such an engaging experience and I will definitely talk more about this in another blog post. I even received a few calls throughout the summer from current international students who were ready to answer any questions I had about campus life. Also, the process for choosing my first classes, applying for residence and connecting with program counsellors was so easy. And if I found something difficult, assistance was always a phone call away.
Now that I am over three years into my journey at the U of G, I can genuinely say that my choice to study here was a fruitful one. The opportunities for me here are limitless because the systems in place to support students are so strong. Not to mention, the diversity in the student body welcomes any and everyone with open arms. I never imagined that a school like U of G would have such a strong Caribbean presence and I have made lifelong friends that come from similar backgrounds.
---
In this series of blog posts [2], OAC students take us through some of the ups and downs of their journeys at the University of Guelph.