Research Stations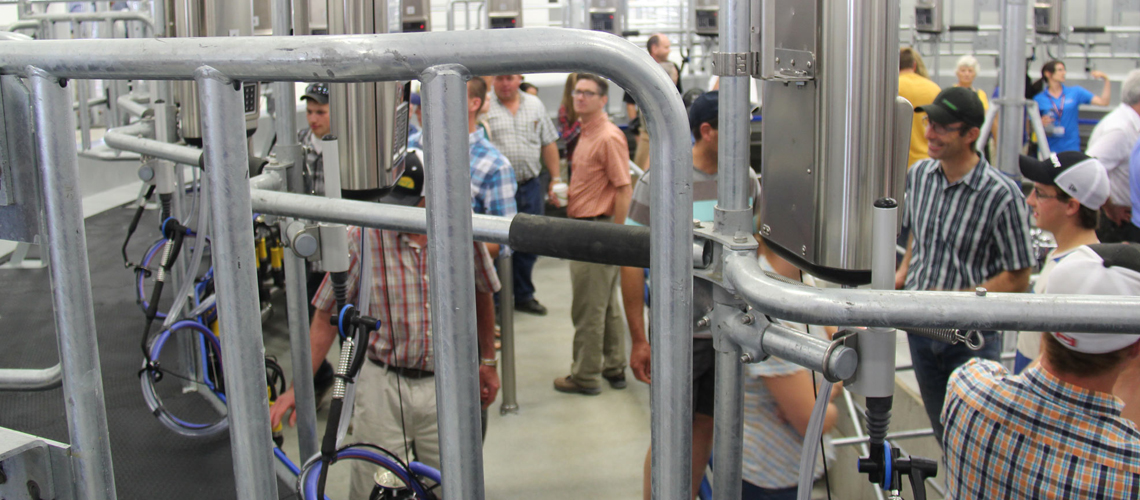 Since its inception, OAC has conducted research and field experimentation at stations across the province of Ontario. Innovative research is continuously underway in a range of areas, including agroforestry, turfgrass, aquaculture, engineering, pest management, horticulture, and animal, crop and veterinary science. Research station personnel provide extension roles and teaching demonstrations, and conduct research on new practices for recipient farms. Research opportunities provide post-graduate students with hands-on experience, as they complete their PhD and M.Sc. studies.
This station provides facilities for large-scale aquaculture research and quarantine of fish species new to Ontario. Here, OAC researchers collaborate with members of the private sector and other universities on commercial fish farming research in areas such as: engineering, nutrition and feed formulation, genetics and breeding, waste management, semen cryopreservation, health and animal welfare.
The Arkell Station features three research units dedicated to the study of Equine, Poultry and Swine. The Equine unit focuses on studies related to health and reproduction. The Poultry unit is equipped with a federally inspected hatchery, layer barn, broiler/brooder barn, turkey barn, special projects building and processing plant. The Swine unit is the focus of an active research environment that includes genetics, nutrition, reproduction, behaviour and housing.
The Plant and Environment units at Elora and Woodstock contain research plots for studies on field crops grown in Ontario. Research focus areas include plant breeding and biotechnology, plant physiology and agronomy, and weed control and land management. Major crops under study at the Elora station include cereals (corn, wheat and barley) oilseeds (soybeans and canola), edible beans (white and coloured), and forages such as alfalfa. The Woodstock station places major emphasis on plant breeding in corn, soybeans, white beans and cereal crops.
The Guelph Turfgrass Institute was established in 1987 to conduct research and extension and provide information on turfgrass production and management to members of the Ontario turfgrass industry. Supported by the University of Guelph, the Ontario Ministry of Agriculture and Food and the turfgrass industry, it is the first of its kind in Canada and recognized as a world-class centre for research, extension and professional development for the study of turf. Research activities continue to focus in areas such as environmental aspects of pesticide use, evaluation of grass species, varieties and seeding methods, sports field construction, fertility and management programs, pesticide use and the biological and cultural control of diseases and weeds.
The Elora Research Station – Dairy Facility, is a joint project between the Agricultural Research Institute of Ontario (ARIO), the University of Guelph, and the Ontario dairy industry. Its unique design provides the flexibility for meeting multi-discipline needs through the collection of data and samples. This innovative facility will benefit research, education, training needs, and the priorities of the Ontario and Canadian dairy sectors ensuring a strong and vibrant future for this important agri-food industry.
The Muck Crops Research Station is located in the Bradford/ Holland Marsh region, the largest area of organic (muck) soil developed for agriculture in the province and one of the most intensive areas of agricultural production in the country. The facilities at this station include a plant pathology lab, greenhouses with ebb and flow benches and computer monitored environment, cold storage facilities to provide the specific requirements for long-term storage of onions and carrots and several sites for field research. There are 4 ha of organic soil research plots on site, a further hectare of organic soil, rented from a local grower and located in another area of the Marsh, and recently, 2 ha of mineral soil nearby for field trials.
New Liskeard Agricultural Research Station
The New Liskeard Agricultural Research Station (NLARS) operates three stations in northern Ontario. The Agronomy Unit focuses on cultivar evaluation, crop nutrition and new species evaluation for adapted crop species including spring wheat, barley and oats, canola, and perennial forages such as alfalfa, clovers and grasses.
The Horticultural Unit is dedicated to berry crop and vegetable cultivar evaluation, while the Beef Unit conducts studies related to production systems, fall grazing, controlled breeding and pasture management.
Ponsonby Research Station
The Ponsonby Dairy Centre, located approximately 8 kms south of Elora, conducts research in genetics, nutrition, physiology, health, welfare, management, and the environment. The dairy unit is also used for teaching purposes, primarily for University of Guelph laboratory sessions and veterinary students on large animal rotations.
The General Animal Facility at Ponsonby houses a variety of production species including swine, cattle including calves, young stock, beef cow-calf and feedlot cattle and non-lactating dairy cattle, as well as sheep and goats. Its purpose is to allow researchers to bring in animals either from other research stations or from other outside sources, for temporary housing for specific research projects.
Research is conducted on campus, and at three outlying research farms: Cedar Springs, Huron, Brussels and at 50 producer sites spread across southwestern Ontario. Research projects focus on the areas of crop production, pest management, livestock production, business and economics.
The Simcoe Research Station of the University of Guelph, Department of Plant Agriculture has 86.8 hectares of land on the edge of the highly productive Norfolk sand plain in the central Erie region. Its mission is to help strengthen the fruit and vegetable industries in the potentially highly productive zone along the north shore of Lake Erie.
Simcoe operates research programs covering vegetables, fruits, and various alternative crops for the sandy tobacco soils of the area. The ratio of research input is about 70% vegetables and 30% fruit, which reflects the approximate distribution of horticultural production in the Lake Erie counties.