Ontario Beef Research Centre – Elora

The Ontario Beef Research Centre – Elora is a unique, state-of-the-art, 233,000-square foot research centre that is a world-class platform for discovery, learning and outreach. It is the result of a vibrant collaboration among the Agricultural Research Institute of Ontario, the Ontario Ministry of Agriculture, Food and Rural Affairs (OMAFRA), the University of Guelph and the Ontario beef industry. It enables research that drives innovation and supports the sustainability and prosperity of the beef sector in Ontario and Canada.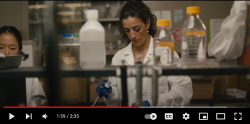 See how the Ontario Beef Research Centre – Elora facilitates research and collaboration.
The Elora site of the Ontario Beef Research Centre features:
Two cow-calf barns, accommodating 288 mature cows and 120 replacement heifers, and including:

48 group-housing pens for cow-calf pairs
20 maternity and special needs pens
20 group-housing pens for replacement heifers

One feedlot barn with 24 pens, accommodating 288 animals
Four animal care and handling facilities with five top-of-the-line hydraulic chutes
280 digital feed intake monitoring systems and 16 creep feeders for calves
121 hectares of managed pasture for rotational grazing
Four laboratory spaces, including a sample storage lab and a clean lab for genomics research
A meeting room and office space
Research areas and outcomes
Research at the Ontario Beef Research Centre in Elora leads to improved growth and efficiency and productive, healthy herds. Areas of research include animal health and welfare, feed, nutrition, genetics and genomics, management and technology, reproduction, behaviour and performance. See current research studies.
Tours
Please contact the research station outreach coordinator for more information:
Take a virtual tour of the Ontario Beef Research Centre - Elora
Contact Us
Technical Foreman: Tysson Amidon
Ontario Beef Research Centre
tamidon@uoguelph.ca
Manager: Joe Parkinson
joe.parkinson@uoguelph.ca