Best of ChemEd 2021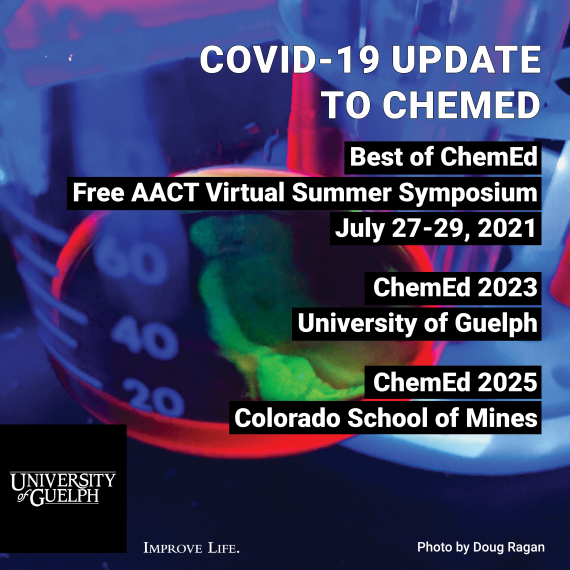 Details
Overview
Join us this summer for this free three-day virtual event hosted by American Association of Chemistry Teachers (AACT). Our Best of ChemEd star lineup includes engaging and popular ChemEd presenters from Canada, US, Brazil, UK and Ireland.
Together ChemEd 2023 (University of Guelph) and 2025 (Colorado School of Mines) committees are organizing the "Best of ChemEd" virtual symposium with the help of AACT. Engaging sessions each day along with social events will highlight what ChemEd is all about – a community of chemistry teachers sharing ideas, resources and successes.
Highlights
Tuesday --  Microscale, Modelling, Making and using classroom resources, Kinesthetics, Student Research groups, Demonstrations and PhET simulations  
Wednesday -- George R Hague AP Symposium with the Chief Reader and Chief Reader Designate presenting the results of the 2021 AP Chemistry Exam
Thursday --  Smartphone spectroscopy, Flipped classroom, Chemistry games, Assessment, Beyond Bohr model, Implementing Claim, Evidence and Reasoning
Started at the University of Waterloo in 1973 and hosted by different locations across North America biennually, ChemEd is the largest conference in North America for educators involved in teaching high school and introductory chemistry. The 50th anniversary will be hosted at the University of Guelph in 2023.
Event Website