CEPS Research Associate Wins Early-Career Scientist Awards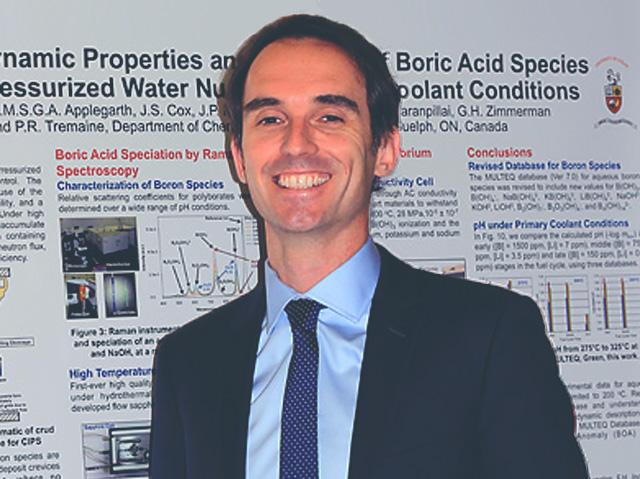 Research Associate in Dr. Peter Tremaine's lab, Dr. Hugues Arcis, has been awarded with two international early-career scientist awards: the Stig Sunner Memorial Award and the International Association for the Properties of Water and Steam (IAPWS) Helmholtz Award.
The Stig Sunner Memorial Award is given by the North American Calorimetry Conference to honour Professor Stig Sunner (1917-1980) of Lund University, Sweden. It recognizes young scientists' research contributions to thermodynamics and thermochemistry. The Stig Sunner Award consists of a USD $1,000 honorarium and waived Conference registration. Dr. Arcis will present his award lecture at the 2018 North American Calorimetry Conference in Lake Tahoe, USA in August 2018.
The IAPWS Helmholtz Award is given yearly to recognize promising early-to-mid career scientists and engineers who are making significant contributions to IAPWS research. The winner receives a framed certificate and a paid trip to the the annual IAPWS meeting to present the Helmholtz Award lecture. Dr. Arcis will present his lecture at the 2018 International Conference on the Properties of Water and Steam in Prague, Czech Republic in September 2018.
Dr. Arcis' research was funded by the Electric Power Research Institute, the Natural Sciences and Engineering Research Council of Canada (NSERC) and the University Network of Excellence on Nuclear Engineering. Congratulations to Dr. Arcis.
Share this page
Find related news by keyword