Faculty Award Winners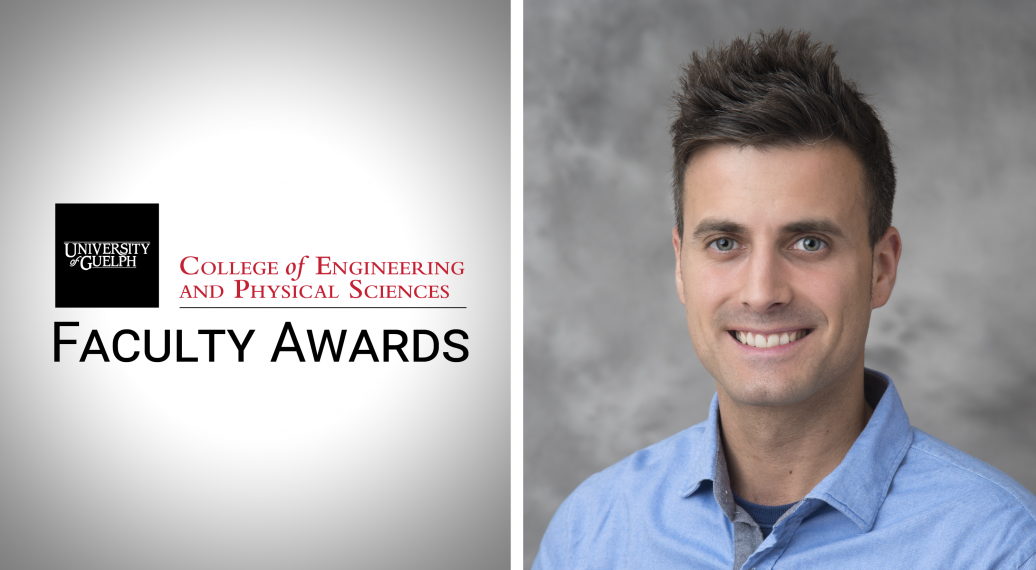 The inaugural College of Engineering and Physical Sciences (CEPS) faculty awards were presented to seven faculty members at the College's Annual General Meeting on June 20, 2019.  The nominations were adjudicated by the College Awards Committee, which is composed of one voting member from each of CEPS' five academic units: Chemistry, Computer Science, Engineering, Mathematics and Statistics, and Physics. The winners are as follows:
Prof. Mario Martinez, School of Engineering, received the CEPS Assistant Professor Research Excellence Award for his demonstrated research productivity and potential for continued research program growth. Since joining the University of Guelph in Summer 2017, he has secured nearly $1.7 million CAD in competitive research funding as Principal Investigator; and published more than 20 peer-reviewed papers in high impact journals, including Carbohydrate Polymers and Food Chemistry.
Profs. Hermann Eberl, Department of Mathematics and Statistics, and Animesh Dutta, School of Engineering, received the CEPS Excellence in Graduate Supervision Awards. Former graduate students of Prof. Eberl laud his mentorship and the inspiring training environment that he created for them. Six PhD students in his group have completed their degree since 2015 and all of them have secured positions in academia. His former students who have become faculty members say that they strive to be as influential to their students as Prof. Eberl was to them. Prof. Dutta's trainees describe him as being devoted to their success. He acknowledges that every student may learn differently and provides unique mentorship for each one, even after they graduate and move into the next stage of their careers. Prof. Dutta encourages his students to get valuable academic experience such as working as a teaching assistant, delivering guest lectures, presenting at international conferences, peer-reviewing papers, and contributing to the development of funding proposals.
Profs. Daniel Ashlock, Department of Mathematics and Statistics, and Vladimir Ladizhansky, Department of Physics, received the CEPS Excellence in Undergraduate Research Supervision Awards. Prof. Ashlock actively involves undergraduate students in his research by inviting interested students to a weekly journal club and hiring them as research assistants. He has supervised more than 20 senior research projects and co-authored 15 publications with his undergraduate students. He has also given talks on the research process to undergraduates and served as faculty advisor for the student Mathematics and Statistics club. Prof. Ladizhansky has a long history of supervising undergraduate students, through senior research projects or hiring them as summer research assistants. He instills in his students a high level of research integrity and guides them in their presentation and communication styles. Since 2003, he has supervised 26 undergraduate students—19 of which went on to pursue graduate degrees.
Profs. Lorna Deeth, Department of Mathematics and Statistics, and Andrea Bradford, School of Engineering, received the CEPS Excellence in Undergraduate Teaching Awards. Prof. Deeth positively impacts her students through her dedication to providing high quality courses with clear learning objectives and well-organized structures. She consistently receives high scores on her teaching evaluations and many positive comments from her students. Students transfer into a Mathematical Science major or Statistics minor, claiming that the move can be credited to Prof. Deeth's enthusiasm for the subject area. Prof. Bradford is a tireless advocate for student learning. She demonstrates her devotion to undergraduate teaching through her innovative teaching methods, pedagogical research and service work. Her teaching techniques such as 1-minute essays and peer evaluations are well-received in her classes, and have been published in the literature. Prof. Bradford also serves as a peer mentor to other engineering faculty, helping them to develop new curricula, courses and programs.
Congratulations to all the 2019 CEPS faculty award recipients!
Share this page
Find related news by keyword