2019 Awards Night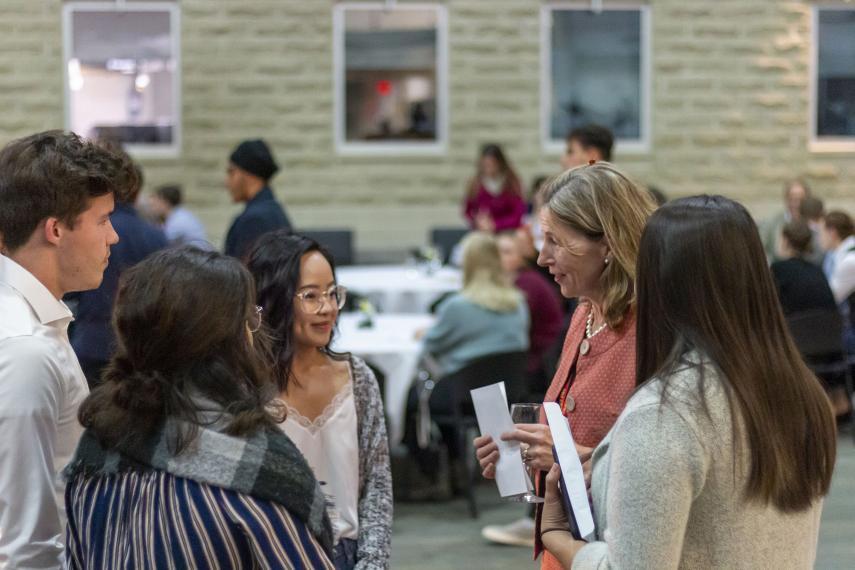 On November 5, the CEPS community celebrated outstanding undergraduate students.
Each year, the College of Engineering and Physical Sciences (CEPS) celebrates its high achieving students with an Awards Night that also features CEPS trivia, a reception and an opportunity to recognize philanthropic contributions from friends of CEPS and the University of Guelph. Their generous contributions advance CEPS priorities and help provide pathways for accessible education through scholarships. 
The 2019 CEPS Undergraduate Awards Night took place on November 5 in the Summerlee Science Complex Atrium. The event was attended by more than 150 students, faculty, staff, family, alumni and friends, who commended the outstanding achievements of these exceptional undergraduate students as they received their awards.
The College bestowed more than 60 awards this year. Award recognition criteria included academic achievements, community engagement, leadership, innovation and volunteerism.
The awards were presented by Mary Wells (dean), Karen Gordon (associate dean, academic), Minglun Gong (Director, School of Computer Science), John Runciman (Director, School of Engineering), and donors and alumni. 
We are delighted to honour the incredible achievements of these students and look forward to supporting their continued success in the College and after graduation. Congratulations to the 2019 winners!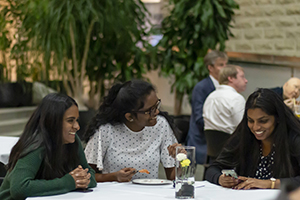 Three attendees enjoy CEPS trivia. Thiyaana Jeyabalan (middle; Bachelor of Science), received a Dean's Scholarship.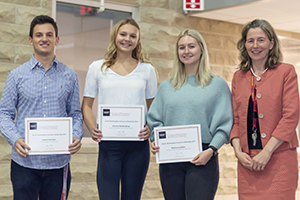 From left: Earl B. MacNaughton Entrance Scholarship recipients Robert Carriero (Bachelor of Science), Corinne Ruthenberg (Bachelor of Engineering) and Melissa Loeffen (Bachelor of Science) with Mary Wells (dean).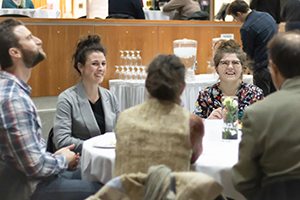 From left: Timm Schmitt and Ashley Monoogian of Adknown Inc. chat with Bachelor of Computing student, Madeline Gabriel, who received the Adknown Inc. Scholarship.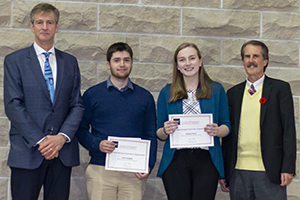 From left: John Runciman (director, School of Engineering); Bachelor of Engineering students Joel Csajaghy and Helena Kunic; and Bill Winegard, award presenter.
College of Engineering and Physical Sciences Awards
Earl B. MacNaughton Entrance Scholarship
Melissa Loeffen BSCH.BTOX:C
Corrine Ruthenberg BENG.WRE:C
Robert Carriero BSCH.PSCI
Ashley Geddes BSCH.PHYS:C
Samuel Acker Memorial Scholarship
Madison Hughes BSCH.BPCH:C
CEPS-SC Student Leader Scholarship 
Abdullah Al-Hayali BENG.BME
Tianna Bressan BENG.BME
Dean's Scholarships
Rachel Broders BSCH.MSCI
Darren Chay Loon BCH.SENG:C
Joel Csajaghy BENG.MECH
Alexandra Cullen BSCH.BTOX:C
Daniel Denton BCH.CS:C
Michael Dombrovsky BCH.SENG:C-MATH
Benjamin Ecclestone BENG.BME:C
Jakob Elliot BENG.MECH:C
Jack Hughes BSCH.MSCI
Thiyaana Jeyabalan BSCH.MSCI_INDV-PSYC
Samiha Kazi BSCH.BTOX:C
Elijah Kent BSCH.PHYS
Helena Kunic BENG.BME:C
Samantha Lee BENG.BME
David Noel BCH.CS-MATH
Grace Stelter BSCH.BTOX:C
Simrandeep Bajwa BCH.CS-BUS
Jay Chen BSCH.CHEM
Alexandra Hume BSCH.MSCI_CS
Andrew Kiely BSCH.BPCH:C
Hannah May BENG.ENVE
Jackson Misner BSCH.MSCI
Tony Trinh BCH.CS:C-STAT
Emmanuel & Kalliope Salamalekis Scholarship
Leah Davis BENG.BME:C
Highdale Farms Scholarship
Anton Naim Ibrahim BSCH.BMPH:C-CIS
Victoria Muir BSCH.BPCH:C
Michele & Maria Vannelli Scholarship
Rachel Broders BSCH.MSCI
School of Computer Science Awards
Dr. James Linders Scholarship
Daniel Kolodziejczak BCH.SENG:C-BECN 
David Noel BCH.CS-MATH
Dr. Mary McLeish Scholarship
Daniel Denton BCH.CS:C
Michael Dombrovsky BCH.SENG:C-MATH
Dr. Ted Swart Scholarship
Kenneth Chan BCH.CS:C-PHYS
Michael Van Braeckel BCH.SENG:C-MATH
Sandbox Software Solutions Scholarship in Computing Sciences
Natalia Stradowska BCOM.LOM-CIS
Adknown Inc Scholarship, presented by Tim Schmitt and Ashley Monoogian
Madeline Gabriel BCH.SENG:C-MATH
Isaac Wismer BCH.CS:C-GIS
 
School of Engineering Awards
Association of Professional Engineers of Ontario Entrance Scholarship
Corrine Ruthenberg BENG.WRE:C
Jordan Barone BENG.BME:C
December 6th Memorial Scholarship
Morgan Phillips BSCH.BPCH:C
Linamar Engineering Entrance Scholarships
Dale Armstrong BENG.BME:C
Madeline Baron BENG.BME:C
Jordan Barone BENG.BME:C
Kiera Hickie-Bentzen BENG.BIOE:C
Mia Hsu BENG.BME:C
Sarah Hynes BENG.BME:C
Corrine Ruthenberg BENG.WRE:C
Rabia Basri Sani BENG.CENG
Caleb Fretz BENG.BIOE:C
Jessica Pringle BENG.BIOE:C
Phyllis Mary Carpenter Scholarship
Owen Salvucci BENG.ENVE:C
Association of Professional Engineers of Ontario in-Course Scholarship
Andrew Shepherd BENG.BME:C
Vanesa Cristini BENG.BME:C
Elizabeth Diederichs BENG.BME:C
Leah Davis BENG.BME:C
Dalia Fayek Memorial Scholarship in Electrical Devices, presented by Reda Fayek
Lianna Van Der Zalm BENG.BIOE:C
Doody Family Scholarship for Women in Engineering
Charlotte Reich BENG.BME:C
Engineering Society Scholarship, presented by Catharine Dang (President, Guelph Engineering Society)
Tianna Bressan BENG.BME
Gordon L. Rimmer Scholarship in Rehabilitation Robotics
Samantha Lee BENG.BME
Knut Karl Grimstad Memorial Scholarship
Jacob Martin BENG.WRE:C
Justin Salvucci BENG.WRE:C 
Peter Chisholm Engineering Student Leadership Scholarship, presented by John Patterson and Dale Downey (alumni 1976)
Catharine Dang BENG.BIOE:C
Professor Ross W. Irwin Scholarship in Water Resources
Jacob Martin BENG.WRE:C
Raymond Theodore Guther Memorial Scholarship in Water Resources
Janna Ormond BENG:WRE:C
School of Engineering Retiree Scholarship of Excellence
Brinna Fitzpatrick BENG.BME:C
Walterfedy Scholarship in Engineering
Acacia Markov BENG:WRE:C
Dr. William Winegard Scholarships in Engineering, presented by Bill Winegard
Joel Csajaghy BENG.MECH:C
Helena Kunic BENG.BME:C
Taggart Scholarship in Biological Engineering
Scott Ackerl BENG.BIOE:C