U of G Hosts OEC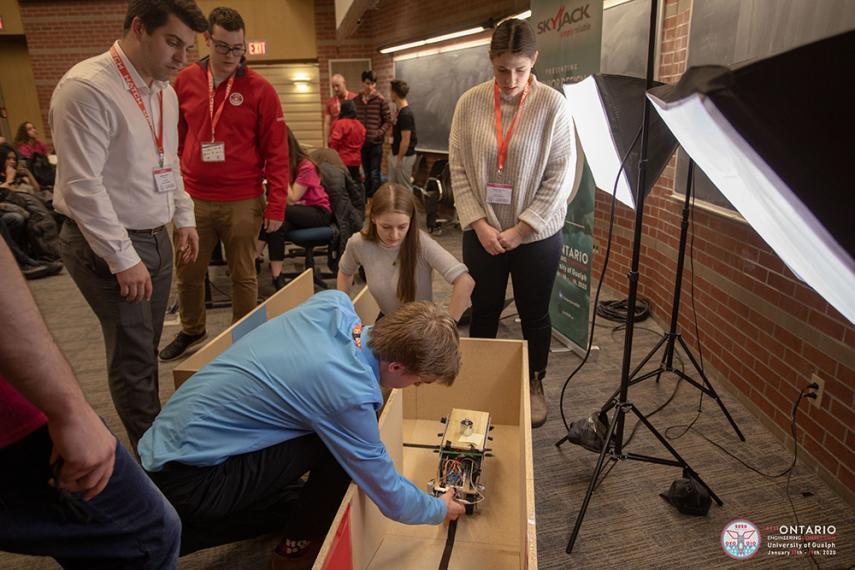 From January 17-19, Ontario's top engineering students competed in the Ontario Engineering Competition.
Nearly 300 undergraduate engineering students from 16 postsecondary institutions across the province competed at the University of Guelph in the 41st Ontario Engineering Competition (OEC) to solve a series of engineering problems. Each of eight problem-solving competitions was designed around the U of G mandate to Improve Life. Judged by a panel of industry sponsors and representatives, the competition provides an opportunity for students to collaborate, connect, and apply their creative and technical skills to develop solutions.
OEC is hosted by a different institution with an accredited engineering program each year. Executing the competition is no small feat–100 University of Guelph students volunteered to make the event happen, led by an organizing committee of 28 students and their faculty advisor, engineering prof. John Donald, who have been quietly working behind the scenes since November 2018. 
"As a second year student and one of the younger people on a team, I find the competition really valuable to apply skills in ways we don't normally get to, and learn a lot of different aspects of business in engineering," says Daksh Aggarwal, VP marketing, OEC Planning Committee and second-year environmental engineering student. "There's also great networking opportunities, and the competition is across college and universities, so you get different schools coming together and learning from each other."
Competitors were placed into teams and assigned unique problems in categories of junior design, senior design, communications, consulting, parliamentary debate, innovative design, programming, and re-engineering. A new aspect of the competition introduced this year is discussion and events around stewardship, policy, and ethics— topics of growing importance among all STEM (science, technology, engineering and math) disciplines.
"Engineering Change Lab hosted three workshops throughout the weekend. They talked about things like regulations, moral dilemmas and ethics," says Loreta Chan, co-chair, OEC Planning Committee, and fourth-year environmental engineering student. "As technology increases and advances, we have that responsibility of asking not just can we build something, but should we? And how?"
Not only did the University of Guelph host the event this year, but two U of G teams edged out their competition to claim spots at the Canadian Engineering Competition, which will be held at the University of Manitoba from March 6-9, 2020. Ben Rothwell and Kaedyn Koch Nichol won first place in the Re-Engineering Category. Scott Ackerl, Kara Hueniken, Isabella Cardoza, and Lianna van de Zalm won second place in the Consulting Category. The provincial champions will compete against the winning teams from Ontario, the Atlantic, Quebec, and Western regional competitions.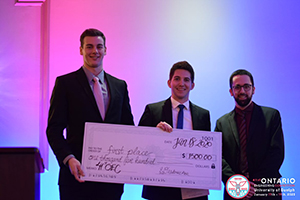 First place University of Guelph winners for the Re-Engineering category hold their prize at the awards banquet.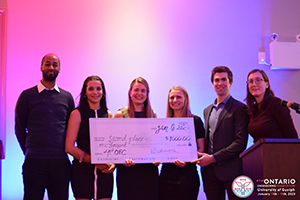 Second place University of Guelph winners for the Consulting category hold their prize at the awards banquet.
Competition facts
| | | | | | |
| --- | --- | --- | --- | --- | --- |
| 16 | schools | 271 | competitors | 16 | sponsors |
| 8 | competitions | 28 | organizing committee members | 45 | judges |
| 100 | student volunteers | 381 | parts machined for Senior Design | 2 | Guelph team champions |