Camp-in-a-box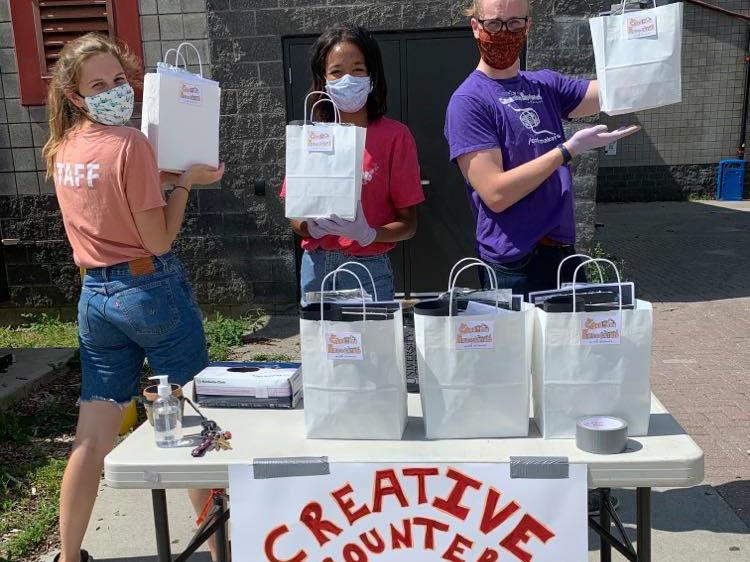 Creative Encounters, a CEPS-led summer camp, is engaging children through take-home camp kits.
With face-to-face summer camps cancelled, Creative Encounters Gillian Conley (Director) and Zach Wynen (Co-director) have been busy finding a new way to keep school-age children engaged with science, technology, engineering and math concepts through the summer. Normally done through the popular, CEPS-hosted Creative Encounters summer day camp, they had to pivot months of planning to a completely new model due to physical distancing requirements to mitigate the spread of COVID-19. 
"With so much uncertainty, we knew that this summer would be different and it was an opportunity to explore other methods of reaching our campers," says Gillian Conley, recent University of Guelph graduate. "We felt it was important to still reach the community's potential future scientists, even if we couldn't physically host the camp on campus."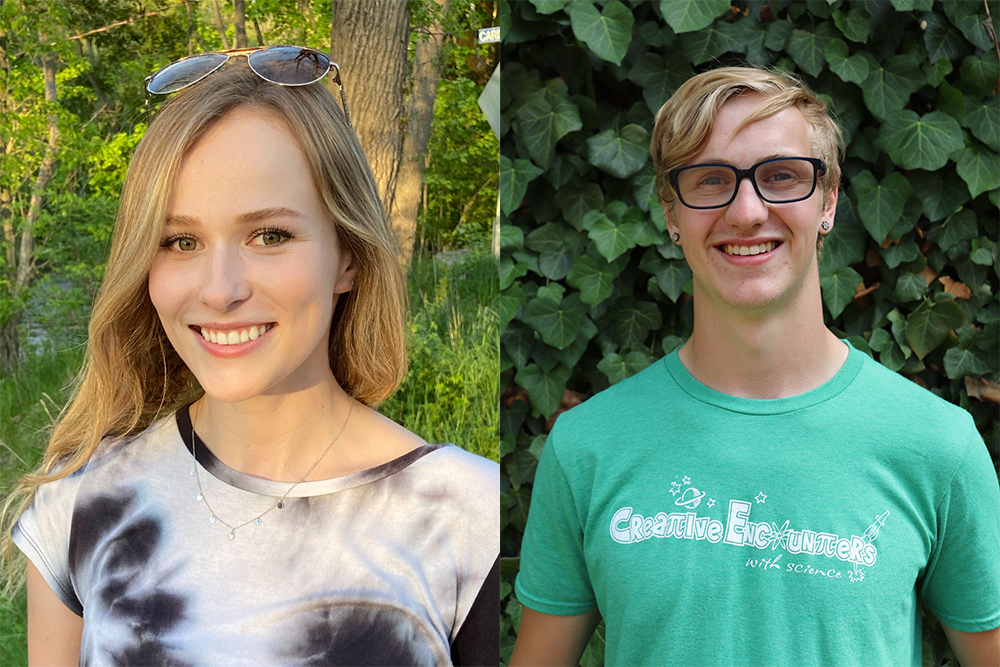 Gillian Conley, recent U of G grad, and Zach Wynen, current U of G Computer Science and Theatre Studies student, are the Creative Encounters co-directors.
Creative Encounters traces its roots within the College back to 1993 as a STEM outreach program to engage local youth in science. The program runs a summer day camp, in-school workshops, after-school clubs, and participates in various on-campus STEM events. As a network member of Actua, Creative Encounters focuses on various initiatives such as Indigenous outreach, at-risk youth, and P.A.G.E.S. all-girls programming.
With a staff of six undergraduate students and three high school students, they knew they could design home-based activities to challenge and inspire youth for the summer once they worked through logistics. 
"The first step was to reach out to our amazing, existing community of campers and parents to ask what they needed from us this summer," says Zach Wynen, Computer Science and Theatre Studies undergraduate student. "They were pretty vocal about wanting less screen time for their kids, and we wanted to be able to support that. A lot of other summer camps went online too, so we wanted to do something unique."
To meet parents' and children's needs, the team at Creative Encounters brainstormed a hands-on camp-in-a-box for kids – no internet or screen required.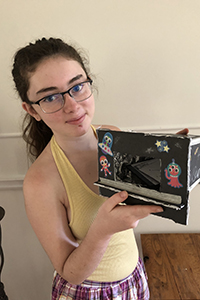 The second camp-in-a-box is Supercharged Circuits, which will be mailed out in early August. Campers explore the world of electrical engineering, building their own circuits and learning what goes into the electronics that we use every day.The box is a self-contained assortment of materials and instructions to guide kids through creating a successful project. Four camp-in-a-box themes have been planned and will be announced throughout the summer. The first kit, which will be mailed out this week, is "Space Exploration," pictured here and completed by Kiera, grade nine student at John F. Ross Collegiate Vocational Institute. Campers can make their own telescope and star constellation projectors.
"We will do one virtual camp this summer due to its demand during regular camp years, and so we kept our Game Design camp," Wynen adds. "For almost a decade, Game Design has been one of our most popular camps, and we always have campers each year who can't wait to do it the next year. We didn't want to disappoint them, so we moved it online."
To check camp-in-a-box and Game Design camp availability, visit the Creative Encounters website. The Creative Encounters team is also creating educational STEM videos and looking at mailing camp-in-a-box kits to community partners such as schools, libraries, and community groups this fall.