2021 CEPS 3MT® College Heat Winners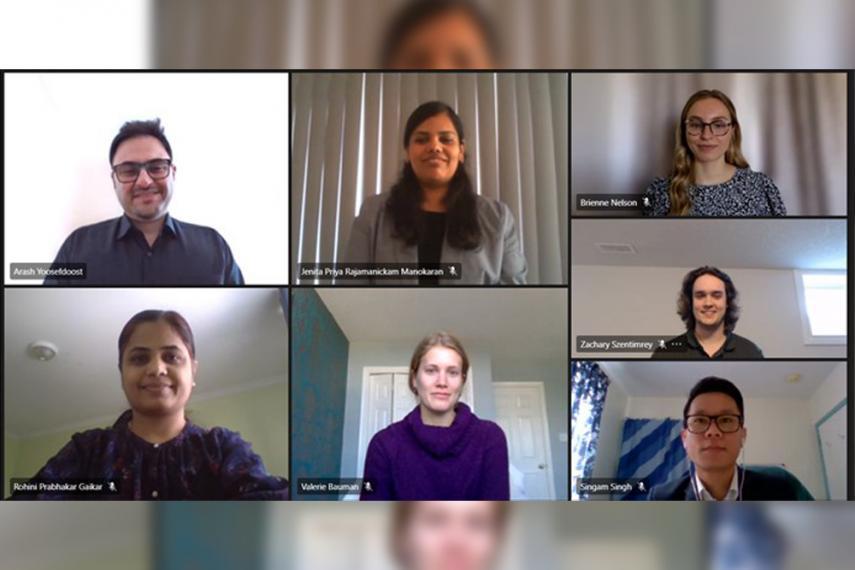 CEPS 3MT College Heat goes virtual for 2021 and graduate students rise to the challenge.
A lack of physical on-campus connection has not restricted College of Engineering and Physical Sciences (CEPS) graduate students from playing active roles in our College community and sharing their impressive research. On Thursday, March 4th, 2021, CEPS held its virtual College Heat to select the top two candidates who will advance to the University of Guelph 3MT® Final Competition held in April 2021.
The Three Minute Thesis (3MT®) contest challenges graduate students to distill and present their graduate research in just three minutes, using only one slide. The competition is judged by a panel of non-specialists and provides students with an opportunity to hone their communication skills. 
We are pleased to announce that the two presenters from CEPS moving forward to the University of Guelph competition are:
PhD candidate Jenita Manokaran for her presentation, Artificial Intelligence for COVID-19 Diagnosis, and 
MASc candidate Valerie Bauman for her presentation Artificial Intelligence for the Bettering of Human Health.
Both winners receive a certificate and cash prizes—Manokaran receives $500 and Bauman receives $250.
Manokaran studies in the School of Engineering under the supervision of Dr. Eranga Ukwatta. Her research objective is to develop a fully automated Artificial Intelligence (AI) model to detect COVID-19 from chest x-ray images. This model would have high accuracy using a large dataset that represents a realistic population in the clinical setting. The tool can be used in complement with the existing diagnostic tools to relieve the high volume of COVID-19 patients and to assess the disease severity in the lungs, thus aiding in identifying patients who are at a higher risk of needing a ventilator for survival.
Bauman also studies in the School of Engineering under the supervision of Dr. Scott Brandon. She uses AI to study human motion. Bauman's aim is to create algorithms that identify different phases within walking, stair ascent, and stair descent for the development of more accurate assistive technology. At a given moment, not only will the algorithms know that the person is walking, but also the position of the person's leg. The success of this project will enable better control and functionality of exoskeletons and other motion assistive devices.
Each of the nine presenters in this year's CEPS College heat are to be commended for their outstanding pitches. They demonstrated passion for their subject, top-tier expertise and bravery to compete in this challenging competition. Congratulations to all this year's participants!