BPCH Grad Advancing Food Quality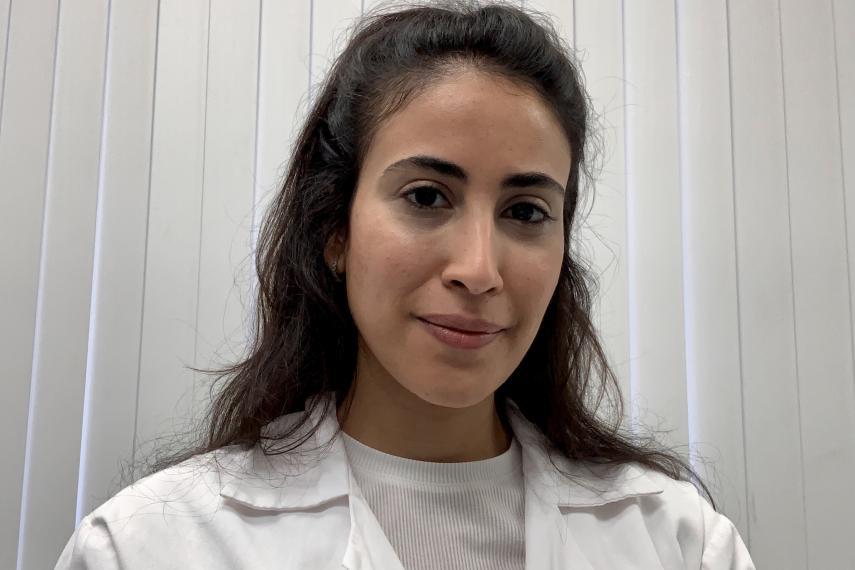 We chatted with Biological and Pharmaceutical Chemistry grad Mayada Toeima about her career post-graduation.
Mayada Toeima, a University of Guelph Biological and Pharmaceutical Chemistry graduate, is improving food quality and safety as a Chemistry Analyst for an international food and nutrition testing company, Merieux NutriSciences.
Programs: Bachelor of Science (Biological and Pharmaceutical Chemistry)
Graduation year: 2019
Tell us about your work and your role.
I'm a Chemistry Analyst at Merieux NutriSciences, a quality and safety company that does testing on products in areas such as cosmetics, the environment and food. My job is to conduct analyses on the products using methods from Association of Official Agricultural Chemists International, an association that sets international voluntary consensus standards for analytical testing of in-process and finished food products. These methods include testing for total dietary fiber, protein, ash, crude fat, and other components.
I extract desired components from samples with appropriate procedures per the standard operating procedures, so that concentrations can be determined and used in preparing nutritional labels for new food products or in monitoring the quality of existing ones. 
What chemistry techniques do you employ in your work?
I work in the wet chemistry department—working with substances in liquid form—and mainly use analytical chemistry techniques to separate, identify and quantify different food components. My work includes things like pipetting, centrifugation, acid hydrolysis, liquid-liquid extraction, enzymatic digestion and filtration techniques, all of which contribute to us having quality and nutrition labels on our food.
Through these techniques we're trying to protect consumers' health. We strive to provide the best services to our clients to help them ensure food safety and quality of their products and prevent health hazards.
How did you land on the role you're in now? What's next for you?
I applied for the position through the company's website and was lucky to get an opportunity there. My plan for the next step is to go back to school and build on what I have learned to focus my education more in other areas I'm passionate about.
What do you enjoy most about your work?
I like that what I do helps protect consumers. Being a consumer myself, I feel comforted knowing that the food we consume is safe and that the nutritional labelling is accurate. I also like that the tests I do are essential for developing new and innovative food products.
How did your education at U of G contribute to your journey after graduation?
My program at U of G covered all the areas that I could possibly need to succeed in my field. My program had the opportunity for an optional semester at Seneca College, which was focused on instrumental analysis—an applied aspect of chemistry—and that opportunity was very helpful in my education.
I am especially grateful for having the opportunity to work as a lab assistant in the pathobiology department. The experience I gained in the labs and the connections I was able to make were key factors that helped me start my career. 
Is there a quote, saying, or philosophy that you look to for inspiration/support?
There's a quote from the book The Gifts of Imperfection by Brené Brown that emphasizes the importance of hard work: "The new cultural belief that everything should be fun, fast, and easy is inconsistent with hopeful thinking. It also sets us up for hopelessness."
Is there anything else you'd like to share?
If I had one piece of advice for current students it would be to never underestimate the importance of building connections, good professional relationships and helping to build each other up.