Celebrating Sustainability on Earth Day 2022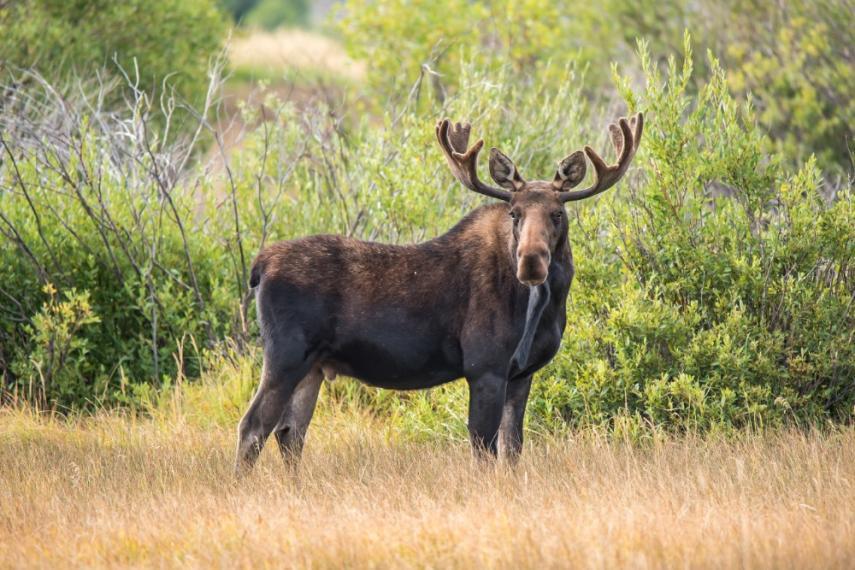 CEPS research contributes to Earth Day's 'Invest in Our Planet' theme.
Held on April 22 each year, Earth Day is a worldwide event that celebrates and highlights the importance of protecting our planet. The Day highlights what we, as a society, can do to address the environmental problems of today and tomorrow. This year's Earth Day theme calls for us to invest in our planet. This theme is not only about the individual actions that we can take to make our environment cleaner and healthier, but also how we can change our spending habits to support companies with conservation and sustainability goals.
The University of Guelph's College of Engineering and Physical Sciences (CEPS) faculty members are striving to protect our environment and help society move toward a sustainable future. Read below about just a few environmental-themed research initiatives driven by CEPS faculty.
Renewable Resources Can Create Products and Energy
Dr. Aicheng Chen is a Professor in the Department of Chemistry and a Tier 1 Canada Research Chair in Electrochemistry and Nanoscience.
Dr. Aicheng Chen is dedicated to developing nanotechnologies and sensors that will help treat wastewater, conserve and store energy, detect environmental contaminants and support the sustainable development of natural resources. Chen is also working to mitigate climate change by developing carbon sequestration technologies.  He recently published ground-breaking work about a new approach to convert carbon dioxide (CO2) into valuable industrial chemicals, such as carbon monoxide (a source of energy) and formic acid (a preservative). Chen is also working to improve hydrogen storage. Hydrogen-based energy systems are clean energy alternatives to fossil-fuel-based energy systems; they generate negligible greenhouse gases. A sustainable hydrogen economy could be realized through advancements in hydrogen-storage technologies, creating an energy secure economy with limited impact on our environment.
Innovating Carbon Sequestration to Stabilize Climate Change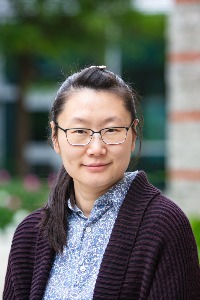 Dr. Emily Chiang is an Associate Professor in the School of Engineering and an Ontario Early Researcher Award recipient.
Dr. Emily Chiang specializes in the implementation of carbon sequestration in agricultural settings, promoting soil amendments as a way to stabilize climate change. She has been exploring the co-benefits of CO2 sequestration and plant growth using enhanced rock weathering (ERW) approaches in agricultural soils, and environmental remediation in agricultural soils and water. She is leading a collaborative and industrially backed research program on ERW to verify if the amendment of silicate minerals to agriculture soils can increase carbon sequestration. She has additionally been developing a carbon capturing soil amendment to reduce nitrous oxide emissions, a greenhouse gas with almost 300 times the warming potential of CO2. Dr. Chiang solves environmental pollution problems by developing innovative sustainable technologies, which reduce the health risks associated with contaminants and protect our sensitive ecosystems.
Bee Pollination Pathways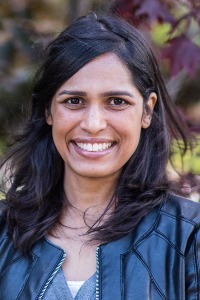 Dr. Ayesha Ali is an Associate Professor in the Department of Mathematics and Statistics.
Dr. Ayesha Ali studies complex systems using advanced statistical computing. In her research, she has worked on problems involving graphical models in diverse areas of study, including pollination ecology, epidemiology, bioinformatics and animal sciences. Ali has developed methods to help biologists model pollination pathways and to understand how habitat loss, forest fragmentation, and non-native species introductions can impact plant-pollinator interactions. The problems she works on in animal science have direct implications on genetic selection, food health and quality and animal health. Her research has far-reaching implications for ecosystem conservation, management and restoration.
Developing Polymers to Increase Sustainability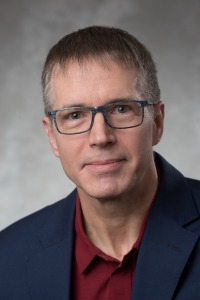 Dr. John Dutcher is a Professor in the Department of Physics.
Dr. John Dutcher's research focuses on the physics of polymers and nanomaterials, with applications in personal care, biomedicine and sustainable nanotechnology. Dutcher is exploring the use of a plant-based glycogen, a material found in sweet corn that is composed of many glucose molecules bonded together. This is a promising sustainable alternative to synthetic nanoparticles using in nutraceutical and biomedical health products, as well as personal care products, because it is biodegradable and non-toxic. He is also developing new experimental and data analysis methodologies for evaluating the uniformity and reliability of PEX-a pipe, a crosslinked polyethylene pipe, which is a potentially more sustainable alternative to metal or concrete pipes commonly used in municipalities for gas, sewage and water. Dutcher's aim is to identify key differences between pipe formulations and study the effect of accelerated aging on their performance and long-term reliability.
Animals are Smiling for the Camera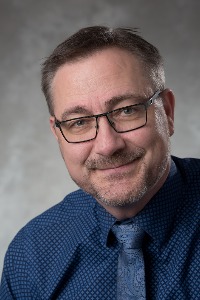 Dr. Stefan Kremer is a Professor in the School of Computer Science
Dr. Stefan Kremer is interested in learning to recognize, categorize and generate structural patterns – patterns in data that are not easily represented. In his work, Kremer leverages modern machine learning methods, including structure learning. Kremer and Dr. Stefan Schneider are currently working to apply structure learning to problems in environmental science, biology and bioinformatics. Recently, he has been developing methods to identify animals in camera trap images and videos using deep learning—a type of machine learning modelled after the human brain. With ecological camera traps becoming a popular tool for wildlife biologists, it is important to develop an automated process to reduce the human labour required for image analysis. One of his developed models has a 97% accuracy rate. Through his research, Kremer is improving our ability to monitor ecosystem health and informing conservation efforts.
Read More
Abner S and Chen A. Design and mechanistic study of advanced cobalt-based nanostructured catalysts for electrochemical carbon dioxide reduction. Appl. Catal. B. 2022 Feb. DOI: 10.1016/j.apcatb.2021.120761.
Boateng E, van der Zalm J and Chen A. Design and Electrochemical Study of Three-Dimensional Expanded Graphite and Reduced Graphene Oxide Nanocomposites Decorated with Pd Nanoparticles for Hydrogen Storage. J. Phys. Chem. C. 2021 Oct 17. DOI: 10.1021/acs.jpcc.1c06158.
Haque F, Santos R and Chiang Y. CO2 sequestration by wollastonite-amended agricultural soils – An Ontario field study. Int. J. Greenh. Gas Control. 2020 Apr 15. DOI: 10.1016/j.ijggc.2020.103017.
Flemming A, Schenkel F, Ali R, Corredig M, Carta S, Gregu C, Malchiodi F, Macciotta N and Miglior F. Phenotypic investigation of fine milk components in bovine milk and their prediction using mid-infrared spectroscopy. Can. J. Anim. Sci. 2018 Aug 10. DOI: doi.org/10.1139/cjas-2018-0058.
Grossutti M and Dutcher J. Correlation of mechanical and hydration properties of soft phytoglycogen nanoparticles. Carbohydr Polym. 2021 Jan 1. DOI: 10.1016/j.carbpol.2020.116980.
Hiles M, Grossutti M and Dutcher J. Classifying Formulations of Crosslinked Polyethylene Pipe by Applying Machine-Learning Concepts to Infrared Spectra. J. Polym. Sci. B. Polym. Phys. 2019 May 17. DOI: 10.1002/polb.24837.
Schneider S, Greenberg S, Taylor G and Kremer S. Three critical factors affecting automated image species recognition performance for camera traps. Ecol. Evol. 2020 Mar 7. DOI: 10.1002/ece3.6147.