Department of Physics Student Awarded the IAEA Marie Sklodowska-Curie Fellowship Programme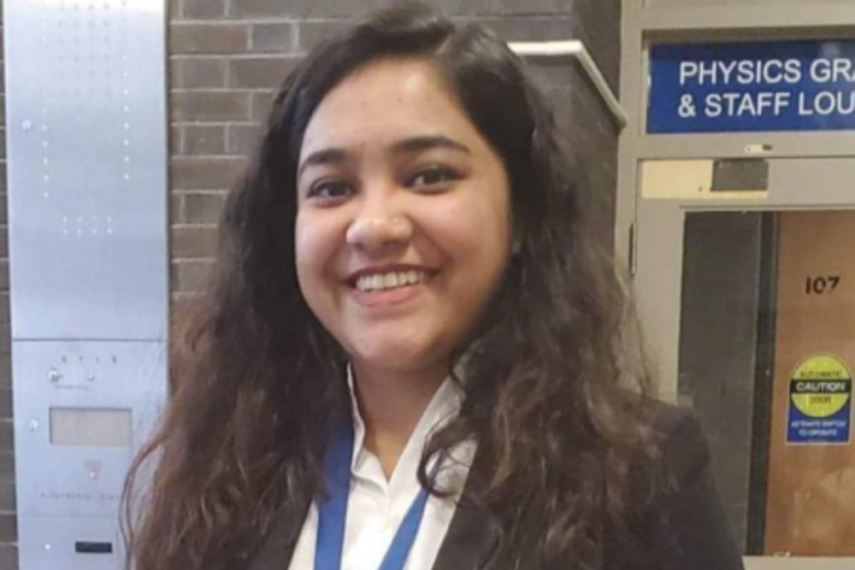 Congratulations to Zarin Tasnim Ahmed on being awarded the International Atomic Energy Agency Marie Sklodowska-Curie Fellowship Programme (MSCFP). The aim of MSCFP is to help increase the number of women in the nuclear field. Award winners receive up to €20,000 for tuition costs and up to €20,000 for living costs for their Master's programme. MSCFP is a highly competitive global fellowship program, with only 150 awards being issued annually to women masters students. 

Ahmed is currently completing her M.Sc. in Physics with Dr. Paul Garrett. Her research specializes in experimental nuclear physics. For her M.Sc. research, she is working on developing and prototyping the Detector Array for Energy Measurements of Neutrons (DAEMON). This neutron detector will add exceptional capabilities for the broader investigation of decay of neutron-rich heavy isotopes and will be installed in conjunction with other sophisticated radiation detectors at Canada's particle accelerator centre, TRIUMF in Vancouver, BC.

After her M.Sc., Ahmed plans to pursue a PhD with Garrett to further explore experimental nuclear physics. 

We asked her to tell us a bit about herself, "I love to explore the outdoors and nature through the lens of physics. One of my key passions lies with disseminating the knowledge I acquire to the younger generation through exciting science outreach activities, as well as communicating science to non-technical audiences. During my free time, I enjoy taking up new hobbies! I love cooking Bengali cuisine and sharing my culture and food with my Canadian and international friends. I also enjoy reading, dancing and occasionally painting. While doing physics is rewarding on its own, my daily life would not be complete without the love and company of my precious little kitten, Maya."