Q & A with Master of Cybersecurity and Threat Intelligence alum Ariana Vargis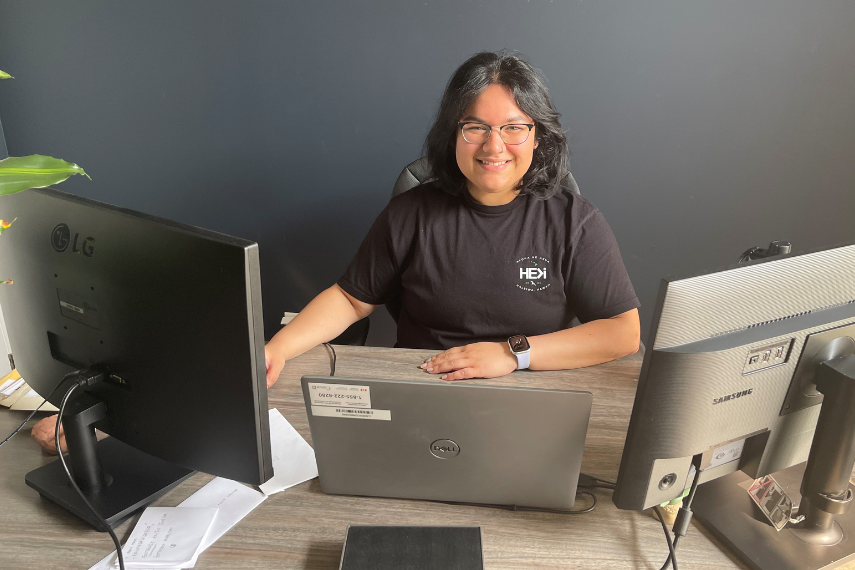 Catching up with a recent CEPS alum Ariana Vargis, a graduate of the newly created Masters of Cybersecurity and Threat Intelligence program.
Why did you choose the U of G?
I chose U of G for a few reasons! The first being the specificity of the master's program. When I was finishing my bachelor's degree, I was informed that Guelph offered a degree in cybersecurity and threat intelligence. I jumped at the opportunity to further my education. The second reason being that the program is accelerated. I was able to get my master's degree within one year! The third being the distance between my home in Hamilton and the school. I began this program with the intent of it being fully remote, but I knew that could change at any time. In the end, I did commute to the school for one class during my second semester. 

When did you become interested in Computer Science?
I've always been interested in computers, but it originally came from helping family members with IT related questions. My grandma was the one who kept asking me why I didn't pursue a degree in computer science since I was so good at fixing their Wi-Fi and teaching them how to use their iPhone!
My high school didn't have any classes I could take to explore my interest. Due to this, I ended up beginning my high education in a Humanities program. I quickly learned that wasn't for me and took some time away from school to explore in what I was really interested. My interest in computer science remained and I made the decision to pursue a degree in computer science with the intention of a career in the cybersecurity field.

How did you become interested in Cybersecurity?
I became interested in cybersecurity while I was pursuing my bachelor's degree. Most of my courses were relevant to cybersecurity, however I had the opportunity to take a few courses that solidified which aspects of cybersecurity I was most interested in. Like cryptography, ethical hacking, risk management and forensics. All that interest culminated in a final capstone project with a focus on cyber warfare in political elections. I was able to use all that I had learned over four years and highlight why cybersecurity is so important in our day. 

How did the program prepare you for your career? Did you have an "aha" moment? A time when something you learned, or a professor just blew you away.
The program gave me knowledge and expertise that I didn't have before and when I was interviewing for my current job, the added level of education allowed me opportunities that I wouldn't have had otherwise. My "aha" moment came in the form of understanding that the concept of cybersecurity is far reaching and sometimes it's necessary in ways that you don't expect. For example, I had a professor who was pursuing a study in agriculture from a cybersecurity perspective, and I can honestly say I never thought of those two things being connected. The program gave me real-world knowledge as all my professors had worked in the field at some point in their careers. They were able to relay the challenges and hardships of this field, but also reiterate why cybersecurity is so important and how to better protect ourselves with it.

Tell me a little bit about your current job?
I'm currently working as a software developer for the Canada Revenue Agency! While pursuing my bachelor's degree, I had the opportunity to do a co-op with them in an IT help desk role. From there, they would check in with me to see where I was at and once, I completed my master's degree at U of G, they gave me the opportunity to work in their security branch. 
While at the security branch, I worked in a risk analyst role. The work was remarkably interesting, and I was happy to be using my education in the work I was doing. I got assess the risks that the agency was facing and coordinate with teams that were affected by the risks and work with other teams to eradicate the risks. 
After some time of working in security, I had the opportunity to join a new team that was at the beginning stages of a chatbot project, so I made the jump to development. The CRA is huge and has a ton of potential for learning opportunities on different teams that are under IT. I'm now the one who is compiling the information that needs to be assessed and analyzed whereas before I was the analyst.
I don't regret jumping from security to development. I was in a position where I was looking to be challenged a bit more and I liked the idea of starting from the ground up. Thankfully, I work for an agency that embraces change and gives opportunities to try something new!

What would do you tell future students about Cybersecurity at Guelph? What would you tell them about the field?
I'm happy that I chose to pursue my cybersecurity master's degree at U of G. Due to starting my degree during the pandemic I completed it almost entirely remote. The school did an excellent job of providing the tools that I needed to be successful in this endeavour. Additionally, the professors and program staff were patient and flexible when it came to the unique way in which they had to teach, and the students had to learn. It's unfortunate that I couldn't experience this program to its fullest extent, but I do not regret getting the degree when I did.
The cybersecurity field is vast and underrated. You don't have to be gifted in programming to pursue this field of study. What interested me most in school was the laws surrounding data privacy and digital forensics. This degree gives a taste of how far-reaching cybersecurity is and how it is used in most everyday businesses. Additionally having a security background is highly beneficial in any IT related job. As I said earlier, I'm currently working as a software developer, but I'm using my background in security all the time.

What's it like being a woman in the field? Are there equity concerns in terms of numbers or pay?
I have the opportunity of working in a department with predominantly female management. My section of the department is made up of three teams and the team leaders are all women and my manager is a woman too! For a long time, my team was solely women due to expertise and availability. Now we have become a more diverse team with both women and men, and it is an equal ratio between the two. 
I will say that the IT branch of the CRA is still predominantly male, however based on conversations with individuals within my section the gap between men and women has shrunk significantly in the last 15 years or so. More women have chosen to pursue a career in IT and have been recognized for their achievements and been given leadership roles. Since the government is a public service, there is no pay disparity based on gender. Each person is paid an exact amount dependent on the level at which they work.

Where do you hope to be in 5 years?
In the next five years, I see myself continuing to work for the CRA but in a leadership position. My current substantive is a CS-02 and ideally, I'd have been promoted into a CS-03 role which would allow me to move into a team leader position. By moving into a leadership position, I will get to see all the moving parts within a team and the project I'd be leading. Also, I'd have the chance to lead and guide people who are new to the government and just starting out in their careers. I have been well looked after by my team leader and I would like the opportunity to do the same for others. In addition to being in a leadership role, I hope to be fluent in French as I'm going to start lessons in the fall and to be working on a cybersecurity related project again. I really enjoy what I'm working on right now and I've learned a lot, but cybersecurity is my background and what I most enjoy the most.