CEPS Student Awards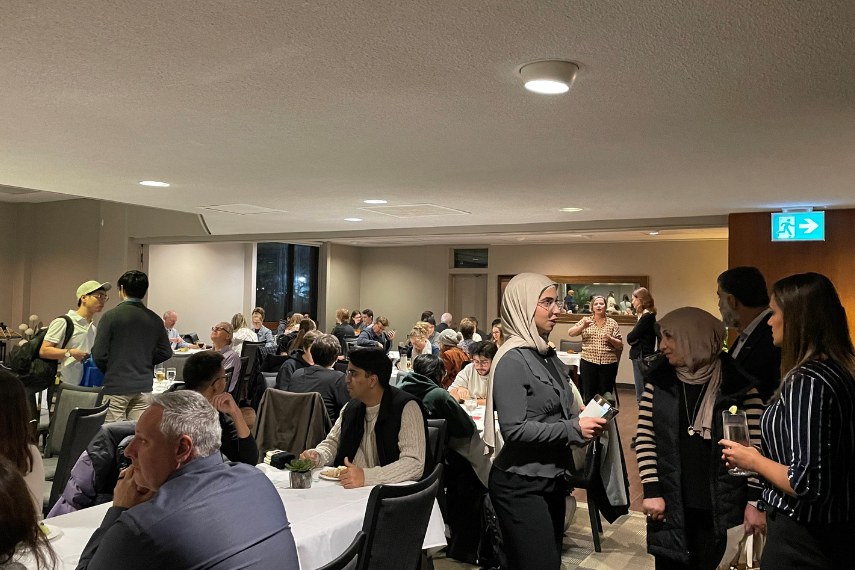 Each year, the College of Engineering and Physical Sciences (CEPS) celebrates the outstanding achievements of our students with an Awards Night that features a reception and an opportunity to recognize philanthropic contributions from friends of CEPS and the University of Guelph. Their generous contributions advance CEPS priorities and help provide pathways for accessible education through scholarships.
The 2023 CEPS Undergraduate Awards Night took place on November 16 at the University Club. The event was attended by over 90 people including faculty, staff, family, and friends, who commended the outstanding achievements of the 36 exceptional undergraduate students who received awards for academic accomplishments, community engagement, equity, diversity and inclusion, leadership, innovation, and volunteerism.  
Dr. Richard Zytner, Interim Dean, and Karen Gordon, Associate Dean (Academic) provided welcoming remarks and the awards presentation.
We are delighted to honour the incredible achievements of these students and look forward to supporting their continued success in the College and after graduation. Congratulations to the 2023 winners!
CEPS Diversity Scholarship
Mya Simpson BENG.BME:C
 
CEPS Leadership Scholarship
Sara Adi BCH.SENG:C
Olivia Parker BSCH.CHPY:C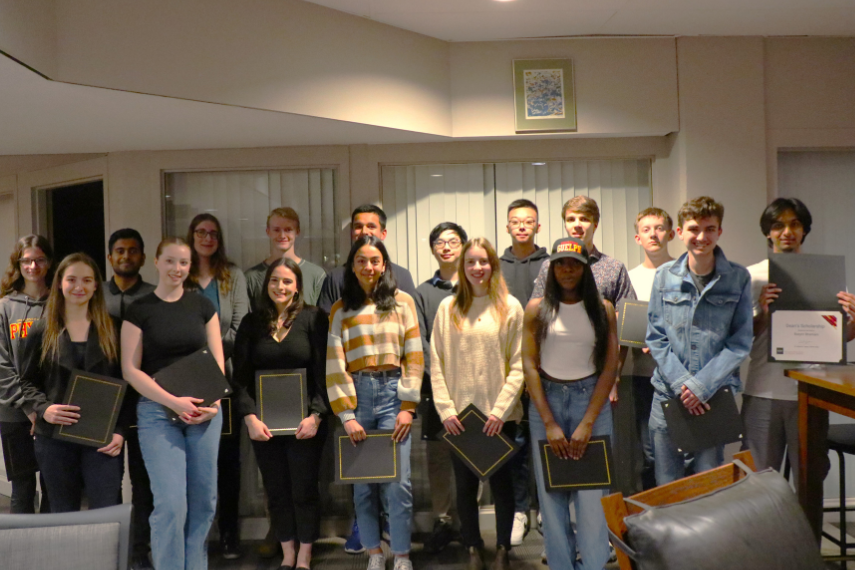 Deans' Scholarships
Basym Bhamani BCH.CS:C
Roman Blotsky BCH.SENG:C
Emma Bresele BENG.MECH:C
Tia Yun Fat Jeffrey Ronan Chay Loong BCH.SENG:C
Nigel Davis BCH.CS:C
Zoe Debyl BCH.CS:C
Bazlus Shams Faiyaz BENG.MECH:C
Caleb Fretz BENG.BIOE:C
Ashley Geddes BSCH.PHYS:C
Amanda Hahn BCH.CS:C
Madison Hughes BSCH.BTOX:C
Jaydon Hunt BENG.MECH:C
Myron Ladyjenko BCH.SENG:C
Alexandra Lawryshyn BSCH.MSCI
Dylan Maimaiti BCH.CS:C
Ryan McKinnon BCH.CS:C
Esther Ogechukwuka Nwachukwu BCG
Wesley Renaud BCH.CS:C
Isaiah Sinclair BCH.CS:C
Lia Varghese BSCH.MSCI
Rachel Wideman BSCH.BTOX:C
Highdale Farms Scholarships
Saige Cunniffe BSCH.BPCH
Ryan McKinnon BCH.CS:C-MATH
Kathryn Skinner BSCH.CHEM
December 6th Memorial Scholarship
Peyton Davey BENG.BME
 
Earl B. MacNaughton Entrance Scholarship
Stella Castura BSCH.MSCI
Mark De Lima BENG.CENG:C
Joshua De Vries BENG.MECH:C
Connor Kremer BSCH.CHEM
Abdu-Lateef Lekan-Fadeyi BCH.SENG:C
Elise Pitre BCH.SENG:C
Timothy Weinhardt BCH.SENG:C
 
Samuel Acker Memorial Scholarship
Omair Ahmed BSCH.BPCH:C
Stella Castura BSCH.MSCI
Gillian Groves BSCH.BPCH