Mario Monteiro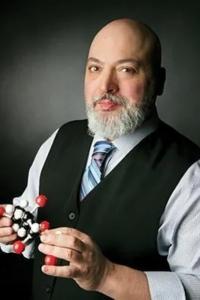 Phone number:
(519) 824-4120 ext. 53447
Find Related People by Keyword
Education and Employment Background
Dr. Mario A. Monteiro received his PhD from York University in 1996. He went on to work as a Postdoctoral Fellow in the Canadian Bacterial Diseases Network, a Research Associate for the National Research Council, and a Senior Research Scientist for Wyeth Pharmaceuticals. He joined the University of Guelph in the Department of Chemistry in 2003, where he is now a Full Professor.
---
Research Themes
Monteiro's is a polysaccharide chemist whose research is focused on carbohydrate-based vaccines. With a growing threat of antibiotic resistance, research on vaccines is critical. Carbohydrate-based vaccines are relatively unexplored because it involves complex chemistry. Monteiro is dedicated to finding untried remedies for serious diseases caused by bacteria. Key research themes include:
Evaluating a polysaccharide vaccine against the colorectal cancer pathogen. Fusobacterium nucleatum is a bacterium that has recently been described to have an unknown role in the development of colorectal cancer. Monteiro examined the structure of this bacterium and discovered a polysaccharide on the outer surface, which provided insight into disease mechanisms that could be applied to new vaccines.
Vaccine for Traveler's Diarrhea. Campylobacter jejuni is a major cause of bacterial diarrhea. Monteiro and his team have developed a vaccine that has been shown to be effective in mice and nonhuman primates, and to some degree in humans.
Clostridioides difficile vaccine. C. difficile is a gastrointestinal bug that can cause diarrhea and weakened immune systems. Monteiro and his team are exploring vaccines that target carbohydrates on the bug's surface, which could help address the threat of C. difficile.
Autism-associated gut bacteria. There is some evidence that the gut bacteria Clostridium bolteae may produce toxins that are associated with autism symptoms. This bacterium has been found in higher numbers in the gastrointestinal tracts of autistic children. Monteiro and his team are working to develop a vaccine that targets C. Bolteae. If the bacteria are eliminated, it may help improve the other symptoms of autism.
Middle-ear infection vaccine. Alloiococcus otitidis is a bacterium that has been linked to middle ear infections. Middle ear infections are one of the most serious ailments for children. Monteiro and his team are working towards developing a vaccine to treat this bacterium.
Highlights
Editorial Review Board, Vaccines, 2017
University of Guelph's 150 Innovations Project, 2017
Top 25 Immigrant Award, Canadian Immigrant Magazine/Royal Bank of Canada, 2017
Innovation of the Year, University of Guelph, 2015
Top 50 Most Influential People in Vaccines, Vaccine Nation/World Vaccine Congress
Media Coverage
Vaccine Against Autism-Associated Bacterium
Canadian Chemical News: Vaccine Machine
Clostridium difficile Vaccine
Campyobacter Vaccine
The Portico: Debugging the U.S. navy
Vaccine against bacteria associated with traveler's diarrhea
Tuberculosis Vaccine
Awards and Accolades
General Research
Talk Local: The Road from Lab to Commercialization
The Portico: The Door's Open to Guelph's Sugar Vaccine Lab