Michael Denk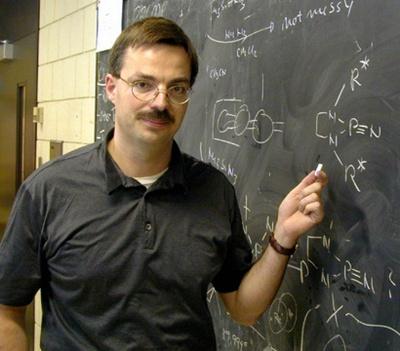 Education
M.Sc. at the Ludwig Maximilian University in Munich, Germany (1989), Ph.D. at the Technical University of Munich (1992), advised by W. Herrmann
Research
Our two current research areas are interdisciplinary and focus on:
A. Folate intermediates, hydrogenases and hydride transfer reactions under biological conditions.  
B. Prebiotic transition metal chemistry
This research has evolved over the last decades from the following research projects.  
Carbenes and their "heavy" relatives (R2M: with M = C, Si, P+, Ge, Sn and transition metals).
Stabilization of highly reactive species through bulky amido substituents.
Synthesis of novel volatile compounds as CVD precursors for microelectronic materials
Generation of Ge-Si and Ge-C thin films for semiconductor and solar cell technology, synthesis of new precursors for electronic grade thin silicon films.
Generation of superhard, oxidation resistant films based on boron and titanium.
Current Group Members
Nicholas Milutinovic
Katherine Marczenko
Mikhail Derevankin
Past Group Members
Nicole Rodriguez
Ian Watson
Gabriel Slater-Eddy
Rohail Nawaz
Natalie Sadowski
Blaine Fiss
Yana Freudiger
Melissa Ignacio
Marc Baumeister
Kevin Scotland
Jeff Hastie
Ben Machin
Azardokht Hezarkhani
Feng Lan Zheng
Ye Xuan
Dr. Debyani Niyogi
Dr. Nishi Gill
Dr. Gurmit Singh
Dr. Gamil Al Hakimi
Mike Krause
Dr. Yue Hui-Zhou
Dr. Sabhia Tajammul
Sebastien Fournier-Bidoz
Shilpi Gupta
Dr. Ravi Ramachandran
John Brownie
Dr. Ken Hatano
Jose Rodezno
Collaborators Past And Present
Dr. Jennifer Green (Dept. of Chemistry, Oxford University)
Prof. Larissa Leites (Nesmeyanov Institute, Russian Academy of Sciences, Moscow)
Dr. Sergey S. Bukalov (Nesmeyanov Institute, Russian Academy of Sciences, Moscow)
Prof. Bob West (University of Wisconsin at Madison)
Prof. Adam Hitchcock (McMaster University, Hamilton)
Prof. Athansios Paschos (McMaster University, Hamilton)
Prof. Arne Haaland (University of Oslo)
Prof. Alexander Filippou (Bonn University, Germany)
Prof. Stephen Urquhart (Canadian Light Source, Saskatoon)
Dr.Bahman Solouki (Institut für Anorganische Chemie, Universität Frankfurt)
Prof.Hans Bock (Institut für Anorganische Chemie, Universität Frankfurt)
Prof. De Tong Jiang (University of Guelph, Dept. of Physics)v
Prof. John Kouvetakis (Arizona State University, Dept. of Chemistry)
Dr. Athanasios Paschos (McMaster University, Department of Biology