Written by:
E'layna Baker, OAC Communications Intern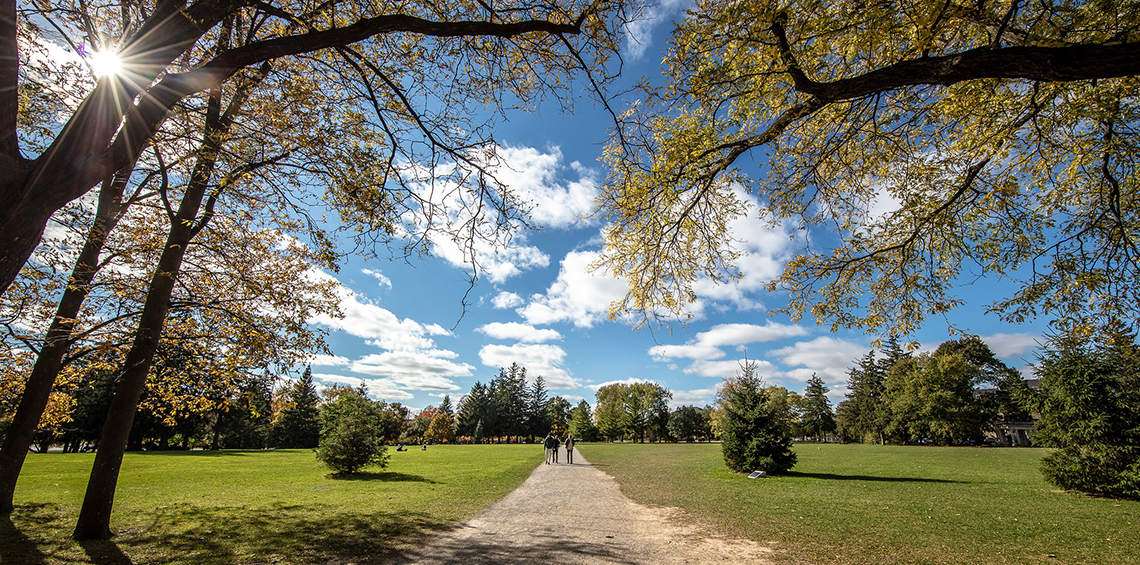 Are you an international student with an offer to the University of Guelph? Or maybe you're thinking about applying? Already accepted?
If you fall in any of these categories, it's important that you read this post to learn more about the support available to international students at U of G!
If you're anything like me, you are uneasy about going to a school in the small town of Guelph for fear of standing out. I was scared I wouldn't meet people from similar backgrounds, scared that I would be the only person of colour in the whole town, scared that there would be no community waiting to accept me once I got here.
However, my worries slowly disappeared as I learned more about the international student community at U of G. I learned that a great deal of thought goes into providing social, academic and transitional support to incoming international students. There was always someone an email away, that could assist me as I navigated my new school. In this blog post, I'll introduce you to some of the useful resources available on campus to help welcome you to Guelph and aid in the transition of living abroad.
START International is a free orientation program for incoming international students, exchange students and out-of-country Canadians. This program usually happens just before the start of Orientation Week and I strongly recommend attending!
The thought of an orientation might trigger ideas of boring, dull, scripted vibes, but I promise you this is a very well thought out program that goes beyond just introducing international students to the campus.
Through various workshops, activities and social events, this three-day orientation is a life changing experience. It thoroughly covers topics on cultural adjustment and social transition, the Canadian university academic system, how to dress appropriate for the seasons and even health insurance.
There was even a workshop for the parents of international students that both of my parents attended.
Another cool aspect of START International is that, similar to O-Week, students are welcomed to volunteer to help with the events. Current international students engage with the incoming students and answer questions. I was a volunteer for the program in my second year and it was an all-around enriching experience.
Four people you will likely see a lot as an international student are the international student legal advisor, the coordinator of international programs, the coordinator of mentorship and engagement programs and the cultural diversity advisor. On most weekdays they each hold drop-in hours and are each enthusiastic about answering your questions and assisting in your transition to the university.
Email updates from the Office of Intercultural Affairs
Every international student is added to a ListSev (email list) which is meant to bring valuable information and resources to your attention. Information about tax clinics, immigration workshops, career workshops and many other helpful sessions meant especially for international students. Be sure to look out for these weekly emails from the Office of Intercultural Affairs during your first year! Reading through the weekly update helped me to stay up to date with happenings on campus that would be beneficial to me as a newcomer to Canada.
If you are a Black, Indigenous, and/or Person of Colour (BIPOC) student, you will also likely run into the coordinator of Cultural Diversity Programs. This Office has played an instrumental role in my experience over my last three years. They support ethnically diverse students and raise awareness of cultural diversity on campus. They facilitate O-Week activities, coordinate Black History month events and host various networking events throughout the year for all BIPOC students.
The Chroma Project is another amazing resource that international students can tap into as they adjust to life at the University of Guelph. This program is designed to provide academic and/or cultural support to first year undergraduate students. Each student is connected to a faculty or graduate student mentor who can give guidance, emotional support and academic advice. The time commitment for this program is at least one hour per month meeting with your mentor.
I signed up to be a mentee during my first year and it was a very valuable experience. I was paired with a professor in the economics department who I grew to view as understanding, thoughtful and wise. He helped me to understand some economic concepts that I struggled with during my first year and gave me an open space to share any concerns I had about my classes and adjusting to campus life.
Similar to the Chroma Project, the LINK Program connects new international students with current U of G students. It is open to all new undergraduate and graduate level exchange and full degree international students. The purpose is to help ease students' adjustment to the Canadian culture and the pace of university life in Guelph. A few of my friends are mentors for the LINK Program, and they are all keen to socialize with new students and share stories of their personal adjustment.
The Multi-Faith Resource Team at U of G represents and celebrates the diverse faith communities on our campus. As part of the Peer Helper Program [7] at U of G, I've worked closely with the Multi-Faith Resource Team as a peer helper. In this role, I got to plan engaging campus events like Multi-Faith Week and got a glimpse of some other fun events that happen on campus surrounding faith and spirituality. You can find them at Raithby House, and the various faith traditions represented on the team host social events and learning sessions throughout the year. For interested incoming international students, attending events like student dinners and discussion sessions can help ease your transition to university. These events can also be beneficial for meeting other students, socializing and learning.
These resources can be a very helpful for English as an Additional Language (EAL) students who want to practice their spoken English. Conversation Partners Program provide an open space for dual learning for all participants, by allowing volunteers and EAL students to learn about each other's' backgrounds and build relationships by connecting on topics such as culture, sports, food and more. Conversation Café is a joint program with Conversation Partners, and is another comfortable environment for cultural learning, casual discussion, and engaging activities. What's also neat about Conversation Café is that it is open to family members and the wider Guelph community.
The Office of Intercultural Affairs holds weekly casual discussions on topics that are relevant to international student experiences. Lookout for date and time details in your weekly communication from the Office of Intercultural Affairs!
The best part of the above is that I've barely scratched the surface on all the resources and communities at U of G for its international student family.
There are so many more informational workshops, clinics and social events happening year-round. Not to mention the student clubs that you can look out for during O-Week and the semesterly club fairs. I became involved with the Caribbean Culture Club after meeting upper year club members at an event during my first year, and I've made plenty of memories with the friends I met there.
As you navigate life at U of G, you will definitely establish a support system, and I am confident you will find a space that allows you to grow, learn and be yourself. From what I have experienced during my time here, the University of Guelph has had rich social, academic, and cultural support for its international students.
---
In this series of blog posts [10], OAC students take us through some of the ups and downs of their journeys at the University of Guelph.