Innovative biopeptide technology wins Innovation of the Year Award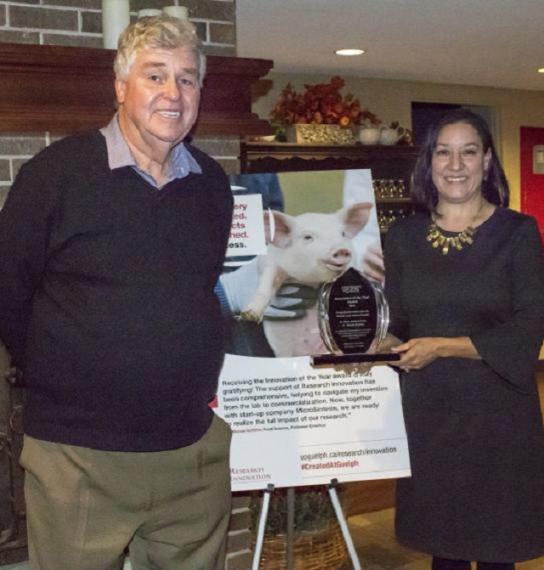 The University of Guelph has selected Dr. Mansel Griffiths as the 2018 Innovation of the Year Award Winner. Griffiths received the award for pioneering the use of probiotics to reduce the spread of harmful bacteria, enhancing the health and welfare of livestock.
The biopeptide technology has immense potential to improve life for humans as well - ultimately, the technology is intended to expand into human health sciences. Medical doctor Maira Medellin-Peña was also recognized for her contribution to the innovation.
The award was announced at the Innovator Meetup on October 1, 2018 following an open call for applications in June.
"The work of Prof. Griffiths is an example of what the University stands for and demonstrates the vital importance of the research we conduct. The innovation he has achieved through persistent and tireless investigation is one that undoubtedly has the potential to improve life – whether by enhancing the life of farm animals or improving the general well-being of the human population," says Malcolm Campbell, vice-president (research) at U of G.
To survive and thrive in the complex systems of human and animal gastrointestinal tracts, bacteria have discovered ways to communicate with each other and the host body. Griffiths and team discovered that probiotics may effectively circumvent this communication, so investigated the potential for probiotics to combat infection. They found that by blocking the chemical signals these bacteria transmit, intestinal infections can be prevented.
"I am honoured to be selected from all the brilliant research that is being conducted at U of G," said Griffiths.
Since 2010, MicroSintesis has partnered with U of G to commercialize proteobiotics, the term given to the bioactive molecules that disrupt the harmful communication between bacteria. The company has gone through two clinical trials, have launched four products in animal health, and are developing a manufacturing process. MicroSintesis estimates that market applications of the technology are worth more than $12 billion.
Griffiths is a leading food safety expert, Founding Director, Canadian Research Institute for Food Safety and the Food Safety & Quality Assurance graduate program at the University of Guelph. Griffiths joined U of G in 1990 as the Dairy Farmers of Ontario/NSERC Industrial Research Chair in Dairy Microbiology in the Department of Food Science.
Read the press release here: Prof's Biopeptide Technology Garners U of G Innovation Award.
Learn more about MicroSintesis.