Accelerating Created at Guelph research and innovations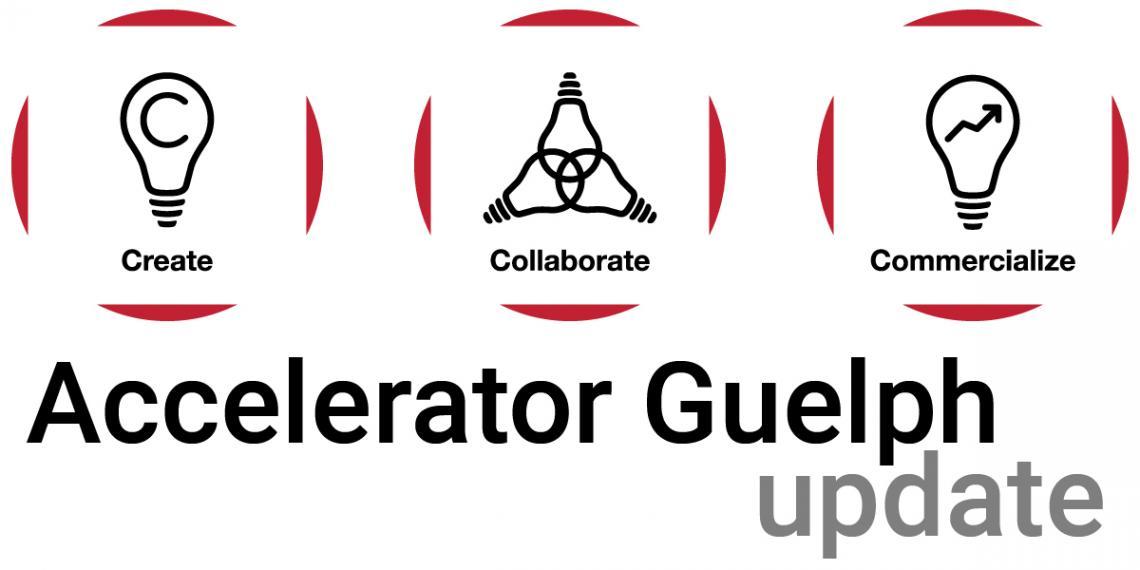 Accelerator Guelph lives up to its name. Of the six teams who graduated from the 2018 Pilot Cohort, three have gone onto running companies. We spoke with these teams to find out how Accelerator Guelph helped them get started. Here's what they had to say.
We Vitro
Kevin Piunno, Founder of We Vitro, developed a modular system for propagating plant tissue cultures that can be stacked to save space. The technology is less expensive and more versatile than traditional systems, allowing researchers to do experiments that aren't possible using conventional equipment.
How AG Helped:  Piunno credits AG for helping We Vitro figure out a viable business model for their prototype. "We were going to launch unfocused," he says. "We were focusing on developing too many things at once." With the help of AG, Piunno knew to focus on their key product, the Big Box. 
Best part of AG: The mentoring sessions. "We came [to mentoring sessions] with specific questions and got immediate help," Piunno says. "We didn't know who we were going to sell to, ship to, what prices to charge, margins needed, legal responsibilities." 
Final Words: "Accelerator Guelph gave me the confidence I could pull this off."
---
LifeScanner
LifeScanner makes DNA sequencing more accessible and portable. The technology is targeted at non-medical uses, specifically food, wildlife crime, and other bio material testing. Their mobile app is used by companies such as Oceana Canada, David Suzuki Foundation, and SeaChoice. The second product - a lab in a box - is under development.
How AG Helped: While LifeScanner's team had a lot of experience at various levels, there were knowledge gaps. "Accelerator Guelph served as an equalizer," says Sujeevan Ratnasingham, Founding Researcher at LifeScanner. "The team came closer together as we worked on entrepreneurship."
For Megan Milton, Data Coordination, it was learning that launching a start-up isn't a straight line.
Best Part of AG: Milton says it was all the knowledge learned outside the science domain, such as marketing. "Accelerator Guelph introduced us to different tools, helped us know what we would need in the future, what to do next. We might have failed without knowing this."
Final Words: Milton says, "The knowledge gained with AG made me feel more confident about the 'go' decision."
---
FloNergia
FloNergia (pronounced Flow-NER-gia) takes new ideas in engineering and makes them better and more efficient. Their first product is an energy efficient airlift pump that can work with a combination of air and water to make hydroponic and aquaculture much more energy efficient.
How AG Helped: Even though FloNergia was already incorporated as a company, AG helped. "The program formalized what we were already doing and made our progress more efficient," says Sherif Abdou, COO.
Best Part of AG: The pitching workshops. "It was helpful, especially as a professor working on the technical aspects and scientific side," says Wael Ahmed, Chief Technology Officer.
The focus on product development also helped. "We started the company thinking about one product only and now we are thinking beyond this," Abdou says. "We've had a shift in mentality."
Final Words: Ahmed urges participants to embrace the program. "Spend time with the program. Make the most of it by doing the exercises." While Abdou adds a note of encouragement "Everyone is there to help."
---
All three of these teams will be featured at the Gryphon's LAAIR Pitch Competition on May 21. They will be vying with three other teams for $15,000 in prize money.
Have a product or idea you want taken to the next level? Applications for Accelerator Guelph are ongoing with one cohort currently in progress and another slated to begin in September. If you want to be part of an upcoming cohort, contact Accelerator Guelph at for details.
Share this page
Find related news by keyword