University of Guelph researchers receive NSERC Synergy Award for Innovation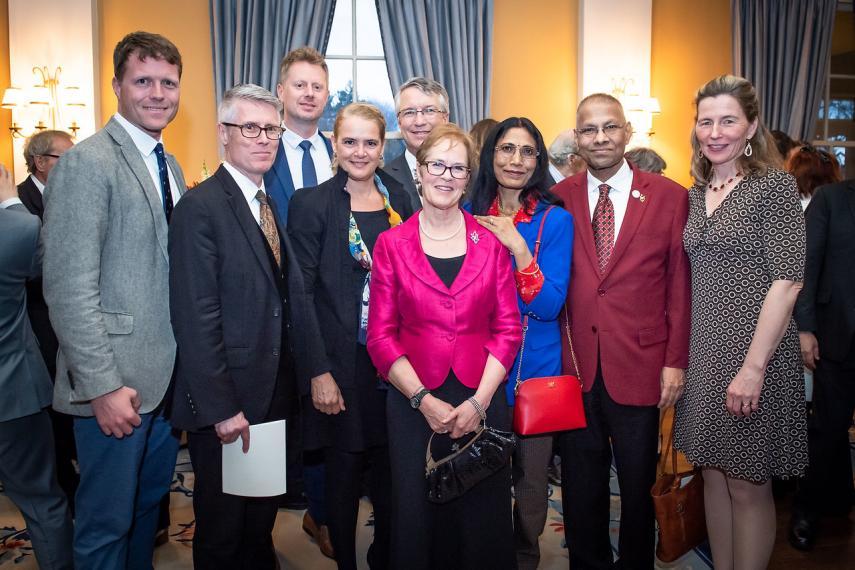 Research Innovation Office (RIO) is thrilled that Dr. Amar Mohanty has recently been awarded an NSERC Synergy Award for Innovation in recognition of his collaboration with Competitive Green Technologies, Prism Farms and 1797472 Ontario Inc. Prof. Manjusri Misra was a co-recipient of the award. The award was presented during a ceremony at Rideau Hall on May 6, and is a proud moment for Dr. Mohanty, his team at the Bioproducts Discovery and Development Centre (BDDC), and us here at Research Innovation. RIO's Associate Director (Technology Transfer and Industry Liaison) Steve De Brabandere joined the team in Ottawa to participate in the celebration of this recognition.
The collaboration with Competitive Green Technologies and its partners has contributed to several patent applications and the commercialization of products contributing to environmental sustainability. The two most relevant applications of the outcomes of the collaboration are related to food packaging and to lightweight automotive parts. 
Low-cost biodegradable plastic resins created at BDDC have led to the introduction of the first fully compostable single serve coffee pod. The PurPod100, developed by Club Coffee using the patent-pending compostable resin, is available from brands including President's Choice and McCafe. The team continues to work on developing compostable resins useful for a wide variety of food packaging applications that will contribute to a reduction in plastic waste.
Not to be limited to a single field of application, the team is also working to commercialize novel resins that incorporate large amounts of carbonized plant material, known as biocarbon. The patented biocarbon-based composite resins have led to the development of plastic automotive parts that are up to 23% lighter than comparable parts, contributing to cost savings and lower fuel usage. The lightweight biocarbon resin is being tested by several large automotive companies for introduction into vehicles and is expected to appear on the market within the next year.
Research Innovation Office has assisted BDDC in support of this collaboration since its inception. Our technology transfer team provides advice and analysis regarding new inventions made by the brilliant scientific team, and manages the patent portfolio. Our team also developed and manages the agreements with Competitive Green Technologies that support commercialization. 
This successful and continuing collaboration is worth celebrating.