The Future of Knowledge Mobilization: Reflections of a Panel Discussion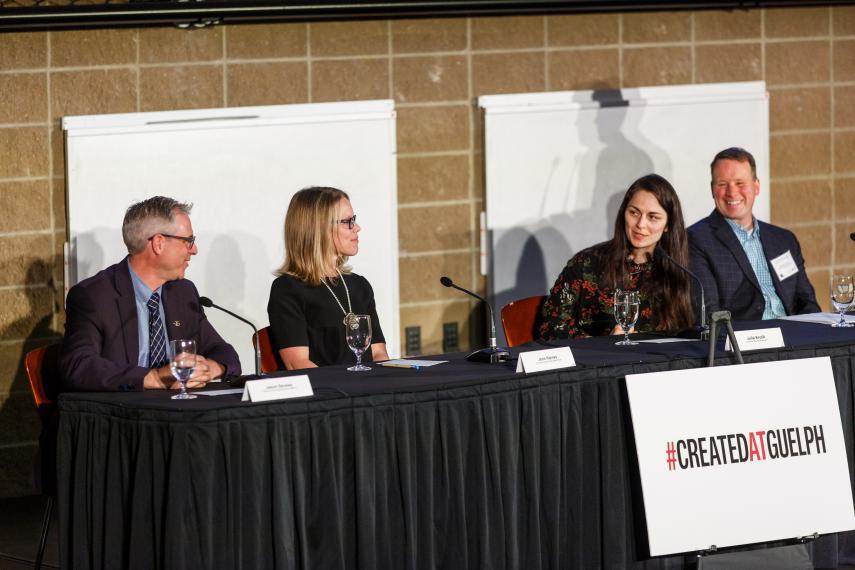 Out with academic posters, tedious protocols that slow down research impact, research for research sake and clunky terminology. On May 21st, 2019 at the Gryphon's LAAIR Innovation Showcase and Pitch Competition, our esteemed knowledge mobilization panel candidly shared what they believe has run its course in knowledge mobilization from their unique perspectives.
Our panel included:
"Offices like the University of Guelph's Research Innovation Office demonstrate leadership in knowledge mobilization (KMb). Bringing together a diverse panel of professionals for an honest and constructive look at the future of knowledge mobilization is what we need more of.  Guelph continues to showcase its leadership in KMb within Canada with days like today.  I was privileged to be a part of it and appreciate the opportunity provided" said panelist Michael Johnny.
The dust has settled on our first annual Gryphon's LAAIR Innovation Showcase and Pitch Competition and I wanted to reflect on the panel I developed to explore the future of knowledge mobilization. While we can likely agree on what practices have run their courses, it's more exciting to think about what's next, what the future of knowledge mobilization and research impact looks like.
So, what does the future hold for KMb?  We heard three key directives from our panel:
Michael and Jess emphasized the need to 'walk the talk' and make meaningful contributions to the field by evaluating our knowledge mobilization practices and sharing the evaluation results with others to strengthen best practices.
"It is easy for KMb professionals to advocate for evaluation from collaborative project teams but there is a risk that we are hypocritical in our own practice.  There is a significant opportunity for KMb professionals to simply do better at evaluating our own practices, demonstrating value and supporting sustained investment in KMb services" asserts Michael Johnny.
Julia talked about the future including 'Mad Men' style marketing and communications offices where practitioners will expand research impact by turning data into visual communications.
 
Both Julia and Jason agreed that it's imperative to consider our audience and develop knowledge mobilization plans and products with end users at the forefront of our minds.  Knowing what people want to know and how they want to get that information is essential to being effective.
The key takeaways from the discussion were clear: knowledge mobilization practitioners need to push the status quo to keep advancing the practice of knowledge mobilization and research impact. We need more engagement with stakeholders and with each other. We need to evaluate our practices. Most importantly we need to look outside the box and incorporate practices from other disciplines like art, data science, marketing and more.
---
Melissa Mackay is the Knowledge Mobilization Manager for the Research Innovation Office. As an experienced thought leader in the KMb space, she supports researchers as they create communication vehicles that extend the value of their research into the wider world.
Share this page
Find related news by keyword