Trouw Nutrition Announces Strategic Partnership with the University of Guelph to drive animal nutrition innovation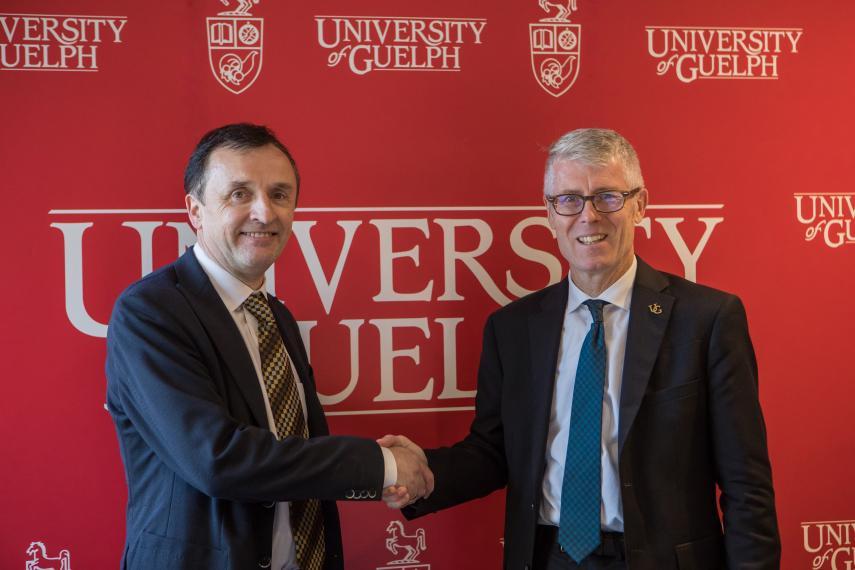 Trouw Nutrition, a global leader in animal feeding solutions and services, today announces it is stepping up and formalizing its collaboration with the University of Guelph, a leader in animal nutrition research. The new strategic partnership will match more researchers from the University and Trouw Nutrition, involve the sharing of research facilities, and enable the acceleration of key research and development activities.
This partnership will build on the long-standing collaboration between the University of Guelph and Trouw Nutrition. As part of this collaboration, the two parties currently have over 40 researcher matches in place, and share proprietary and/or confidential knowledge. By formalizing their partnership, the University and Trouw Nutrition will explore collaboration opportunities in more research fields and further leverage organizational synergies.
Coen Smits, Director Trouw Nutrition R&D comments: "We're very pleased to take our relationship with the University of Guelph to the next level. Our collaboration has already delivered important advances in the area of calf health and growth, for example, and more exciting developments are in the pipeline. The University of Guelph is a world-class scientific institution, and I'm confident that, together, we will drive animal nutrition innovation to new horizons."
Malcolm Campbell, Vice President of Research for the University of Guelph comments: "As Canada's food university, and a world leader in veterinary medicine and agriculture research, the University of Guelph is excited to partner with Trouw Nutrition. Trouw Nutrition's deep industry knowledge will greatly benefit University of Guelph researchers and students and the University of Guelph will provide research leadership that will help advance Trouw Nutrition's remarkable record of developing game-changing animal nutrition solutions.  By pooling know-how and capabilities, Trouw Nutrition and University of Guelph will build on each other's work and chart the course to a more sustainable future - a future that will help fulfil University of Guelph's aim to improve life."
---
About Trouw Nutrition
Trouw Nutrition, a Nutreco company, is a global leader in innovative feed specialities, premixes, feed additives and nutritional services for the animal nutrition industry. It provides products, models and services to boost productivity and support animal health through all life stages. With unique, species-specific solutions, Trouw Nutrition has been meeting the needs of farmers and home-mixers, feed producers, integrators and distributors since 1931. Headquartered in the Netherlands, the company has locations in 28 countries and employs approximately 8,000 people.
Share this page
Find related news by keyword