Harvest Genomics Wins Top Prize At Gryphon's LAAIR Pitch Competition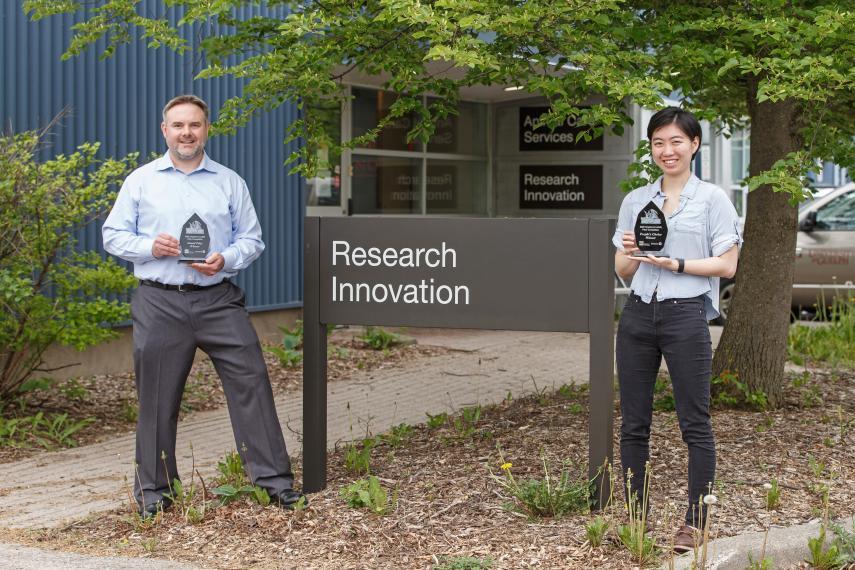 On May 27, 2020 five corporations who have roots in the U of G research community went head-to-head to win a total of $20,000 in prizes that can be used to help grow their businesses. The broadcast introduced U of G innovators who are putting knowledge into action in ways that will have an impact on the Ontario economy today and tomorrow, while facing extraordinary challenges presented by Covid-19. 
Produced by the Research Innovation Office at the University of Guelph (U of G), in partnership with the Ontario Agri-Food Innovation Alliance, a collaboration between the Government of Ontario and the University of Guelph, the second annual Gryphon's LAAIR Pitch Competition had been planned as an in person event. However, it was pivoted to an online platform because U of G administrators recognize that Agri-Food Start-ups will help to kickstart post-pandemic prosperity in Ontario.
"The Gryphon's LAAIR program helps U of G researchers to launch innovations into the marketplace. Having supported more than 70 projects since 2014 that included 60 industry partners, Gryphon's LAAIR funding has turned university knowledge into valuable outputs that have generated many new enterprises, enhanced business productivity, created jobs, and improved prosperity and people's lives," notes Malcolm Campbell, PhD Vice-President Research at the University of Guelph.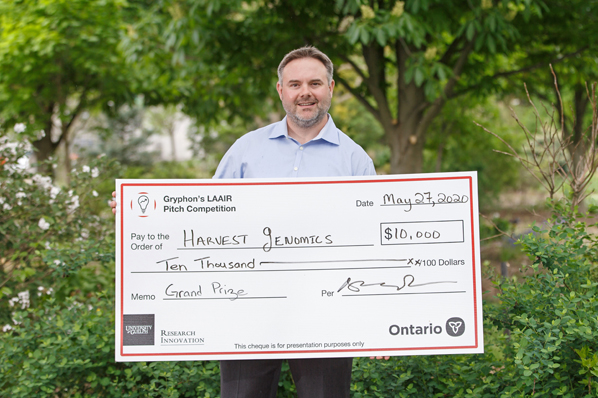 Chris Grainger, CEO of Harvest Genomics, pictured with Grand Prize Award cheque. Photo Credit: Kyle Rodriguez/Artifacts for Life.
Harvest Genomics was chosen by a jury of high-profile industry judges as the $10,000 grand prize winner of the 2020 Gryphon's LAAIR Pitch Competition,
"We are thrilled to have been selected the winning pitch in this year's LAAIR competition," said Chris Granger, CEO Harvest Genomics. "Given the extraordinary challenges facing entrepreneurs currently, having a platform such as this is crucial for making people aware of the innovative start-ups that can help be a part of creating new jobs for a recovering economy." 
Ontario Minister of Agriculture, Food and Rural Affairs Ernie Hardeman agrees that the agri-food sector will drive economic growth: "Innovators are key partners in developing solutions that support our agri-food sector and animal, human and environmental health," said Minister Ernie Hardeman,. "Ontario's investment in this important competition helps these creative minds market their research innovations and become catalysts for growth in our agri-food industry and our economy."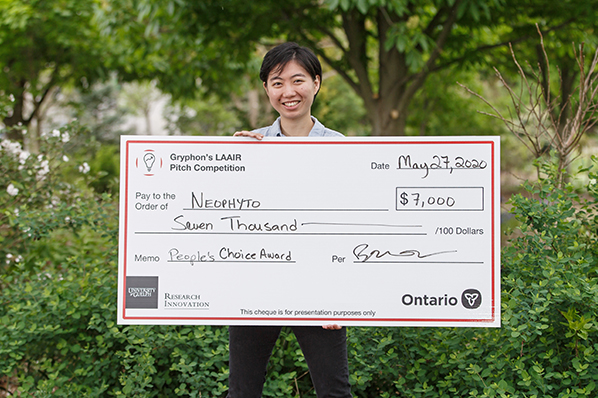 Jane Ong, co-founder and CSO of Neophyto Foods, pictured with People's Choice Award cheque. Photo Credit: Kyle Rodriguez/Artifacts for Life.
Neophyto Foods was chosen as the people's choice winner and will receive $7,000 to invest in the growth of their venture.
"We're thrilled to have won the people's choice award at this year's Gryphon's LAAIR pitch competition!" said Jane Ong, co-founder and Chief Science Officer of Neophyto Foods. "We couldn't have done it without the support and mentorship of Accelerator Guelph, which has really taught us how to transform our mentality from scientists to entrepreneurs. We're also infinitely thankful for funding provided by OMAFRA, which will help us accelerate our go-to-market plans and bridge the gap from a research-based project to a consumer-facing product. We've come a long way and can't wait to see how far we can still go!"
The Gryphon's LAAIR Pitch Competition was held on May 27 from 3 p.m. to 4:30 p.m.(EDT) with a new online format and attracted an audience of over 485 from around the globe; the event became a trending topic in Canada on Twitter during and after the broadcast.  
The judges were Shelley King, CEO of Natural Products Canada; Joe Dales, President, Agriculture & Food Innovation, RH Accelerator Inc.; and Fred Wall, VP Marketing for Farm Credit Canada. Three additional prizes of $1,000/each were given to pitch teams emendWELL, Green Feet Ecosystems Services, and Psigryph Inc.