MCTI Awards & Partners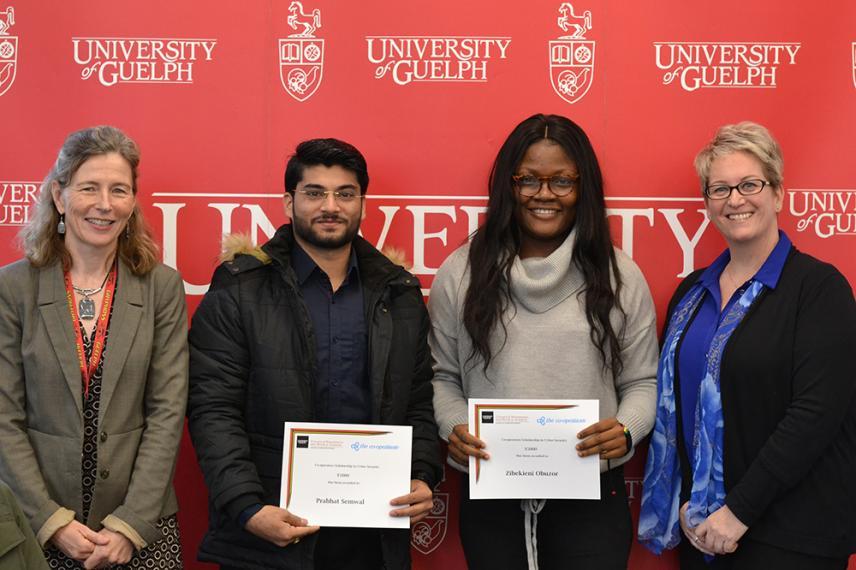 On November 28 the master of cybersecurity and threat intelligence (MCTI) advisory board, featuring representatives from nearly two dozen of the world's leading cybersecurity corporations, gathered to discuss the success of the program and meet the inaugural cohort of students. The event included an awards ceremony hosted by College of Engineering and Physical Sciences dean Mary Wells bestowing seven scholarships to top students, each valued at $5,000. The meeting and ceremony were followed by a networking lunch with the advisory board group.
The master of cybersecurity and threat intelligence program launched in September 2019. With more than 1.5 million anticipated vacant cybersecurity roles by 2025, the University worked alongside these industry leaders to launch a graduate program that would train the next generation on how to stop cyberattacks before they happen.
Those industry leaders joined the program's advisory board, consisting of public and private sector organizations. They have collectively invested nearly $2-million dollars since the program's initiation, in scholarship and in-kind support. Partner organizations include Blackberry, Bruce Power, Canadian Centre for Cyber Security, Canadian Cyber Threat Exchange, Canadian Tire, CISCO Systems, Ernst & Young, eSentire, Georgian Partners, IBM, ISA, Long View Systems, Mandiant, McAfee, Microsoft, RCMP, Stratejm, The Co-operators and the Toronto Police Service.
View the complete photo album from the event.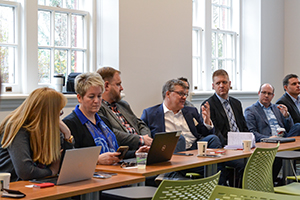 The advisory board meets in Reynolds Building following the networking reception.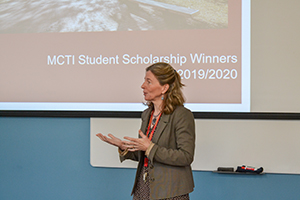 Dean Wells kicks off scholarship awards presentations.