From the Ground Up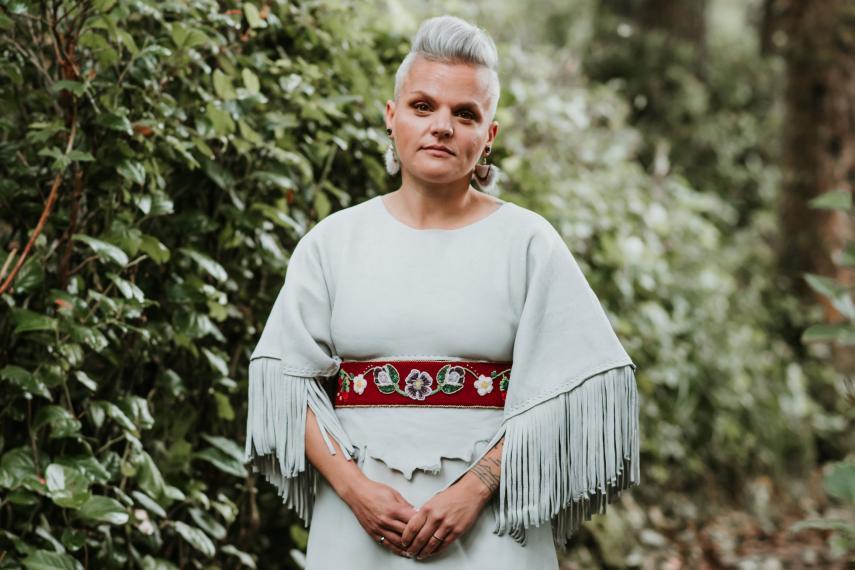 U of G engineering grad Colleen O'Toole ('08) is focused on sustainable community building.
Colleen O'Toole, Environmental Engineering (B.Eng)
Project Manager, Kerr Wood Leidal (KWL) Associates Limited
Colleen O'Toole (B.Eng, '08) was born in Whitehorse, Yukon and grew up on a small farm in Southwestern Ontario. She has always had a passion for the outdoors and loved building things herself, using scrap wood and nails to create structures.
"I was raised in a family of strong women, teachers, advocates and social justice leaders," says O'Toole. "This certainly framed the way that I see the world and reinforced the value placed on community and home."
Her love for the outdoors, mixed with a natural affinity for creation, led O'Toole to the Environmental Engineering (Co-op) program at the University of Guelph. During her degree, O'Toole completed a co-op work term in British Columbia, ultimately resulting in a position with KWL Associates Limited—a leading employee-owned, multi-disciplinary engineering consulting firm—in Burnaby, British Columbia.
Originally working on small energy planning and run-of-river hydro development, Colleen's role at KWL has shifted towards project management, contract administration and asset management.
"Through attending the University of Guelph, I became part of a curious, creative and engaged community," says O'Toole. "I really enjoy projects that have many layers—culture, archaeology, environment, community engagement and civil infrastructure. I am deeply interested in building relationships, creating spaces for dialogue and removing barriers to support the development of Indigenous people."
O'Toole's desire to understand the impact of engineering around the world has taken her beyond Canada. At U of G, she connected with Engineers Without Borders, where she completed a fellowship, working in partnership with Ghanaian colleagues at the AfriLEAD Institute in Tamale. After returning to Canada, O'Toole volunteered with the Urban Native Youth Association and spent three years as a mentor for Indigenous youth in her community. Her leadership, volunteer work and achievements earned her the 2013 University of Guelph School of Engineering Young Alumnus of Honour Award.
Recently, O'Toole has been using her engineering expertise and community focus to make an impact at home in BC. Inaccessible housing costs in the Metro Vancouver area are creating instability for new buyers, so O'Toole and nine friends developed a socially and economically sustainable approach. In 2018, all 10 purchased a single home on four acres in the Sunshine Coast Regional District with the ultimate goal of developing a small-scale community on the property along with 10 lots, which requires a change to current community plan and zoning bylaws. According to O'Toole, the proposal has generally been well-received by municipal government and residents.
"There is no question that attending the University of Guelph reinforced the importance of cultivating supportive spaces for learning and building community," says O'Toole. "Learning about low impact development, and how to design water, sewer and drainage systems has certainly come in handy, too!"
Their vision is for a clustered-type of development, consisting of small homes with extensive green space and shared amenities, working alongside their neighbourhood, and acting as a role model for environmentally sustainable, affordable home development.
This article was originally published in the CEPS 2019–20 annual report: Big Picture.