Material of the Future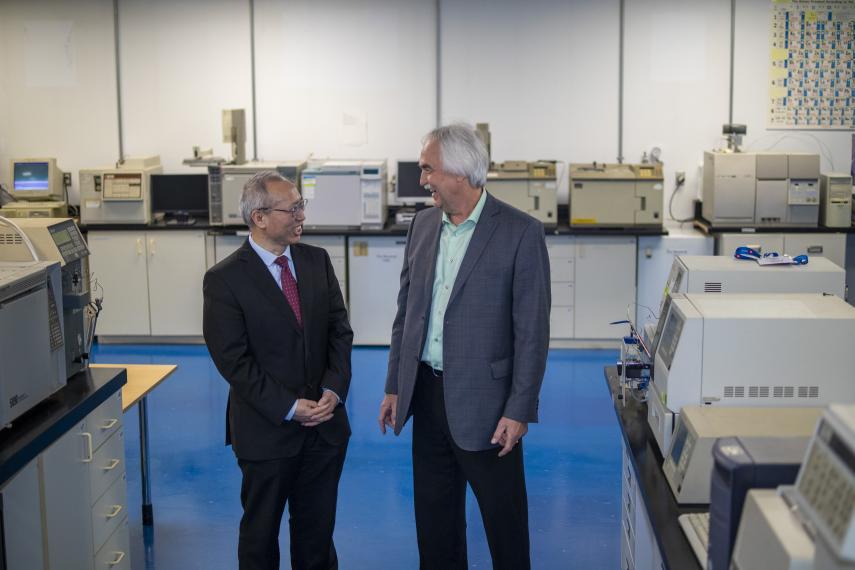 Chemistry professor Aicheng Chen works with industry partner on "material of the future."
Early in 2020, ZEN Graphene Solutions Ltd. ("ZEN") management and employees, U of G researchers and staff, and other key stakeholders gathered to celebrate the opening of ZEN's new pilot plant production facility in Guelph, Ontario. The company has partnered with chemistry professor Aicheng Chen since 2015 with strong support from the NSERC Collaborative Research and Development program and the Ontario Centres of Excellence Voucher for Innovation and Productivity program. Chen and his team are refining methods to produce graphene-based nanomaterials from ZEN's unique Albany Pure™ graphite and to develop novel graphene-based technologies.
We are all familiar with graphite, a soft material used in pencil lead. Graphene is a single, thin layer of graphite. Despite how thin it is, because of its honeycomb-like structure, graphene is one of the strongest materials in the universe—even stronger than steel. Thanks to its unique properties, graphene could be used as an additive to improve fuel economy or to improve energy storage in supercapacitors and batteries.
Chen and his team have developed methods to convert ZEN graphite into graphene, graphene oxide and interconnected reduced graphene oxide. They have filed five patents, with two awarded recently. As well, the partners have reached a license agreement between ZEN and the University. The team has also published several articles providing a closer look at graphene's potential application in energy storage technologies. Specifically, they highlight graphene's potential for hydrogen storage. Hydrogen is the most abundant element on earth and harnessing it as an energy source could help reduce greenhouse gases and alleviate climate change.
The research partnership added a new direction in 2020, thanks to support from the NSERC Alliance program and Mitacs. Chen and the team at ZEN are contributing to the fight against COVID-19; they are exploring the use of graphene-based nanocomposites as an ultra-thin coating on personal protective equipment. The graphene-based coating may bind and destroy the virus that causes COVID-19, enabling the safe reuse of personal protective equipment.
"I am very proud of the work that my research team has been doing alongside ZEN. Graphene has tremendous potential, and ZEN's efforts to rapidly scale up graphene production will enable our continued research efforts," says Chen.
Peter Wood, the President of ZEN Graphene Solutions Ltd. echoes Chen's sentiment: "We are excited to be working with the Chen team at the University of Guelph and to continue working to uncover graphene's incredible and beneficial applications."
This article was originally published in the CEPS 2019–20 annual report: Big Picture.