Barrett Funding Makes Food Industry Greener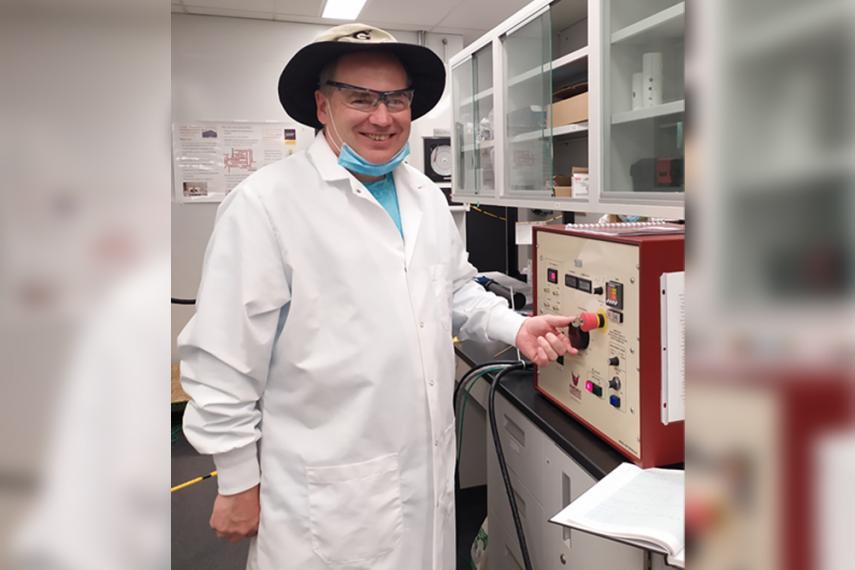 Projects supported by Barrett grants address sustainability challenges in the food industry.
Contaminated food, food waste, greenhouse gases, and non-recyclable plastic packaging. These food industry issues are impacting the health of our planet and we have reached a tipping point.
Thanks to the Barrett Family Foundation's generous $5-million dollar contribution to the University of Guelph (U of G), we are seeing critical advancements toward sustainability in the food industry take shape. The funds brought an innovative research program in sustainable food engineering to U of G, led by Dr. Kevin Keener, Professor of Engineering, and the inaugural Barrett Chair in Sustainable Food Engineering. 
Keener and his research group are conducting cutting-edge research into cold plasma technologies—plasma is an ionized gas—exploring its use for food decontamination and more.
"Our research goal is to build sustainable food systems that will reduce food spoilage while ensuring its quality, create greener food manufacturing processes, while preparing for future uncertainty. For example, our research discoveries can even be applied to inactivating the coronavirus on food packaging," says Keener.
Keener joined the U of G School of Engineering in 2019 from Iowa State University. In his role as Barrett Chair, he is building connections with the Ontario government and food manufacturers, forging partnerships across campus, and training student researchers, all while conducting his research.
"Beyond the work in my lab, it has been rewarding to train the next generation of scientists and engineers and partner with colleagues both here at Guelph and around the globe to identify and implement sustainable practices within agriculture and the food processing industry."
In total, more than 50 students working within a variety of programs across the University have felt the impact of the Barrett funds, including 12 PhD students who each received $20,000 in funding to support their research. The Barrett Family Foundation's gift also supports the Barrett Sustainable Food Engineering Grants. To date, these $50,000 grants have been awarded to 16 research projects which have seen impressive outcomes.
"The Barrett Sustainable Food Engineering Grants support some truly innovative research exploring advances in food packaging, food manufacturing, and other incredible green technologies that will drive transformation in the food industry and promote further innovation," says Keener.
Dr. Alba Illera and Dr. Vanessa De Souza preparing media on 'plates' for microorganism recovery after treatment.
From Grapes to Green Cosmetics
Grapes, used extensively for wine production, are one of the biggest food crops grown in the world. Wine production results in a solid waste called pomace, which consists of grape skins, seeds, and stalks. Dr. Rafael Santos is using his Barrett funding to develop ultrasound technologies to convert organic waste from the winery industry into products that can be harnessed by the pharmaceutical industry, including cosmetics. The research team conducting this work included three U of G master's students.
"The ultrasound-assisted methodology that we developed with the Barrett funding worked well to extract organic waste from wine production," says Santos. "Further generation of valuable compounds from these waste products can serve as a low-cost plant nutrient source and the inorganic solids can act as a sink for carbon dioxide, contributing to climate change mitigation."
A publication based on this research has been published in Industrial & Engineering Chemistry Research and presented at the 5th Symposium on Urban Mining and Circular Economy and the Northeast Agricultural and Biological Engineering Conference.
Fantucci, H, Aguirre, M, Santos, RM. Wet air oxidation route for the synthesis of organomineral fertilizer from synergistic wastes (pomace and kimberlite). Industrial & Engineering Chemistry Research. Accepted, 2021.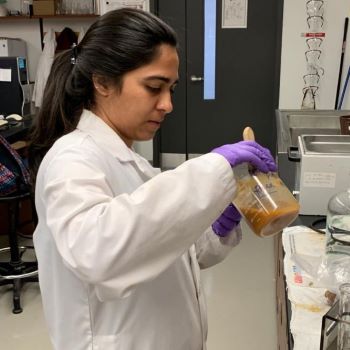 MASc student (now graduated) Gagan Sharma collecting sonicated grape pomace to be centrifuged.
Forging Industry Partnerships to Develop Biodegradable Plastic
According to the International Union for Conservation of Nature, at least eight million tonnes of plastics end up in our oceans each year, threatening biodiversity, food safety, and human health. Working with industry partner, Genecis Bioindustries, Dr. Ibrahim Deiab and his team in the Advanced Manufacturing Laboratory (AML) are developing applications for which biodegradable polymer granules made from converted food waste can be used as a green alternative to petroleum plastics. Deiab and the AML team, which includes five U of G undergraduate students, have helped Genecis optimize the manufacturability and biodegradability of parts made from the bioplastics by using injection molding and 3D printing processes. Together, the AML team and Genecis Bioindustries have designed and manufactured custom equipment to help examine and measure key characteristics of the plastics.
"The Barrett funds led to a new research area within my laboratory and a strong partnership with Genecis," says Deiab. "We have identified the physical, mechanical, and thermal properties of the biodegradable plastics produced from Genecis's bacterial cultures, work that will contribute to the creation of biodegradable plastics for commercial use."
The AML team are working on publishing journal articles and conference papers on injection modeling and 3D printing of the bioplastics and have already published a literature review on bioplastics.
Naser AZ, Deiab I, Darras BM. Poly (lactic acid)(PLA) and polyhydroxyalkanoates (PHAs), green alternatives to petroleum-based plastics: a review. RSC Adv. 2021. doi: 10.1039/D1RA02390J.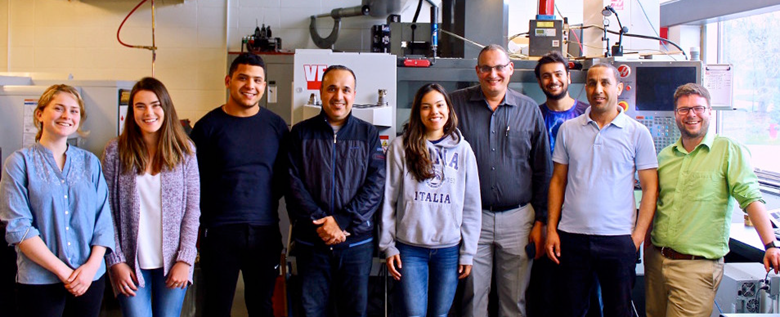 Research team (left to Right ) from the Advanced Manufacturing Laboratory:  Kate Baron, Zante Bosha, Zeid Said, Wisam All Wajidi, Tiffany Montoya, Ibrahim Deiab, Tapan Jansari  , Abdelkrem Eltaggaz, John Cloutier.