A Social Change Legacy with Tech Beginnings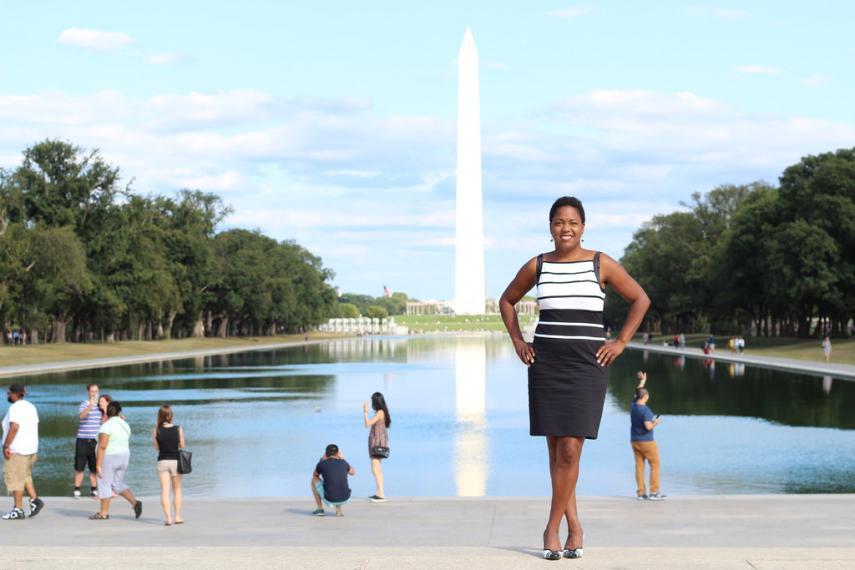 Rachel Décoste can point to a defining moment during her convocation ceremony at the University of Guelph (U of G) in June 2001. She sat among her peers, set to celebrate the years of hard work it took to achieve her BA in Computer Science. As Décoste waited for her name to be called, she watched then-Chancellor Lincoln Alexander seated in an ornate chair handing each student their degree parchment. Then in his late 70s, Alexander had broken significant barriers for Black Canadians. He was the first Black Member of Parliament (MP) and first Black federal Cabinet Minister, among other firsts.
When the moment came for Décoste to cross the stage, Alexander did something unexpected as she walked towards him. He stood slowly, and handed Décoste her degree parchment. He sat back down. Though the gesture may seem unremarkable, it was anything but: Décoste recalls she was the only student Alexander stood for, and that she was the only Black female student in her cohort. Décoste says she was too young to fully appreciate the event when it happened, but as she became more informed of Black Canadian history, she understood Alexander's role. This was one of many moments in Décoste's life that would shape her path to becoming an anti-racism activist and equity, diversity and inclusion (EDI) advocate who would alter Canada's public policy sphere.
"I have had a side gig doing EDI in some form or another for more than 15 years. My 'after work' activities evolved from activist to oft-solicited media pundit, to EDI workshop facilitator," Décoste said.
Décoste's activist journey began in earnest at U of G when she joined the West Indian Students' Association (WISA). She started responding to racial incidents, supporting Black, Indigenous, People of Colour (BIPOC) women, and writing opinion editorials in the student newspaper. On the technical side, U of G provided Décoste the opportunity to innovate in and outside the classroom. This included her final project on neural networks and AI, as well as the skills to undertake a unique endeavour (at the time): creating a website. More specifically, a website devoted to her idol: Whitney Houston.
"At one point, the website consumed half the bandwidth of the U of G web server. It was huge! But there was no information about Whitney on the Internet then, so I was filling a gap for fans. The site became bigger than life."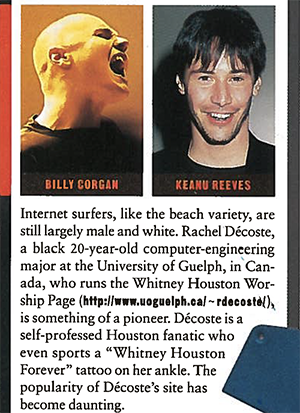 Décoste reports receiving hundreds of emails each day. Her work garnered international acclaim, receiving a feature in a 1997 edition of Us Magazine (pictured here). She began at U of G in a different program, but Décoste would shift to a BA in Computer Science to align with her growing interest in website development.She credits several of her women engineering and computing professors as impacting her career path, including then-professor (and recent Member of Provincial Parliament) Liz Sandals and Dr. Deborah Stacey.
Décoste held a role in Air Traffic Control at NAV Canada in Ottawa after graduation, finding her stride with a group of developers who created a runway scheduling system from scratch and using concepts she learned at U of G. She then worked in varying technical roles as a developer, analyst, and in management, before moving into politics and volunteering to support Obama's 2008 campaign. Décoste says that people often reference her work on Barack Obama's successful presidential campaigns in 2008 and 2012.
"My thirst for representation was so deep that I was willing to get it wherever I could find it, even if it meant crossing the border and driving from Ottawa to Detroit, and without knowing if he [Obama] would even win in 2008," says Décoste. "Little did I know then that my work would garner me national media attention."
Décoste emphasizes the importance of having minority representation at the decision tables. While she's thrilled to have been involved in Obama's successful campaigns, she says she is even more proud of her work closer to home, which resulted in the first Black City Councillor in the cities of Gatineau, Ottawa, and London, among other "firsts" for BIPOC politicians. She has influenced political representation at the highest levels in Canada and the United States – all while building a respected career in tech, including work in public sector technology roles.
"I've been told that my 'tech-phile' nature has been an asset in (seemingly) non-tech environments because data analytics and scripting languages are integrated into everything these days. I'm still a techie, just in corporate clothing," she says.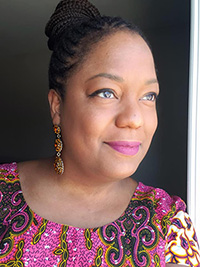 Décoste's advancements for BIPOC and immigrant Canadians broke barriers, but not without obstacles: She describes her race and gender as a 'lightening rod' in early 2000s tech, followed by a slow climb up the public sector ladder, and a lonely journey to infuse better representation in government (she lost by 10 votes to the opposition as a federal MP candidate in '06).
Décoste has been recognized for her efforts to change the Canadian political landscape on the path to becoming an accomplished writer, educator and social policy expert. In 2006, Décoste was named the fourth most influential political blogger in Canada. In 2010, she was recognized as one of the Top 50 Personalities in Ottawa Life Magazine. In 2018, she made the list of Canada's Top 100 Accomplished Black Canadian Women. Over the years, she has penned approximately 170 opinion editorials about Canadian multiculturalism, history, race and bias, and how those intersect with Canadian culture. She has also engaged in philanthropic efforts, such as raising funds for Black students' education and for Haiti following the devastating 2010 earthquake.
Décoste is moving onto a new challenge as the Director of Equity, Diversity and Inclusion at the National Film Board of Canada (NFB), aiming to lead the organization in its mission to combat systemic racism and become more transparent and diverse. She will lead strategic EDI initiatives and guide all levels of the NFB to build inclusion into its culture.
"So many elements of my career started at U of G," says Décoste. "Activism, writing and tech innovation. I will continue advocating for equity-deserving Canadians in my work and using the skills I gained in Computer Science to improve BIPOC representation in Canada."
This article was originally published in the CEPS 2020–21 Annual Report: It Starts Here.