The new Master of Cybersecurity and Threat Intelligence (MCTI) Cyber Space has officially opened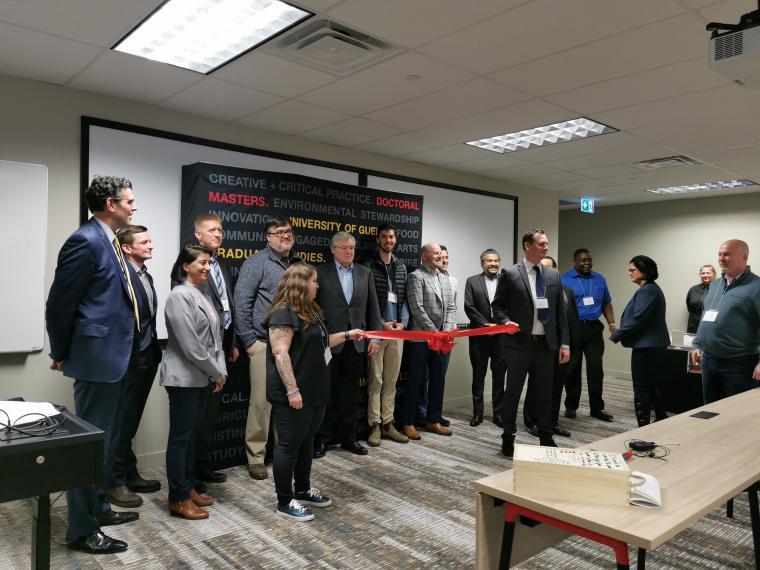 On Friday, January 27, the University of Guelph cut the ribbon on a new state-of-the-art research and teaching space for the MCTI graduate program. Industry demand for professionals in this field has never been higher. Global cyber-attacks are hitting companies, institutions, and government every day. The government of Canada has identified the need to educate and develop experts in their new National Cyber Security Strategy. This space, located in a newly renovated location on Research Lane, will be a catalyst for producing highly qualified personnel and for in demand research by collaborating with industry partners.
Founder and Director MCTI program, Dr. Ali Dehghantanha, who is also a Canada Research Chair in Cybersecurity is confident that "the U of G's decision to launch Canada's only master's level cybersecurity program is the right one. We know our computer science students are gravitating to the field. We know our industry partners are motivated to hire our graduates and invest in the critical research we need to protect all organizations from this growing threat."
Graduates of this master's program will become leaders in security analysis and design, threat intelligence, penetration testing and malware analysis, cryptography engineering and digital forensics. The MCTI program officially launched in the fall of 2019 and the number of both applications and enrollment has increased exponentially in a few short years. The U of G has invested $5M to date to grow this program, creating this new learning space and opportunities for two cohorts of fifty students each to attend annually.
Charles Obi is in his second semester ofthe MCTI program shared, "the new location is just what we needed. We now have the best technology, and our own learning space to call home."
 
In addition to the technical MCTI program, U of G will be supporting a second program – Masters of Cybersecurity and Leadership (MCLC) in Fall of 2024. The focus of this program will be to enshrine the importance of cybersecurity at the C-suite level and will be done in partnership with the Gordon S. Lang School of Business and Economics. 
"Students who choose the U of G for these exciting programs, will graduate knowing they have a job and the opportunity for a fulfilling career in protecting our society," says Dr. Ali Dehghantanha.
Share this page
Find related news by keyword