Evie Adomait Awarded with Distinguished Professorial Teaching Award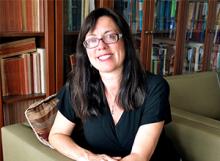 Evie Adomait, Assistant Professor and Faculty Advisor for the Department of Economics and Finance, has devoted her career to making Economics manageable and entertaining for students.  After being a member of the University for nearly 30 years, Evie has established herself personally and professionally and will be awarded for her accomplishments with the University of Guelph Faculty Association (UGFA) Distinguished Professorial Teaching Award for CME in October. 
The UGFA Teaching Award is presented to an individual from each college, and is intended to provide tangible recognition for excellent contributions toward teaching and learning.  Evie was nominated for the award due to her commitment to students as a professor and faculty advisor, as well as her financial contributions for an endowment fund supporting graduate students in Economics.  Asha Sadanand, a member of the nominating committee and a professor in the Department of Economics and Finance,  states, "There was no doubt in my mind that this was the perfect time to recognize Evie for all of the amazing work she has done throughout her career at the University. Her innovative teaching style resonates well with students and is very apparent in the outstanding student reviews she receives."
Evie teaches courses in Introductory and Intermediate Microeconomics and Macroeconomics, Money and Banking, Industrial Relations and Corporate Finance.  She pushes the traditional boundaries and incorporates high-profile speakers in the curriculum to provide engaging experiences for students.  Evie strives to find individuals with ties to the University who can relate key economic principles with their professional experiences.  Speakers such as Warren Jestin, Senior Vice-President and Chief Economist at Scotiabank; Jane Voll, Senior Regional Representative (Economics) at Bank of Canada; and Tracey Jandrisits, Director Faculty and Academic Staff Relations and Recruitment at the University of Guelph, are a few among the prominent individuals who have spoken in Evie's courses.
Evie also experiments with new technologies in her courses to incorporate writing components and online quizzes for students.  To add a bit of entertainment and clarity for her introductory Microeconomics students, Evie assigns Cocktail Party Economics: The Big Ideas and Scintillating Small Talk about Markets, a book she co-wrote with Richard Maranta.  Evie originally wrote the book to enlighten women about economic topics, but it has proven quite popular with the general population.  Evie states, "Women often avoid analytical courses because they find them intimidating.  I wanted to write a book from a feminine perspective that applied basic economic principles to the real world using language and examples the average person could understand."  Over 4,000 copies of the book have been sold, and Evie was recently recognized as a Campus Author by the University of Guelph.
Apart from her efforts in the classroom, Evie has worked for the past five years to invest part of her salary - the equivalent of what she earns to teach a single course — to grow an endowed scholarship for graduate students in Economics.  Her idea is not only an investment in students, but also an investment in the future of the department. "I wanted to encourage some of the country's top thinkers to choose Guelph," says Evie. "Sometimes that choice is made as a result of the availability of scholarship funding. For faculty, one of our big passions is our graduate program, and I thought this might help tip the scales to attract and retain top graduate students."  Evie, along with other professors at the University, have contributed to the fund and hope to raise the first scholarship in the next year.  
Share this page
News Topics