Sept. 17th: Professor Ross McKitrick Appointed Research Chair of Policy Center for January 2016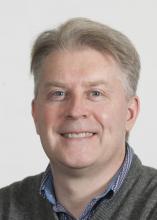 Starting January 2016, Professor Ross McKitrick of the Economics and Finance department, will be taking on the position of Research Chair of Energy, Ecology and Prosperity at the Frontier Centre for Public Policy.
"I am pleased that Prof. McKitrick is bringing his expertise to Frontier's $24-million campaign to improve the economic and scientific literacy of Canadians," said Peter Holle, president of the Frontier Centre.
McKitrick will maintain his faculty position at the University of Guelph while working with a full-time research director at the Frontier Centre to bring together researchers from schools across Canada, including the University of Guelph.
"There are major economic challenges facing Canada today," said McKitrick.
"I look forward to building a new team whose work is rooted in empirical analysis and sound economic reasoning about the proper role of markets and governments in managing ecological assets and promoting prosperity."
McKitrick studies environmental economics, including policy design for human-environment interactions, making him an asset to the organization. Frontier Centre is a research and education charitable organization, intended to help voters and policy-makers improve their understanding of the economy and public policies.
Share this page
News Topics