Finance Team Places 1st in JDC Central 2016
JDC Central is Central is Canada's largest business school competition, consisting of 700 delegates from 14 Canadian business schools across Ontario, Québec and the Maritimes. Delegates from each school compete across different categories including: debate, social, charity, sports and seven academic disciplines (Finance, Marketing, Business Strategy, International business, Accounting, Human Resources, Entrepreneurship). Teams of three are given three hours to analyze a case and create an 18-20 minute presentation which is then presented to a panel of judges from the industry.
This past weekend, the Finance team from the University of Guelph won first place for their team, and the College of Business and Economics. Team members include: Will Flanigan, Emily Allan and Kyle Mackenzie who are all MEF students from the University of Guelph Economics and Finance Department.
"The spirit and energy of the weekend is unparalleled making for a truly unforgettable experience. During the weekend we had the opportunity to network with industry sponsors, delegates from other business schools and formed incredible bonds with teammates.The road to this JDCC 2016 started with tryouts in September and our diligent preparation continued through the semester in course work and numerous mock competitions. Led by captains Brit Ho and Hayden Bishop we honed our skills and bonded as a team. The journey saw each of us grow in confidence and ability as did everyone one JDCC Guelph 2016. We could not have done as well as we did without the help of all of our teammates and the executive team." - Kyle MacKenzie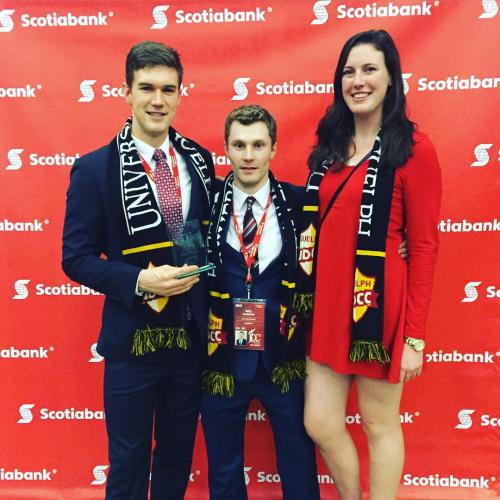 Share this page
News Topics