U of G business students ring opening bell at TSX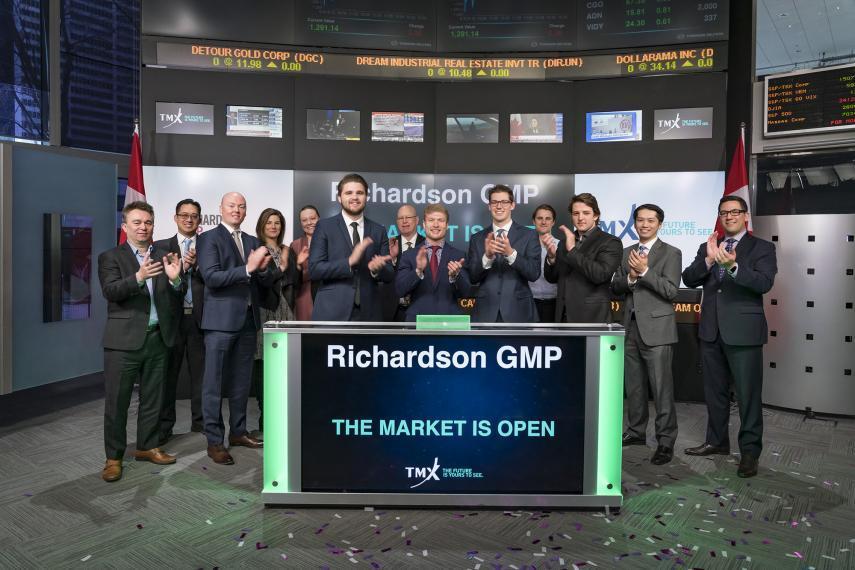 Third-year University of Guelph Management, Economics and Finance students had the chance to ring the opening bell at TSX, after winning the fourth annual Richardson GMP case competition.
The competition is part of the Strategy of Mergers and Acquisitions (ECON*3360) course at U of G and is sponsored by the Canadian wealth-management firm Richardson GMP.
For this year's competition, students used a case study focused on the Baffinland Iron Mines Corporation. Students competed in groups of 4 and had 15 minutes to present on the case. The top four groups moved on to present to a panel of executives from Richardson GMP. The panel included:
Andrew Marsh, President and CEO (U of G business alumnus)
Scott Stennett, Chief Operating Officer
Darren Molloy, Director, Retail Training (U of G business alumnus)
The winning team had the chance to spend a day in Toronto at the Richardson GMP offices and ring the opening bell. Congratulations to the winning team, which consisted of:
Keegan Alvestad
Brandon Dejonge
Jack Moylan
Kyle Sinden
Special thank you to the executives from Richardson GMP, for passing on their knowledge and experience to our students.
Share this page
News Topics