Dr. Michael I. McBurney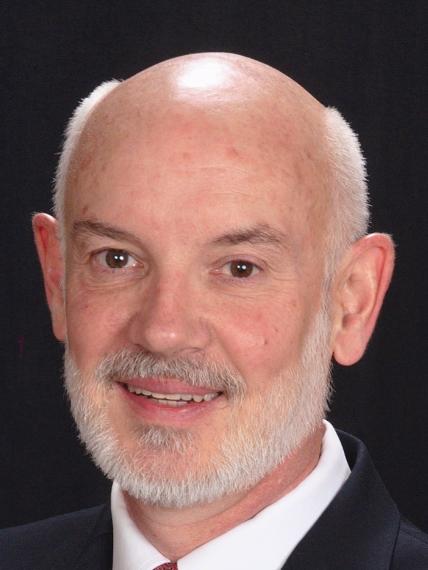 Dr. Michael I. McBurney 
My parents owned a small farm in the Eastern Townships of Quebec.  My childhood experiences with educated professionals were teachers, the local medical doctor, and the agronomist who guided our local 4H.  My parents encouraged their children to get an education and I chose to study biology (ecology) at Carleton University.  My first research experience was my BS Honours project (effect of cattle grazing on understory development in a woodlot) under the supervision of Dr Gray Merriam.  Upon graduation, I applied and was hired as a research technician in the Department of Animal Science at the University of Manitoba.  Working closely with graduate students and Drs. Tom Devlin and Ray Ingalls over the next two years stimulated my interest in research and graduate school.  After applying to numerous institutions, I was accepted into a MS program at Cornell University.  My MS dissertation focused on understanding the role of chemical treatments on low quality forage quality (Dr Larry Chase) and my PhD on physicochemical and fermentative properties of dietary fibres (Dr Peter Van Soest).  Wanting to combine my ambitions to return to Canada and to continue researching the effects of dietary fibre on human health, I accepted a post-doctoral fellowship at the University of Toronto (Dr Lilian Thompson) because it presented an opportunity to integrate my experience with in vitro models of intestinal fermentation of dietary fibres with evaluations using digesta from individuals with ileostomies during dietary interventions.  After 3 years and multiple interviews, I was offered a tenure-track position in human nutrition at the University of Alberta.  It was a great environment with excellent colleagues where I began teaching and learned to be a surgeon, including microvascular.  During this period, I took a sabbatical at the University of North Carolina, Chapel Hill NC to learn techniques in molecular biology.  While on faculty at the University of Alberta, my students, post-doctoral fellows and I broadened our understanding of the effects of fermentable dietary fibres, short chain fatty acids (SCFA) and glutamine on the structure, function and metabolism of gut and associated lymphoid tissues. 
In 1997, I moved to Battle Creek MI to help lead Kellogg's global research program on dietary fibre.  During this employment, I also worked in product innovation, lead nutrition labelling teams, and provided scientific support to marketing teams.  In 2004, I was recruited to become the founding Department Head of the newly created Department of Nutrition and Food Sciences at Texas A&M University.  It was an exciting opportunity to help create a department culture, to hire new faculty (7), and to renovate/build research and teaching laboratory spaces.  In 2008, I joined DSM Nutritional Products in Parsippany NJ, North American headquarters for a Dutch multinational business-to-business manufacturer of vitamins (and later omega-3 fatty acids), where I helped guide nutrition research and outreach activities globally, managed the nutrition team providing scientific support to North American marketing teams, and created, developed, executed, and managed DSM's TalkingNutrition blog and @DSMNutrition twitter account. 
In addition to tenured positions as Professor at the University of Alberta and Texas A&M University, I have held academic appointments at University of Toronto, Michigan State University, and Tufts University.  I served as a founding Advisory Board member of the Institute of Nutrition, Metabolism and Diabetes within the Canadian Institutes of Health Research.  I was the founding chair of the Cornell University Division of Nutrition Sciences External Advisory Board and an industry representative (non-voting member) of the FDA Food Advisory Committee.  I am an active volunteer with leadership experience in the American Society for Nutrition, Canadian Nutrition Society, Council for Responsible Nutrition, Institute for Food Technologists, International Food Information Council, International Life Sciences Institute, and New York Academy of Science, and VitaMe Technologies Inc (www.VitaScan.me)
Accreditations include professional mediation (Texas Mediation Training Roundtable) and Executive Leadership I, IMD Business School.  For research papers, visit my ResearchGate profile.  Please follow me on twitter @MIMcBurney and LinkedIn.
For additional information, please contact me via email at McBurney23@gmail.com
BS (Honours), Carleton University 
MS Nutrition, Cornell University 
PhD Nutrition, Cornell University
No funding for students or post-doctoral fellows at present.
McBurney MI, Bird JK. 2017. Impact of Biological Feedback and Incentives on Blood Fatty Acid Concentrations, Including Omega-3 Index, in an Employer-Based Wellness Program. Nutrients. doi: 10.3390/nu9080842
McBurney MI, Hartunian-Sowa S, Matusheski N. 2017 Implications of US Nutrition Facts Label Changes on Micronutrient Density of Fortified Foods and Supplements. J. Nutr. doi: 10.3945/jn.117.247585
Murphy RA, Yu E, Ciappio ED, Mehta S, McBurney MI. 2015. Suboptimal Plasma Long Chain n-3 Concentrations are Common among Adults in the United States, NHANES 2003-2004. Nutrients. doi: 10.33990/nu7125534
McBurney MI, Yu EA, Ciappio ED, Bird JK, Eggersdorfer M, Mehta S. 2015. Suboptimal Serum α-Tocopherol Concentrations Observed among Younger Adults and Those Depending Exclusively upon Food Sources, NHANES 2003-2006. PLoSONE. doi: 10.1371/journal.pone.0135510
Wallace TC, McBurney MI, Fulgoni VL. 2014. Multivitamin/mineral Supplement Contribution to Micronutrient Intakes in the United States, 2007-2010. J. Am. Coll. Nutr. 33:94-102. doi 10.1080/07315724.2013.846806 [Regus Award JACN Best Original Research Paper of 2014]
Rodearmel SJ, Wyatt HR, Barry MJ, Dong F, Pan D, Israel RG, Cho SS, McBurney MI, Hill JO. 2006. A Family-Based Approach to Preventing Excessive Weight Gain. Obesity. 14:1392-401.
Waller SM, Vander Wal JS, Klurfeld DM, McBurney MI, Cho S, Bijlani S, Dhurandhar NV. 2004. Evening Ready-to-Eat Cereal Consumption Contributes to Weight Management. J. Am. Coll. Nutr. 23:316-321.
Adegoke OA, McBurney MI, Samuels SE, Baracos VE. 2003. Modulation of Intestinal Protein Synthesis and Protease mRNA by Luminal and Systemic Nutrients. Am. J. Physiol. 284:G1017-1026. 
Frost GS, Brynes AE, Dhillo WS, Bloom SR, McBurney MI. 2003. The Effects of Fibre Enrichment of Pasta and Fat Content on Gastric Emptying, GLP-1, Glucose, and Insulin Responses to a Meal. Eur. J. Clin. Nutr. 57:293-298.
Massimino SP, McBurney MI, Field CJ, Thomson ABR, Pospisil L, Keelan M, Hayek MG, Sunvold GD. 1998. Fermentable Fibre Increases GLP-1 Secretion and Improves Glucose Homeostasis Despite Increased Intestinal Glucose Transport Capacity in Healthy Dogs. J. Nutr. 128:1786-1793. 
Tappenden KA, Drozdowski LA, Thomson ABR, McBurney MI. 1998. Short-Chain Fatty Acid-Supplemented Total Parenteral Nutrition alters Intestinal Structure, GLUT2 mRNA and Protein, and Proglucagon Abundance in Normal Rats. Am. J. Clin. Nutr. 68:118-125.
Reimer RA, Field CJ, McBurney MI. 1997. Ontogenic Changes in Proglucagon mRNA in BB Diabetes Prone Rats in Response to Feeding Chow Diets. Diabetologia. 40:871-878.
Marsman KE, McBurney MI. 1996. Dietary Fibre and Short-Chain Fatty Acids Affect Cell Proliferation and Protein Synthesis in Isolated Rat Colonocytes. J. Nutr. 126:1429-1437.
Dugan MER, McBurney MI. 1995. Luminal Glutamine Perfusion alters Endotoxin-Related Changes in Ileal Permeability of the Piglet. JPEN:19:83-87.
McBurney MI. 1994.The Gut: Central Organ in Nutrient Requirements and Metabolism. Can. J. Physiol. Pharmacol. 72:260-265.
McBurney MI. 1991. Potential Water-Holding Capacity and Short Chain Fatty Acid Production from Purified Fibre Sources in a Fecal Incubation System. Nutr. 7:421-424.
McBurney MI, Thompson LU. 1989. Effect of Human Fecal Donor on in vitro Fermentation Variables. Scand. J. Gastroenterol. 24:359-367.
McBurney MI, Thompson LU, Cuff DJ, Jenkins DJA. 1988. Comparison of Ileal Effluents, Dietary Fibres, and Whole Foods in Predicting the Physiological Importance of Colonic Fermentation. Am. J. Gastroenterol. 83:536-540.
McBurney MI, Horvath PJ, Jeraci JL, Van Soest PJ. 1985. Effect of in vitro Fermentation using Human Faecal Inoculum on the Water-Holding Capacity of Dietary Fibre. Br. J. Nutr. 53:17-23.
McBurney MI, Van Soest PJ, Chase LE. 1983. Cation-Exchange and Buffering Capacity of Neutral-Detergent Fibres. J. Sci. Food Agric. 34:910-916.