Policy Fellows Leverage University Experts to Increase Impact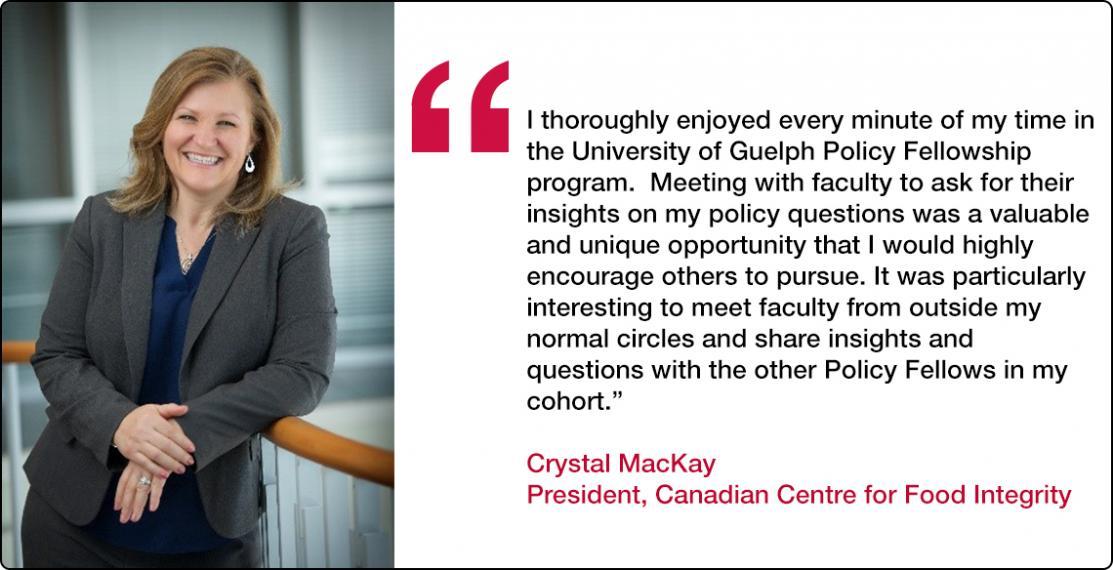 Become a University of Guelph Policy Fellow: Only 8 to 12 fellowships are available each session!
University of Guelph welcomes applications for the FREE online Policy Fellowship program in Agriculture, Food and Biodiversity from decision-makers in government, industry and NGOs. The deadline to apply to the winter 2021 session is January 15. Download an application to apply!
The Policy Fellowship program is a flexible thought leadership opportunity which consists of two virtual meetings per week for eight weeks with experts who can add valuable insight to help solve your key challenges. This program provides abundant opportunities to network, engage with world-class experts and learn about cutting-edge research and innovation projects. It allows policy makers to connect and exchange knowledge with other brilliant minds in the Agriculture, Food and Biodiversity sectors.
Who can become a University of Guelph Policy Fellow?
If your current role requires you to think about major issues facing the Agriculture, Food and Biodiversity sectors – and your work influences decision-making in your organization - we can connect you to University of Guelph expertise. Policy Fellows are in roles that can influence public policy within civil society, business and government.
 Are you ready to be a Policy Fellow?
This Fellowship program is ideal for mid- to senior-career decision-makers in government, industry or civil society. It is designed for professionals who need to understand and use the latest evidence when making important and impactful decisions for society.
You can consult a list of previous fellows.
If this program is suitable for someone that you know, kindly nominate them here.
Apply Now!
We are recruiting Fellows for the winter session. The deadline for submitting applications to the Policy Fellowship program is January 15, with the online program due to start during the week of February 15. Our next cohort will happen later in 2021 and applications for that session are also welcome at this time.
How to apply
Please download and complete the application form, which asks for the following information:
Your name, identification and affiliation;
The questions that you would like to discuss with UG experts; and
Your reasons for applying to the Fellowship, including an indication of how the knowledge you gain from joining the program will be applied to influence public policy.
Enrolment fees
Currently, the Food from Thought program covers the cost of all policy fellowship programming. Therefore, the program is FREE.
What happens next?
If you are selected as a Fellow, we will contact you to confirm your interest and better understand your key challenges. We will then match you with world-class researchers who will be able to answer your burning questions.
Please see Policy Fellowship FAQs for more information about the Fellowship and the application process.
For an informal discussion please contact:
Share this page
Find related news by keyword