When science becomes business: two University of Guelph teams shine at Proteus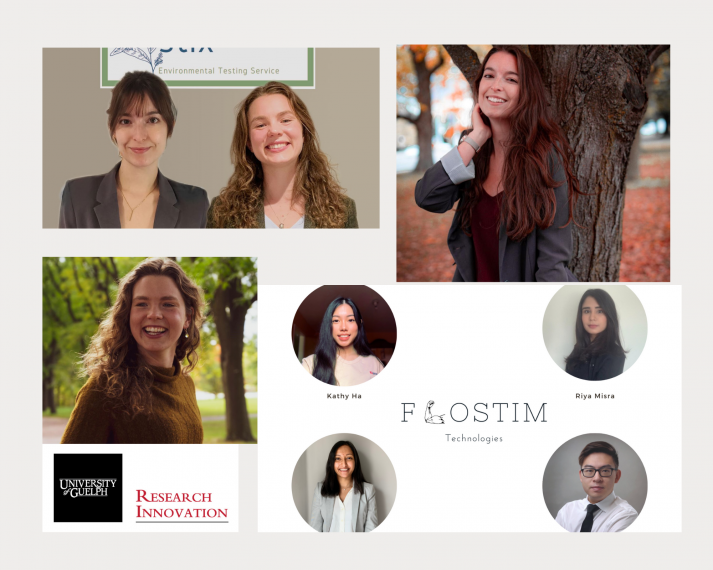 Innovative University of Guelph (UofG) graduate students were big winners at the recent Proteus Innovation Competition, a contest that strives to move technology from academia to the marketplace.
Since 2015 the Proteus Innovation Competition has offered a four-month challenge for teams and individuals to develop a viable commercialization strategy for patented technologies submitted by partner universities. This year six universities -University of Guelph, McMaster University, University of Waterloo, University of Windsor, Wilfrid Laurier University and University of Western Ontario - offered technology to inspire a wide range of innovators participating in the challenge.  University of Guelph provided access to a muscle-building/recovery device suitable for use in a variety of applications, including hospital settings and athletic performance.
At the end of the Proteus finale event on April 8th , BioGryphs, a team composed of U of G grad students won $5,000 for developing the Ecotox stix. The team created a business plan for a  simple, affordable biological test that can be used on-site at wetlands to find out if water is contaminated. Using a plastic tube,  seeds are exposed to collected water. Whether or not the seeds live indicates the presence or absence of contaminants.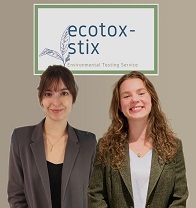 "We wanted to see if we could do it – based on what we've learned at the University, we thought this was the best way to stretch our creativity," says Rebecca Bradley, a master's student in the UofG's biotechnology program and one half of the BioGryphs team. The other half is Brooke Rathie, who is also a master's student in the same program. 
"Coming from a science background, we also wanted to see if we could impress people in business," she added.
"We were pushed by our professors to give it a try, and since it went hand-in-hand with our school work, it was the best decision we made."
For the competition, the team chose a technology that was developed by Dr. Kevin Stevens of Wilfrid Laurier University. Between January and April, they came up with an abstract, then a business plan and finally provided a five-minute pitch to a panel of business experts and a live audience.
"We felt that the best way to make basically a piece of plastic valuable was to associate it with an internet user interface," says Bradley.
They added value to the device by developing an online environmental testing service to go along with the kits. It could solve current problems with this kind of testing, which is often costly, labour-intensive, slow and cumbersome because samples have to be brought to a laboratory from the site.
For the business, the team projected revenues of $2.5 million, including labour, on sales of the first 10,000 units, which would be sold for $300 a kit.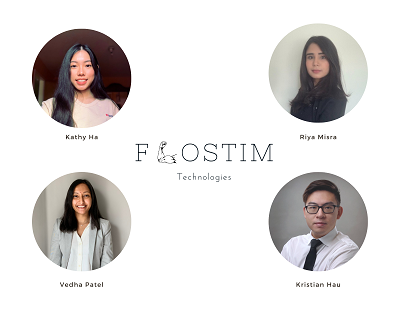 Another team of U of G biotechnology graduate students were finalists as well. Turning their creativity to the U of G technology developed by Dr. Jamie Burr from the University of Guelph's department of Human Health and Nutritional Sciences. Team members Vedha Patel, Riya Misra, Kathy Ha and Kristian Hau created a concept they named FloStim, a muscle training and recovery device for older people and people on mechanical ventilators who can't exercise.
Basically, FloStim is a portable device that combines blood flow restriction and electrical muscle stimulation – each of which is currently used individually to treat patients, but studies have shown that applying them simultaneously has a dramatically better effect on muscles.
"All of us are from a science background – so we took the theory we learned in class about business tools and applied it in a more practical way during this competition," says Vedha Patel. "It was interesting to learn about all the different aspects entrepreneurs need to know – from market research to talking to industry professionals to how to develop a business plan."
Patel attended the first explanatory session of this year's Proteus Innovation Competition and was in charge of the financial side of the development. She projected that the device, priced at $10,000 a unit, would generate $1.2 million in revenues from the hospital sector.
"U of G's Research Innovation Office participated in Proteus this year for the first time and we were thrilled with the quality of the technology pitches, including the pitches for the U of G technology", says Steve De Brabandere, Director of Technology Transfer and Industry Liaison. "We're proud of how well the U of G teams performed, and look forward to using some of the ideas from the competition to help commercialize the U of G technology." 
Share this page
Find related news by keyword