"Sober Girl Summer" with Project SOY Plus winners Femme Botanique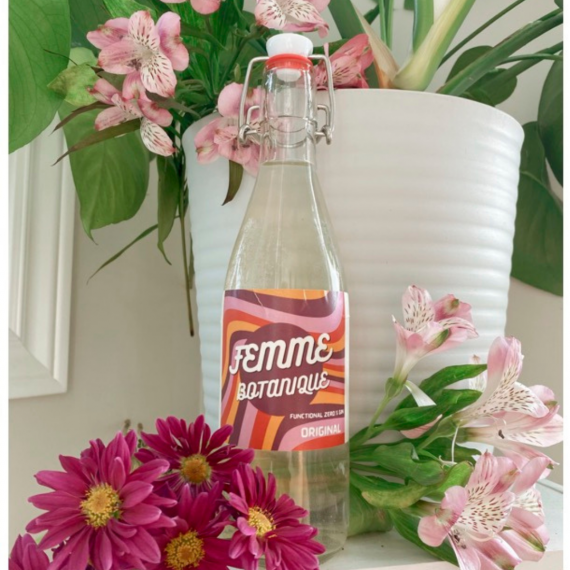 From growing interest in adding more moderation to drinking habits to exploring tasty alternatives to alcohol, there are a lot of reasons to explain the recent $2 billion boom in the non-alcoholic beverage industry. But few products on the market exist in the overlap between non-alcoholic beverages and functional foods (i.e. foods with additional health benefits). This is where Femme Botanique hopes to capitalize on with their non-alcoholic gin-flavoured bioactive beverage targeted specifically to women who are wanting to consume less alcohol or wish to stop consuming alcohol completely (fully sober and/or sober curious).
Led by four masters students in the Human Health and Nutritional Sciences program at the University of Guelph, Femme Botanique developed and launched their products at the 2022 Project SOY Plus competition, a business development opportunity for students to develop innovative plant-derived products. Brooke Adams, Karlie Pluim, Kyra Scott and Rachel von Holt worked with faculty advisor Dr William Bettger to develop the product concept, business model, formulations, and first batches of their product.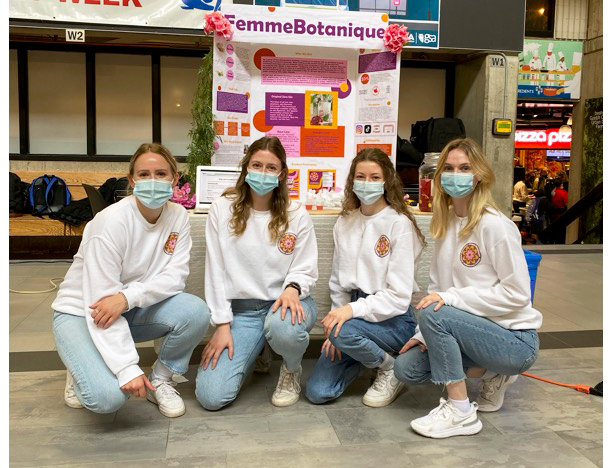 Femme Botanique team members, from left to right: Brooke Adams, Krya Scott, Rachel van Holt, and Karlie Pluim.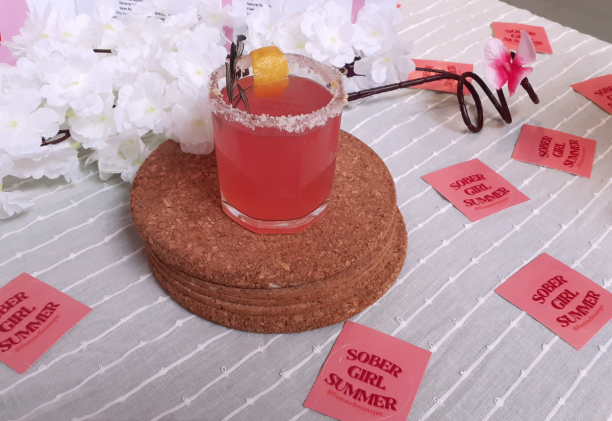 Femme Botanique aims to provide a delicious beverage for all consumers, but there's a reason they focus specifically on catering to women. Alcohol is a suggested trigger for irritable bowel syndrome, which affects twice as many women as men, and alcohol is also a risk factor for breast cancer. These nutrition students saw this as an opportunity to incorporate nutritional science into their product. Each serving of Femme Botanique contains 2 grams of oat-based soluble fibre, equating to 8% of the recommended daily intake for intestinal health. They also developed two variations of their original gin-flavoured beverage: Ease contains L-theanine, a bioactive that promotes wakeful relaxation without drowsiness, and Energize contains ginseng, an energy-boosting bioactive. 
"Our goal is to go above and beyond to provide not only alternatives, but added health benefits in our products. Bringing awareness to the negative health consequences of alcohol consumption as well as breaking down the societal pressures of drinking is how we plan to use our business for good and for the health of our consumers. When looking at the current market, we saw a very concentrated functional beverage space and a fast-growing non-alcoholic beverage space, however, there are no products that play in both spaces. Trailblazing into this new space, this is where Femme Botanicals gets a chance to shine as a completely new product", says the team. 
The majority of other non-alcoholic spirits on the market are conventionally distilled and then de-alcoholised. Femme Botanique differs by using natural flavourings to mimic the taste and sensation of gin without ever involving alcohol. And the end product is packaged in a 100% recyclable glass bottle with a compostable label. "This hasn't been done before because of how recent the rise of non-alcoholic beverages has been. Companies have only recently been creating nonalcoholic alternatives to popular spirits, wines, and beers. However, this new rise allows us to be the first product of this kind", says the team.
After winning first place among the masters category of the 2022 Project SOY Plus competition, Femme Botanique will continue to refine their business skills in partnership with the Hub Incubator program at U of G's John F. Wood Centre for Business and Student Enterprise at the Gordon S. Lang School of Business and Economics. The Hub Incubator offers U of G students and alumni funding, dedicated office space and access to experienced entrepreneurs. The Hub focuses on helping startups develop a strong business model that can be rigorously tested and intelligently scaled. This program launched in 2014 and Femme Botanique will be a part of the 22nd cohort!