CEPS Graduate Student Research Day 2021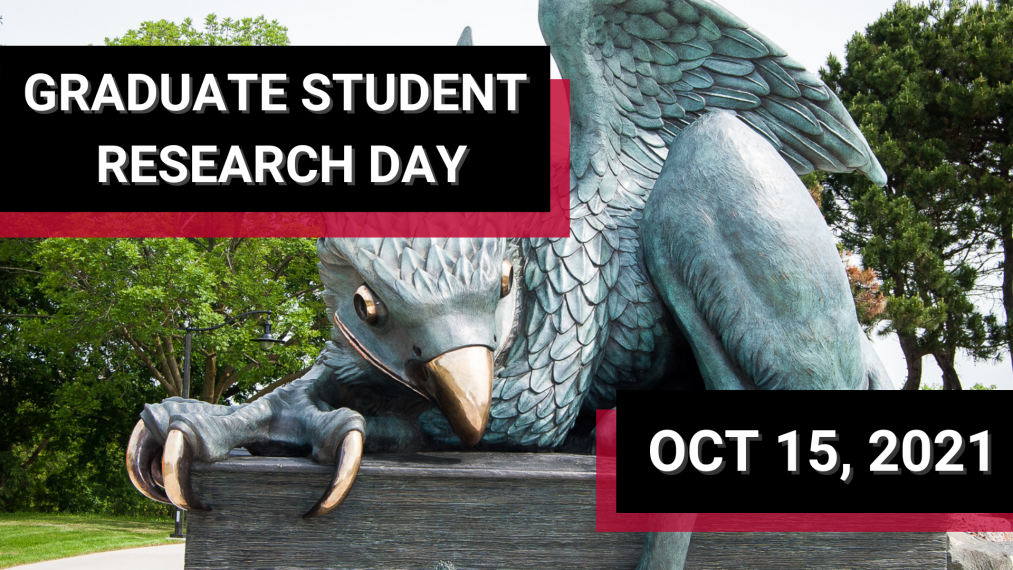 It's no easy task to condense complicated research into three minutes and one slide, but twelve CEPS students rose to the occasion for the College of Engineering and Physical Sciences (CEPS) Graduate Student Research Day on October 15, 2021.
Highlighting CEPS Excellence
The virtual event brought together students, instructors, alumni, and staff from across the College's five academic units in appreciation of their high-achieving graduate students.
The day began with opening remarks from physics professor and CEPS Associate Dean of Research and Graduate Studies, Dr. Leonid Brown. Following that, attendees watched twelve three-minute presentations from talented and ambitious CEPS graduate students with topics ranging from biodegradable mask filters to artificial intelligence (AI) enhancing healthcare.
Announcing the Winners
CEPS is pleased to announce that PhD Candidate Suranjoy Singh Singam won first place for his presentation, Biodegradable and Antimicrobial Filter for Respirator Mask. Suranjoy Singh Singam is an Engineering student working with Dr. Loong-Tak Lim (Department of Food Science) and Dr. Manickavasagan Annamalai (School of Engineering).
Second place went to MASc Candidate Rohini Gaikar for her presentation, Will AI Replace Radiologists? Rohini Gaikar is an Engineering student working with Dr. Eranga Ukwatta (School of Engineering).
The judges also gave an honorable mention to three presenters for their fantastic research presentations:
Engineering student Linyi Tang, working with Dr. Kevin Keener (School of Engineering), for their presentation Cold plasma treatment to reduce mold and Aflatoxin from peanuts

Chemistry student Samantha Binkley, working with Dr. Peter Tremaine (Department of Chemistry), for their presentation Ionization Constants of Secondary Coolant pH Control Amines

Engineering student Abdullah Al-Hayali, working with Dr. Eranga Ukwatta (School of Engineering), for their presentation Semi-supervised Algorithm for Segmentation of Neonatal Cerebral Ventricles from 3D Ultrasound Images
Emerging from COVID: Innovative Thinking Sparked by COVID-19
Following student presentations, viewers attended a panel discussion moderated by Dr. Daniel Gillis (School of Computer Science). Gillis is known for his multidisciplinary, collaborative research spanning fields ranging from sustainability to natural resource management. He was joined by four experts with CEPS connections to discuss the role of research and industry in navigating COVID-19.
Over the last 18 months, researchers and industry partners from the University of Guelph—particularly within CEPS—have stepped up their response to COVID-19 by pivoting their research, adjusting their priorities, and producing novel ideas to mitigate the impacts of COVID-19.
The panelists included Dr. Monica Cojocaru (Department of Mathematics and Statistics), Dr. Ed McBean (School of Engineering), Dr. Rozita Dara (School of Computer Science), and special guest Nicole McLellan (Process Specialist at Stantec working toward public health protection through water treatment and U of G PhD Candidate in Environmental Science). After an informative discussion about the innovation sparked by the pandemic, Gillis asked the panelists to share one piece of practical advice for an early career researcher or graduate student.
Panelist Dr. Monica Cojocaru shared this piece of advice for researchers just beginning their career journey:
"Don't just have a plan A and a plan B. Have many letters planned. In life, you must be able to build a strategy for yourself. This includes career, personal life, family life, and so on. It's very easy for us emotionally to be very hopeful and linked to a specific path that we desire most, which usually falls under "Path A". Sometimes life throws us all kinds of interesting complications; the pandemic being the latest example for all of us. I think a lot of younger people should be aware to always plan backups."
If you could not join us on October 15th, you can still watch Grad Student Research Day below or on CEPS's Youtube Channel.
Congratulations again to all the student presenters and thank you to all the other participants!