MCB United Way Raffle Fundraiser
Location
SSC 4462 - Summerlee Science Complex - 4th Floor Lunch Room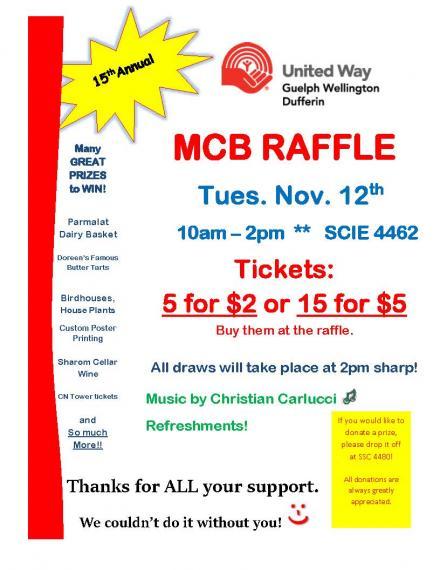 Details
Get ready for the 15th annual MCB United Way Raffle!
Tickets will be sold at the raffle: 5 for $2  or  15 for $5   
**Draws will take place starting at 2:00 pm**  Music by Christian Carlucci!
Prizes include:  The Parmalat Gift Basket, Sharom Wine Cellar bottle, CN Tower tickets, birdhouses, plants, Astley-Gilbert voucher, bike helmet, gift cards, Doreen's Famous Butter Tarts, .... and so much more!
Looking forward to seeing you at the raffle!  
MCB United Way Raffle Team
(Bertilla Moroni, Michelle Daigneault, Jaspreet Kaur, Erin Anderson, Emily Martin)