Dr. Emma Allen-Vercoe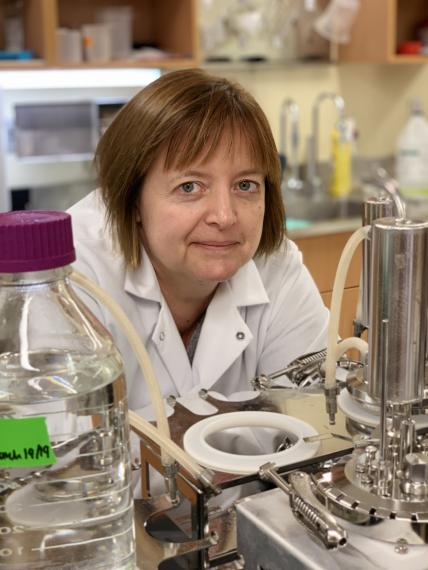 Professor, Canada Research Chair
Department of Molecular and Cellular Biology
I began my research career with undergraduate and graduate studies at the Central Veterinary Laboratories (now Veterinary Laboratories Agency) and the Centre for Applied and Microbiological Research (CAMR, now the Health Protection Agency), UK, under the direction of Prof. Martin Woodward. There, I studied the enteric pathogen Salmonella enterica serovar Enteritidis, and developed a sound appreciation of the many obstacles that a enteric pathogen must overcome in the gut in order to cause disease. I became fascinated by the huge arsenal of virulence factors required by enteric pathogens in order to survive and proliferate in the gut environment.
I spent a brief postdoctoral period at CAMR, learning to work with technically challenging pathogens such as Mycobacterium tuberculosis and Campylobacter jejuni, before I relocated to Canada in 2001 to start a postdoctoral position at the University of Calgary, under the joint direction of Drs. Rebekah DeVinney and Mike Surette. Here I worked on Enteropathogenic and Enterohemorrhagic E. coli (EPEC and EHEC), using cell and molecular biology techniques to probe the fascinating interactions of their type III secretion systems with host cells. 

I had always been interested in learning more about the normal microbial population inside the human gut, and in 2004 I was fortunate enough to win a Fellow-to-Faculty Transition award through the Canadian Association of Gastroenterology. This award allowed me to develop an independent research program aimed at the study of the normal human microbiota and its influence on human health and disease, a program that I brought with me to Guelph in December 2007.
Since I've been here, with thanks to my very talented staff and students I have built a world-class anaerobic microbiology facility and directed it both towards answering fundamental research questions, and to create translational opportunities to move the science into the clinic.  In 2013, I co-founded NuBiyota, a company whose mission is to develop "Microbial Ecosystem Therapeutics" to treat disorders that have gut microbial dysbiosis as a root cause.

My motto: "My microbes told me to do it"
My hobbies: Gardening, reading, reading about gardening
B.Sc. (Hons) Biochemistry, University of London
Ph.D. Molecular Biology, Open University in conjunction with CAMR, UK Post-doctoral fellow, University of Calgary
UK Post-doctoral fellow, University of Calgary
Research in my laboratory is focused on the study of the normal human gut microbiota, both in disease and in health. The research can be loosely divided into several main areas centered on fundamental questions in the field of microbial ecology of the gut:
WHAT GROWS THERE?
The microbial world inside the human gut, though not without an intrinsic 'ick' factor, is a fascinating place, brimming with diversity on an enormous scale, but yet very poorly understood. While molecular signatures have shown that the microbiota community within the gut can contain many hundreds of bacterial species, only a small percentage of these species are understood in terms of their biology. The lack of knowledge in this area stems from the fact that, as yet, the conditions required to culture most of the bacterial species resident in the human gut are not well understood. In my laboratory, we are developing new techniques to culture and study novel bacterial species from the gut in order to better understand how these species might contribute to the remarkable homeostasis of the microbiota community as a whole. Central to our research approach, we have developed a continuous culture system to model the bacterial communities within the distal gut, the most densely populated part of the human body in terms of microbes. Dubbed the Robogut, our model contributes to many of the projects within the lab. Click this link to see a recent piece featuring this work on CBC's Quirks and Quarks' radio show. Click this link to see members of my lab explain the system in detail.
We have enjoyed an extensive collaboration with the Broad Institute in Cambridge, Massachusetts, whereby we have provided a significant number of the bacterial isolates requested for genome sequencing through the Human Microbiome Project. We remain working closely with elements of this project, including the production of microbiological standards for HMP sequencing projects.
HOW DOES THE GUT MICROBIOTA RESPOND TO ITS ENVIRONMENT?
We are interested in the metabolic output of the gut microbiota and how this changes in response to environmental stimuli. We are interested in the response of the gut microbiota to drugs, food additives, and host proteins. We have developed NMR as a tool for shotgun metabolomics of microbial ecosystems to help us understand metabolic shifts in response to microbiota perturbation. We currently apply this approach to the study of several diseases, including type 1 diabetes, colorectal cancer and IBD.
We are also interested in the role of the virobiome – the viral microbiome, in intestinal health. Viruses are the most numerous components of the human gut microbiome, but their role in ecosystem development and dynamics is not well understood. The Robogut system offers us the perfect opportunity to study the interaction of the virome with the cellular components of the gut microbial ecosystem.

WHICH BACTERIAL SPECIES OF THE NORMAL MICROBIOTA CAN CONTRIBUTE TO HEALTH/DISEASE?

In a healthy person, despite the constantly changing environment within the gut, the resident microbiota maintain a largely homeostatic balance that is unique to the host. It is becoming increasingly clear that when this balance is shifted, the consequences to the host can be highly detrimental. My lab studies several key diseases with connections to the gut microbiota: Colorectal cancer, Type 1 diabetes and Clostridioides difficile infection (CDI).

CDI is an infection of particular and growing concern in the hospital setting, causing pain and serious diarrhea in affected patients. C.difficile usually infects patients who have recently had a course of antibiotics, stripping them of their normal gut microbiota and allowing space for the pathogen to flourish. Ironically, the current treatment for CDI is a further course of antibiotics to target the C.difficile. Unfortunately, C.difficile can be very difficult to eradicate in this way, and some patients end up with a recurrent C. difficile infection that they are unable to clear, leaving them with no option but to take long-term doses of expensive antibiotics. Fecal transplants offer a potential solution to this infection, by restoring normal flora and displacing the pathogen; however these carry a fairly high degree of risk themselves due to the potential presence of unknown pathogens in donor stool, and as well the procedure is messy and unpleasant. We are working to produce a defined multi-species therapeutic ecosystem – a synthetic stool treatment that we have dubbed "RePOOPulate" – to overcome the problems of fecal transplants, while still offering a potential cure for CDI. This work is being carried out in conjunction with NuBiyota, to create what we hope is an emerging paradigm in medicine.

Click on this link to download a Medical Post article describing this work. 
Click on this link to view a CTV The National piece that describes the use of RePOOPulate to treat a severely ill CDI patient.

Colorectal cancer is one of the leading forms of cancer in the world. In 2011, in collaboration with the BC Cancer Agency, our lab helped to demonstrate the overabundance of a particular anaerobic species, Fusobacterium nucleatum, in colorectal cancer tumours. This fascinating finding has opened the door to many further studies that are now underway to try to characterize the role that this enigmatic species may have in disease.  In my lab, we are focused on understanding how F. nucleatum interacts with host cells to cause disease, and how this process is affected by factors such as host diet, existing microbiome and antibiotic use. In addition to this, we hope that NuBiyota's therapeutic ecosystem approach may be useful for treatment of CRC through reduction of F. nucleatum loads.

Type 1 Diabetes (T1D) is a serious metabolic disease where the body has difficulty in regulating blood sugar levels, as a result of the pancreas producing insufficient amounts of insulin.  There is a growing amount of evidence that the gut microbiota plays an important role in the development of T1D. In particular, exposure to certain microbial species found in the gut may trigger an autoimmune response to the insulin-producing cells of the pancreas in susceptible individuals. Our lab is working in collaboration with the lab of Jayne Danska, Sick Kids, to try to understand how, and which, gut microbes contribute to diabetes.
What are the consequences of our "missing microbiota"?
It is generally accepted that humans in the western world are colonized by a less diverse ecosystem than those of people who live without modern conveniences, such as hunter-gatherer tribespeople. We are interested to understand what is different about the hunter-gatherer gut microbiome in terms of the metabolism of the 'missing microbes' by culturing and studying these species, and using them to supplement a western microbiome.
Understanding the mouse microbiome
Mice are frequently used as models for human disease, yet the mouse microbiome is poorly understood and varies according to e.g. housing conditions and animal genotype. We are working to model the mouse gut microbiome and its function, with the hope of standardizing the laboratory mouse gut microbiota to promote reproducibility in animal models.
*Cancer research UK
*National Institutes of Health, (NIH)
Ontario Ministry of Agriculture, Food and Rural Affairs, (OMAFRA) 
Natural Sciences and Engineering Research Council (NSERC)
*The Juvenile Diabetes Research Institute (JDRF)
Pulse Crops (Canada) Association
*The Canadian Cancer Research Institute
Crohn's and Colitis Canada, (CCC)
US Department of Defense Congressionally Directed Medical ResearchProgram (CDMRP)
Physician's Services Incorporated (PSI)
The Southeastern Ontario Academic Medical Organization (SEAMO)
*Canadian Institutes of Health Research, (CIHR)
*Canada Foundation for Innovation, (CFI) 
Ontario Ministry of Research and Innovation, (OMRI) 
Ontario Centres of Excellence (OCE)
The Autism Research Institute
Past and *Present
Publications (since 2016) 
* indicates EAV lab member
*Cochrane, K., *Robinson, A., Holt, RA, Allen-Vercoe E., A survey of Fusobacterium nucleatum genes modulated by host cell infection. Microbial Genomics (in press)
*Oliphant K, *Parreira VR, *Cochrane K, Allen-Vercoe E.  Drivers of human gut microbial community assembly: coadaptation, determinism and stochasticity. ISME J. 2019 Sep 2. doi: 10.1038/s41396-019-0498-5
Allen-Vercoe E, Carmical JR, Forry SP, Sinha R, Gail MH.  Perspectives for Consideration in the Development of Microbial Cell Reference Materials. Cancer Epidemiol Biomarkers Prev. 2019 Sep 12. pii: cebp.0557.2019. doi: 10.1158/1055-9965.EPI-19-0557.
*Watkins C, Murphy K, *Yen S, Carafa I, Dempsey EM, O' Shea CA, Allen-Vercoe E, Ross RP, Stanton C, Ryan CA. Effects of therapeutic hypothermia on the gut microbiota and metabolome of infants suffering hypoxic-ischemic encephalopathy at birth. Int. J. Biochem. Cell Biol. 93 2017, 110-118
*Oliphant K, Allen-Vercoe E.  Macronutrient metabolism by the human gut microbiome: major fermentation by-products and their impact on host health. Microbiome. 2019;7(1):91. doi: 10.1186/s40168-019-0704-8.
Hold GL, Allen-Vercoe E.  Gut microbial biofilm composition and organisation holds the key to CRC. Nat Rev Gastroenterol Hepatol. 2019 ;16(6):329-330. doi: 10.1038/s41575-019-0148-4.
Paun A, Yau C, Meshkibaf S, *Daigneault MC, Marandi L, Mortin-Toth S, Bar-Or A, Allen-Vercoe E, Poussier P, Danska JS. Association of HLA-dependent islet autoimmunity with systemic antibody responses to intestinal commensal bacteria in children. Sci Immunol. 2019 Feb 1;4(32). pii: eaau8125. doi: 10.1126/sciimmunol.aau8125.
*Carlucci C, *Jones CS, *Oliphant K, *Yen S, *Daigneault M, *Carriero C, *Robinson A, Petrof EO, Weese JS, Allen-Vercoe E. Effects of defined gut microbial ecosystem components on virulence determinants of Clostridioides difficile. Sci Rep. 2019 Jan 29;9(1):885. doi: 10.1038/s41598-018-37547-x
Fang X, Monk JM, Nurk S, Akseshina M, Zhu Q, *Gemmell C, *Gianetto-Hill C, Leung N, Szubin R, Sanders J, Beck PL, Li W, Sandborn WJ, Gray-Owen SD, Knight R, Allen-Vercoe E, Palsson BO, Smarr L. Metagenomics-Based, Strain-Level Analysis of Escherichia coli From a Time-Series of Microbiome Samples From a Crohn's Disease Patient. Front Microbiol. 2018 Oct 30;9:2559. doi: 10.3389/fmicb.2018.02559. eCollection 2018.
Liu C, Wright B,  E, Gu H, Beiko R.Phylogenetic Clustering of Genes Reveals Shared Evolutionary Trajectories and Putative Gene Functions. Genome Biol Evol. 2018 Sep 1;10(9):2255-2265. doi: 10.1093/gbe/evy178.
Klurfeld, D., Davis, C., Karp, R., Allen-Vercoe, E., Chang, E., B. Chassaing, G. Fahey, B. Hamaker, H. Holscher, J. Lampe, A. Marette, E. Martens, S. O'Keefe, D. Rose, M. Saarela, B., Schneeman, J. Slavin, J. Sonnenburg, K. Swanson, G. Wu, C. Lynch. Considerations for Best Practices in Studies of Diet and the Intestinal Microbiome. American Journal of Physiology: Endocrinology and Metabolism 2018 Dec 1;315(6):E1087-E1097.
Haines J, Douglas S, Mirotta JA, O'Kane C, Breau R, Walton K, Krystia O, Chamoun E, Annis A, Darlington GA, Buchholz AC, Duncan AM, Vallis LA, Spriet LL, Mutch DM, Brauer P, Allen-Vercoe E, Taveras EM, Ma DWL; Guelph Family Health Study.  Guelph Family Health Study: pilot study of a home-based obesity prevention intervention. Can J Public Health. 2018 Aug;109(4):549-560. doi: 10.17269/s41997-018-0072-3.
Guzman-Rodriguez, M., *McDonald, J., Hyde, R., Allen-Vercoe, E., Claud, E., Sheth, P. and Petrof, E. Using bioreactors to study the effects of drugs on the human microbiota. Methods 149:31-41. doi: 10.1016/j.ymeth.2018.08.003
*Yen, S., *Bolte, E., Aucoin, M., & Allen-Vercoe, E. (2018).  Metabonomic evaluation of fecal water preparation methods: the effects of ultracentrifugation. Current Metabolomics, 6 (1), 57-63.
Bogiatzi, C., Gloor, G., Allen-Vercoe, E., Reid, G., Wong, R., Urquhart, BL, Dinculescu, V, Ruetz, KN, Velenosi, TJ, Pignanelli, M, Spence, JD (2018).  Metabolic products of the intestinal mirobiome and extremes of atherosclerosis. Atherosclerosis, 273, 91-97.
Gloor, G., Wong, R., Allen-Vercoe, E., Dinculescu, V., Pignanelli, M., Bogiatzi C, Reid, G, Spence, JD (2018).  Data on the gut and saliva microbiota from a cohort of atherosclerosis patients determined by 16S rRNA gene sequencing. Data in Brief, 19, 481-485.
Pignanelli, M., Just, C., Bogiatzi, C., Dinculescu, V., Gloor, G., Allen-Vercoe, E., Reid, G., Urquhart, BL, Ruetz, KN, Velenosi, TJ, Spence, JD (2018).  Mediterranean diet score: associations with metabolic products of the intestinal microbiome, carotid plaque burden, and renal function. Nutrients, 16 (10), E779.
Garcia, C, Tebbji, F, *Daigneault, M, Liu, N-N, Koehler, J, Allen-Vercoe, E, and Sellam, A. (2017) The human gut microbial metabolome modulates fungal growth via TOR signaling pathway. MSphere 2(6). pii: e00555-17. doi: 10.1128/mSphere.00555-17
Sessenwein, JL, Baker, CC, Pradhananga, S, Maitland ME, Petrof, EO, Allen-Vercoe, E, Noordhof, C, Reed, DE, Vanner, SJ and Lomax AE. (2017) Protease-mediated suppression of DRG neuron excitability by commensal bacteria. J Neurosci 37 (48):11758-11768.
Casasanta, MA, Yoo, CC, Smith, HB, Duncan, AJ, *Cochrane, K, Varano, AC, Allen-Vercoe, E, and Slade, DJ.   A chemical and biological toolbox for Type Vd secretion: characterization of the phospholipase A1 autotransporter FplA from Fusobacterium nucleatum.  J Biol Chem 2017 Dec 8;292(49):20240-20254. 
Costea, P., Ehrlich, D., Dore, J., Bork, P., Guarner, F., IHMS partners (including Allen-Vercoe, E.), (2017). Towards standards for human fecal sample processing in metagenomic studies. Nature Biotechnology, 35 (11):1069-1076.
Van Raay, T. and Allen-Vercoe, E. (2017) Microbial interactions and interventions in colorectal cancer. Microbiology Spectrum, 5(3).
Murall C.L., Abbate J.L., Puelma-Touzel M., Allen-Vercoe E., Alizon S. Froissart R., McCann K., (2017) Invasions of host-associated microbiome networks. Advances in Ecological Research, 57:201-281.
Moniz, K., Ropers, M.-H., Dudefoi, W., Allen-Vercoe E., Walker, V. (2017) Impact of food grade and nanoTiO2 particles on a human intestinal community. Food and Chemical Toxicology, 106 (PtA):242-249.
Belik, J., Shifrin, Y., Bottiglieri, T., Pan, J., *Daigneault, M., Allen-Vercoe, E. (2017) Intestinal microbiota as a tetrahydrobiopterin exogenous source in hph-1 mice. Scientific Reports, 12 (7):39854.
Martz, S.-L. E., He, S.-M., Noordhof, C., Hurlbut, D.J., Gloor, G., *Carlucci, C., Weese, J.S., Allen-Vercoe, E., Sun, J., Claud, E.C. and Petrof, E.O.  (2016) A human gut ecosystem protects against Clostridium difficile disease by targeting TcdA. J. Gastroenterology 52(4):452-465.
Das P., Saulnier, E., *Carlucci, C., Allen-Vercoe, E., Shah, V, Walker, V.K. (2016) Interaction between a Broad-spectrum Antibiotic and Silver Nanoparticles in a Human Gut Ecosystem. Journal of Nanomedicine and Nanotechnology in press.
*Carlucci C, Petrof EO, Allen-Vercoe E. (2016) Fecal Microbiota-based Therapeutics for Recurrent Clostridium difficile Infection, Ulcerative Colitis and Obesity. EBioMedicine. Nov;13:37-45.
*Cochrane, K., McGuire, A. M., Priest, M. E., Abouelleil, A., Cerqueira, G. C., Lo, R., Earl, A.M., Allen-Vercoe, E., (2016). Complete Genome Sequences and Analysis of the Fusobacterium nucleatum subspecies animalis 7-1 Bacteriophage ɸFunu1 and ɸFunu2. Anaerobe. Apr;38:125-9.
Wissenbach D.K., *Oliphant K., Rolle-Kampczyk U., *Yen S., Höke H., Baumann S., Haange S.B., Verdu E.F., Allen-Vercoe E., von Bergen M.  (2016) Optimization of metabolomics of defined in vitro gut microbial ecosystems. Int J Med Microbiol. Aug;306(5):280-9.
Munoz S., Guzman-Rodriguez M., Sun J., Zhang Y.G., Noordhof C., He S.M., Allen-Vercoe E., Claud E.C., Petrof E.O. (2016) Rebooting the microbiome. Gut Microbes. Jul 3;7(4):353-363.
Chamoun, E., Mutch, D.M., Allen-Vercoe, E., Buchholz, A., Duncan, A. M., Spriet, L.L., Haines, J. and Ma, D.W.L. (2016) A review of the associations between single nucleotide polymorphisms in taste receptors, eating behaviours, and health. Critical Reviews in Food Science and Nutrition. In press.
Gupta, S., Allen-Vercoe, E., & Petrof, E. (2016). Fecal transplantation-in perspective. Therapeutic Advances in Gastroenterology. Mar;9(2):229-39.

Link to complete set of publications: https://www.ncbi.nlm.nih.gov/pubmed/?term=llen-vercoe
Availability of microbial strains
The lab is often asked for stocks of microbial strains that have been deposited to the HMP reference genome collection (and that are not available through BEI Resources), or that are otherwise available in our considerable library of gut and oral microbial isolates. We are very happy to help, although the work has increased in volume in recent years. Therefore, we now ask that our requestors contribute to the cost of the preparation and QC of outgoing strains. Our standard cost is CAD$150 per strain (or CAD$400 to 'for profit' enterprise), as well as the cost of shipping. Requestors are responsible for acquisition of any import permits, as required. Some strains may be subject to the execution of a Materials Transfer Agreement (MTA) between the University of Guelph and the requestor's institution. Please address any questions about strain availability/MTA execution to Dr. Allen-Vercoe (eav@uoguelph.ca). Please note that many strains within our collection are fastidious anaerobes and require specific conditions for culture. gDNA can be prepared on request.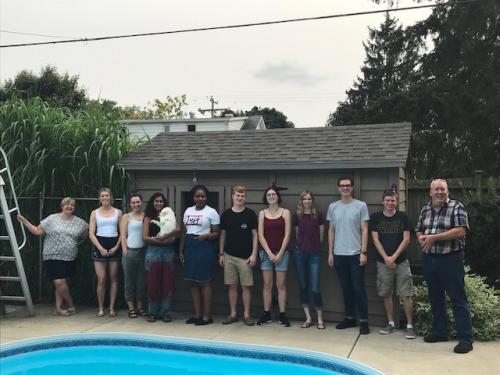 Some of the Allen-Vercoe lab, August 2018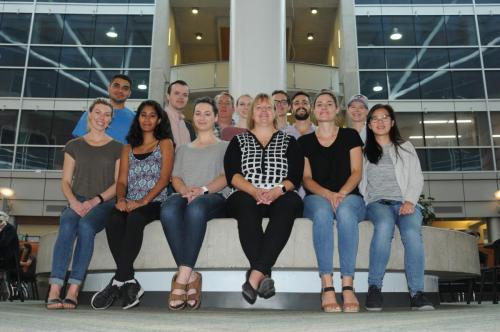 Some of the Allen-Vercoe lab, September 2017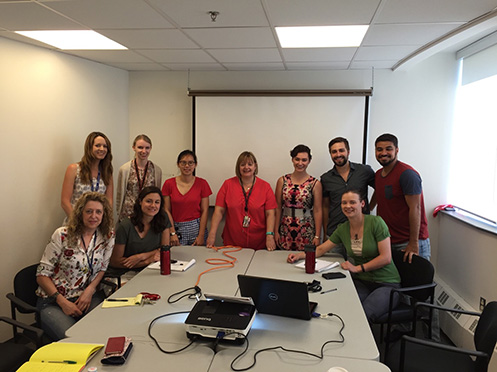 (Most of) the Allen-Vercoe Lab, Summer 2016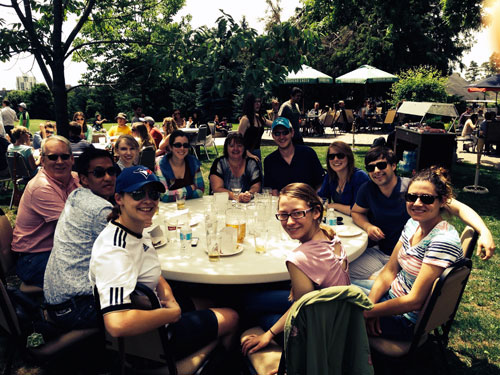 The Allen-Vercoe Lab, CBS BBQ, June 2014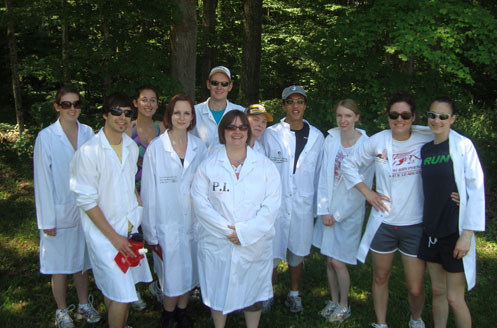 The Allen-Vercoe lab, Gutsy Walk for the CCFC, June 2012

Dr. Kathleen Schroeter
Process and Production Manager, NuBiyota
Kathleen is working on various aspects of manufacture and quality control of microbial ecosystem therapeutics products.
Motto: "May the force be with you"
Hobbies: Sports, sports and more sports, reading, gaming, cooking, hiking, spending time with her dogs 
schroetk@uoguelph.ca

Dr. Rafael Peixoto
Research Scientist, NuBiyota
Rafael is working to understand the interactions between sIgA molecules and the gut microbiota, and how these interactions might shape gut microbial communities. 
Motto: "What is essential is invisible to the eyes" 
Hobbies: Soccer, meditation, and travel.
rafael.peixoto@nubiyota.com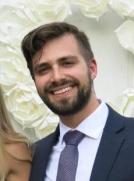 Dr. Christian Carlucci
Research Scientist, NuBiyota
Christian works on the development and characterization of human gut microbiome therapeutics.  
Motto: "People don't forget" 
Hobbies: Playing in a rock 'n' roll band 
ccarlucc@uoguelph.ca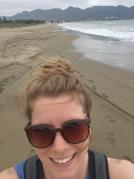 Dr. Kyla Cochrane
Research Scientist, NuBiyota
Kyla is NuBiyota's bioinformatics expert and lends her skills to the development of novel ecosystem therapeutics.
Motto: "Think twice, code once" 
Hobbies: Painting, travel and my cat, Jones.
The NuBiyota production team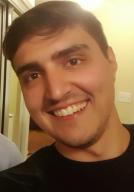 Joseph Ciufo
Motto: Don't count the days, make the days count.
Hobbies: Reading, Gaming, Rock Climbing and Fantasy Football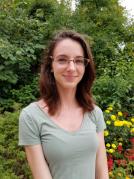 Alyssa Koch
Motto: Such is life…
Hobbies: animals, reading, gym, cooking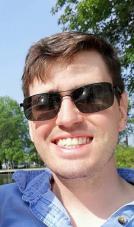 Craig Moore
Motto: "Never tell me the odds"
Hobbies: Star Wars, Reading, Board/Video games, and spending time at the cottage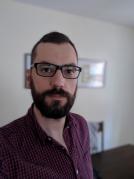 Keith Sherriff
Hobbies: Ultimate Frisbee, golf, and cooking 
Motto: Don't Panic 




 

AJ Stirling
Motto: "Don't take life too seriously, no one gets out alive anyway."
Hobbies: Cooking, gaming, running,  and binge-watching Netflix shows.


 

Caroline Ganobis
M.Sc. candidate, preparing to transfer from M.Sc. to Ph.D. Caroline is working on adapting the Robogut model system to the culture of the mouse microbiome, in order to study how the microbial ecosystem of mice susceptible to colorectal cancer is perturbed during disease.
Motto: "Just be nice"
Hobbies: experimenting with foods, lifting things to be able to experiment with foods, and befriending dogs
ganobisc@uoguelph.ca

Simone Renwick
Ph.D. candidate
Simone is creating defined microbial ecosystems from fecal samples collected from children who went on to develop type-1 diabetes.  She will use these model ecosystems to study the metabolite profiles of these ecosystems under different perturbation stress, and, in conjunction with the Danska lab at Sick Kids [please insert link: http://www.sickkids.ca/Research/Danska-lab/] , to understand the role of these ecosystems in immune system activation. 
Motto: I can and I will. 
Hobbies: Reading, Hiking, Painting and Chess
srenwick@mail.uoguelph.ca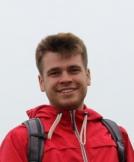 Jacob Wilde
Ph.D. candidate
Jacob is working to understand how the human gut virobiome can contribute to microbial ecosystem dynamics and interactions.  His project is being carried out in collaboration with the Pride lab [please insert link: http://www.thepridelaboratory.org/home.html] at the University of California, San Diego.
Motto: "No crackers, Gromit! We've forgotten the crackers!"
Hobbies: Insect evolution, insect poems, insect neurology, viruses, rugby, hockey, rugby.
jwilde@uoguelph.ca

 
Avery Robinson
Ph.D. candidate (start date January 2019)

Avery will be working to understand how Fusobacterium nucleatum can invade host cells, and its potential role as a modulator of colorectal cancer.
Motto: "Get $*it done!"
Hobbies: Cooking, writing, working weekends.
arobin17@mail.uoguelph.ca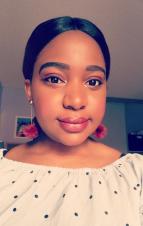 Mbita Nakazwe
Bioinformatics M.Sc. candidate 
Mbita is applying bioinformatics approaches to the analysis of metabolites and 16S rRNA gene profiles of infants at risk for developing type 1 diabetes.
Motto: Every day it gets a little easier. But you have to do it every day. That's the hard part.
Hobbies: Dancing, baking, yoga, bingeing TV/movies
mnakazwe@uoguelph.ca
Michelle Daigneault
M.Sc., Research Tech.
Michelle contributes her considerable technical expertise to all of the projects within the lab, and also oversees the work to culture, characterize and archive novel bacterial species from the human gut. If you don't know how to culture a microbe, ask Michelle, as she probably does!
Motto: "Hakuna matata" 
Hobbies: Volleyball, addictive TV shows, more volleyball ...
mdaignea@uoguelph.ca
 

Chris Ambrose
Lab Manager
Chris does all the things that keep the lab running smoothly, including animal work, biosafety, purchasing and accounting, shipping and receiving paperwork, due diligence and maintenance & repair of equipment. He also is the go-to person for batch and chemostat fermentation method development.
Motto: "If you're not going to do it right, don't bother!"
Hobbies: Watching bad reality TV shows, wind-gazing, fixing stuff. 
cambrose@uoguelph.ca   x 58007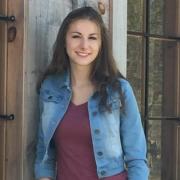 Alexa Soulliere
Co-op student
Alexa is working with Simone Renwick to culture gut microbes from children with type I diabetes, and she is also testing the transfer of antibiotic resistance genes in the Robogut model.
Motto: "After every storm there is a rainbow"
Hobbies: Running, reading, baking, travel, aikido, hanging out with my younger siblings and learning new things! 
asoullie@uoguelph.ca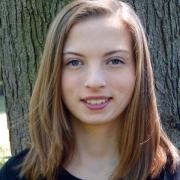 Laura Devine
Project student
Laura is working with Avery Robinson to culture gut microbes from tissue samples derived from colorectal cancer patients.
Motto: "Think positive, be positive"
Hobbies: Netflix, camping, expanding my graphic t-shirt collection 
ldevine@uoguelph.ca

Connor Gianetto-Hill
Project student
Connor's project is to develop a Robogut diet reflective of the Hunter-Gatherer lifestyle, and to test how this supports the Western gut microbiota. 
Motto: "Adapt and overcome"
Hobbies: Netflix, reading, cooking, horror movies
cgianett@uoguelph.ca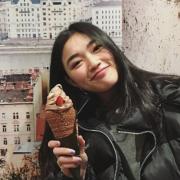 Anna Tran
Project student
Anna is working with Caroline Ganobis to develop Robogut media to mimic mouse lab chow diets.
Motto: "It is better to light a candle than to curse the darknesse"
Hobbies: My pet birds, planning what to eat, stories 
atran07@uoguelph.ca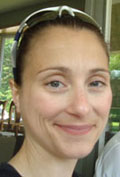 Jackie Strauss
Congratulations to Jackie Strauss, Ph.D. September 2011! Jackie's project was focused on understanding the role of the anaerobic pathogen, Fusobacterium nucleatum, in the etiology of IBD. 

Julie McDonald
Congratulations to Julie McDonald, PhD. May 2013! Julie's project focused on developing the Roboguts as a model of the human distal gut microbial ecosystem. Her project also examined the role of gut microbial biofilms in the maintenance of homeostasis during stress.

Ian Brown
Congratulations to Ian Brown, M.Sc. June 2014. Ian studied the human distal gut microbiota's response to different resistant starches  derived from novel lines of maize. 

Kathleen Schroeter
Congratulations to Kathleen Schroeter, PhD August 2014! Kathleen studied the role of various microbiota groups in biofilm formation in the distal gut. 
Co-supervised by Dr. Cezar Khursigara. 

Erin Bolte
Congratulations to Erin Bolte, MSc April 2015!
Erin investigated the metabolic output of whole gut microbial communities cultured from autism spectrum disorder patients in the Roboguts, and assessed the effect of these metabolites on gut colonocytes in vitro. 

Mike Toh
Congratulations to Mike Toh, PhD December 2015!
Co-supervised by Dr. Terry Van Raay, MCB, Mike developed the zebrafish embryo model as an innovative system to study the effects of gut bacterial metabolites on development, including neurogenesis and behaviour.

Kyla Cochrane
Congratulations to Kyla Cochrane, PhD February 2016! Kyla investigated virulence factors of Fusobacterium nucleatum as well as attempted to understand infectious synergies of F. nucleatum with other gut microbial species.

Christian Carlucci
Congratulations to Christian Carlucci, PhD March 2017! Christian used the Roboguts to model the RePOOPulate ecosystem and to define the microbial species within this ecosystem and others like it that promote ecosystem robustness and resilience, with a particular emphasis on understanding potential mechanisms of action against C.difficile infection. 

Kaitlyn Oliphant
Congratulations to Kaitlyn Oliphant, PhD December 2018!  Kaitlyn used the Roboguts to uncover some of the enigmatic drivers of gut microbial ecosystem dynamics. 

Sandi Yen
Congratulations to Sandi Yen, PhD September 2019!  Sandi developed a model of the premature infant gut microbiome and used it to understand factors that influence its robustness.