Dr. Georgina Cox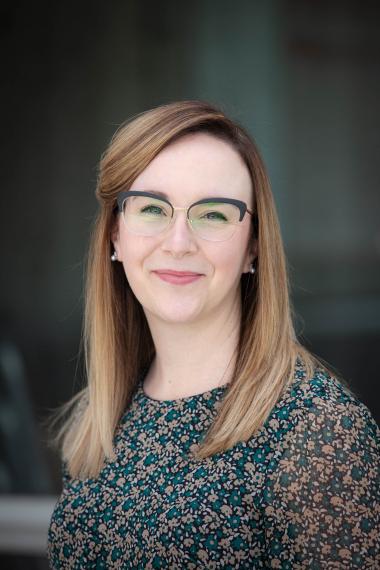 Department of Molecular and Cellular Biology
My primary research focus is the study of pathogenic bacteria. It was during my graduate studies that I first became fascinated with antibiotic resistance and the intricate mechanisms bacteria have evolved to circumvent the inhibitory action of these small molecules. Following completion of my PhD at the University of Leeds (UK), I completed 5 years of postdoctoral research in Dr. Gerry Wright's lab in the Institute of Infectious Disease Research (IIDR) at McMaster University. My postdoctoral research built upon my existing skills base involving the structural and molecular characterization of antibiotic resistance mechanisms. My postdoctoral studies also exposed me to cutting edge drug discovery campaigns and the world of natural products. I joined the department of Molecular and Cellular Biology at the University of Guelph in 2017. My research continues to investigate antibiotic resistant bacteria and the development of novel strategies to combat infectious diseases.
BSc - University of Leeds, Biochemistry with Medical Biochemistry
PhD - University of Leeds, Faculty of Biological Sciences
Postdoctoral Fellow - IIDR, McMaster University
Antibiotics have become a mainstay of modern medicine. Without these drugs, common infections will result in fatalities and medical operations will become impossible. Unfortunately, the emergence of antibiotic resistant pathogenic bacteria seriously threatens our antibiotic arsenal. As such, the development of new antibacterial agents that overcome resistance is of the utmost importance.
Bacteria harness an impressive and fascinating array of resistance mechanisms in response to toxic molecules. A comprehensive understanding of such mechanisms is essential to overcome this health threat. Utilizing a mixture of structural, molecular, and genetic approaches, research in the Cox Lab involves gaining insight into two areas: (1) how bacteria resist antibiotics and (2) how they interact with their host. More specifically, we are exploring intrinsic antimicrobial resistance mechanisms, teasing apart bacterial drug efflux systems, and studying the natural functions of these ancient transporters. We also investigate the genetic and molecular basis of bacterial adhesion to the host. The over-arching goal of our research is to identify and develop new therapeutics to tackle the resistance crisis. Those who are interested in such a research program are encouraged to contact us to hear about new and exciting opportunities.
A complete list of publications can be found here
Autolysin-mediated peptidoglycan hydrolysis is required for the surface display of Staphylococcus aureus cell wall-anchored proteins
AC Leonard, MI Goncheva, SE Gilbert, H Shareefdeen, LE Petrie, LK Thompson, CM Khursigara, DE Heinrichs & G Cox (2023) Proceedings of the National Academy of Sciences 120(12)
A genetic platform to investigate the functions of bacterial drug efflux pumps
T Teelucksingh*, LK Thompson*, S Zhu, NM Kuehfuss, JA Goetz, SE Gilbert, CR MacNair, J Geddes-McAlister, E Brown & G Cox (2022) Nature Chemical Biology 18, 1399-1409
Exploring functional interplay amongst Escherichia coli efflux pumps
JA Goetz, NM Kuehfuss, AJ Botschner, S Zhu, LK Thompson & G Cox (2022) Microbiology 168(11)
Staphylococcus aureus adhesion to the host
KA Berry, MTA Verhoef & G Cox (2022) Annals of the New York Academy of Sciences 1515(1)
Old problems and new solutions: antibiotic alternatives in food animal production
C Stoica & G Cox (2021) Canadian Journal of Microbiology 67(6)
Development and validation of a high-throughput whole-cell assay to investigate Staphylococcus aureus adhesion to host ligands
LE Petrie*, AC Leonard* & G Cox (2020) J Biol Chem doi: 10.1074/jbc.RA120.015360
The Evolutionary Conservation of Escherichia coli Drug Efflux Pumps Supports Physiological Functions
T Teelucksingh*, LK Thompson* & G Cox (2020) Journal of Bacteriology DOI: 10.1128/JB.00367-20
Bacterial Anti-adhesives: Inhibition of Staphylococcus aureus Nasal Colonization
AC Leonard, LE Petrie & G Cox (2019) ACS Infectious Diseases 5(10)
Plazomicin Retains Antibiotic Activity against Most Aminoglycoside Modifying Enzymes
G Cox, L Ejim, PJ Stogios, K Koteva et al., (2018) ACS Infectious Diseases 4(6)
Rox, a Rifamycin Resistance Enzyme with an Unprecedented Mechanism of Action
K Koteva*, G Cox*, JK Kelso*, MD Surette, HL Zubyk, L Ejim, PJ Stogios, A Savchenko, D Sørensen & GD Wright (2018) Cell chemical biology 25, 1-10
A common platform for antibiotic dereplication and adjuvant discovery
G Cox, A Sieron, AM King, G De Pascale, AC Pawlowski, K Koteva & GD Wright (2017) Cell chemical biology 24 (1), 98-109
Rifampin phosphotransferase is an unusual antibiotic resistance kinase
PJ Stogios*, G Cox*, P Spanogiannopoulos, MC Pillon, N Waglechner, T Skarina, K Koteva, A Guarné, A Savchenko & GD Wright (2016) Nature communications 7
Structural and molecular basis for resistance to aminoglycoside antibiotics by the adenylyltransferase ANT(2'')-Ia
G Cox, PJ Stogios, A Savchenko & GD Wright (2015) MBio 6 (1), e02180-14
An unusual class of anthracyclines potentiate Gram-positive antibiotics in intrinsically resistant Gram-negative bacteria
G Cox, K Koteva, GD Wright (2013) Journal of Antimicrobial Chemotherapy 69 (7), 1844-1855
Intrinsic antibiotic resistance: mechanisms, origins, challenges and solutions
G Cox, GD Wright (2013) International Journal of Medical Microbiology 303 (6), 287-292
Ribosome clearance by FusB-type proteins mediates resistance to the antibiotic fusidic acid
G Cox, GS Thompson, HT Jenkins, F Peske, A Savelsbergh, MV Rodnina, W Wintermeyer, SW Homans, TA Edwards, AJ O'Neill (2012) Proceedings of the National Academy of Sciences 109 (6), 2102-2107
Graduate Students:
Laura Thompson (PhD)

Allison Leonard (PhD)

Kirsten Berry (PhD)

Ruina Bao (PhD)

Noah Kuehfuss (MSc)

Laura O'Neill (MSc)

Mallory Wright (MSc)
Postdoctoral Fellows:
Undergraduate Students:
Fabian Bachmann (MITACS Globalink Research Intern)

Adam Weeks (Undergraduate Project)

Sibley Duckert (Undergraduate Project)

Hailey Larkin (Undergraduate Project)
Previous lab members:
James Goetz (NSERC USRA, Undergraduate Project, MSc)

Shawna Zhu (MSc, now Research Technician Whitfield lab)

Eknoor Walia (URA)

Mackenzie Verhoef (Undergraduate Project, MSc, now Research Technician McMaster University)

Tanisha Teelucksingh (MSc, now Research Technician University of Toronto)

Stephanie Gilbert (Lab manager)

Daniela Samuel (Undergraduate Project)

Hansi Botschner (NSERC USRA)

Andres Dumas (MBIOT)

Hiba Shareefden (Research Technician,

now PhD student at APC Microbiome Cork

)

Noah Kuehfuss (NSERC USRA, Undergraduate Project, Technician, now current MSc)

Liam Mullins (Undergraduate Project,

now MSc student at The University of British Columbia

)

Brandon Chin (MBIOT)

Maritza Vatta (Research Technician)

Laurenne Petrie (MSc,

now Technical Sales Specialist Thermo Fisher Scientific

)

Allison Leonard (Undergraduate Project, now current PhD student)

Laura Thompson (Undergraduate Project, now current MSc student)

Austin McElroy (Undergraduate Project)

Cyrille Fanhi (Visiting MSc)

David Achtymichuk (Undergraduate Project)

Hunter Green-Glass (Undergraduate Project)

Phi Pham (Undergraduate Project)

Julia Murphy (Undergraduate Project)

Patricia Karwowski (Undergraduate Project & URA)