Dr. Jasmin Lalonde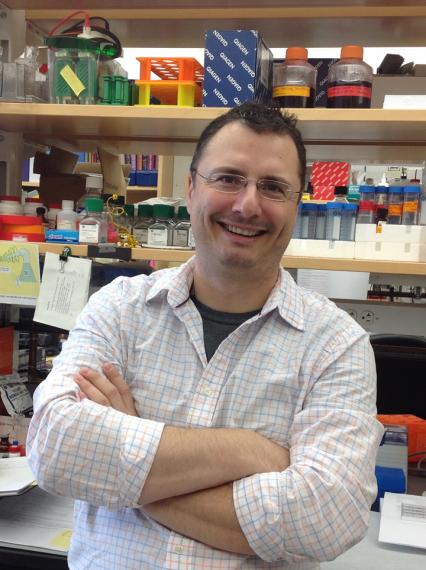 Department of Molecular and Cellular Biology
Join the lab
Positions are available for passionate students who wish to pursue intensive training and research in molecular and cellular neuroscience. Candidates that would like to join as graduate students should send their CV with a brief description of their research interests as well as the contact information of two references to jlalon07@uoguelph.ca.
It was during my first semester as a Psychology undergraduate student at the University of Ottawa that I was introduced to neuroscience and the scientific study of the nervous system. Right away, I was captivated by the intricacies of the brain and the multidisciplinary nature of this branch of biology.
After completing my B.A., I joined the Department of Psychology at McGill University where I did an M.A. in the area of visual psychophysics followed by a Ph.D. focusing on the molecular basis of activity-dependent visual cortex plasticity. At the end of my graduate studies, I received a CIHR Postdoctoral Fellowship to continue my training in molecular and cellular neuroscience in the laboratory of Dr. Grace Gill at Tufts University School of Medicine. During that time, I studied many questions related to calcium signaling and the transcriptional control of gene expression in neurons using primary cell cultures and genetically modified mouse models. As my work at Tufts was reaching its completion, I had the opportunity to prolong my stay in Boston by joining the laboratory of Dr. Stephen Haggarty at the Massachusetts General Hospital (MGH) Center for Genomic Research. There, I gained unique research experience in neuropharmacology, translational neuroscience, stem cell biology, mass spectrometry, and the development of assays adapted for image-based, high-throughput phenotypic screening with primary neuronal cells. While at MGH, I was also an affiliated member of the Stanley Center for Psychiatric Research at the Broad Institute of MIT and Harvard where I collaborated on projects investigating the molecular underpinnings of neuropsychiatric disorders, in particular, bipolar disorder and schizophrenia, with the help of patient-derived induced pluripotent stem cells (iPSCs).
During the summer of 2017, I became a faculty member of the College of Biological Science at the University of Guelph where I lead the Laboratory of Molecular and Cellular Neuroscience.
1999 - B.A. Honours, magna cum laude - University of Ottawa
2001 - M.A. - McGill University
2008 - Ph.D. - McGill University
2007-2012 - Postdoctoral Fellow - Tufts University School of Medicine
2012-2017 - Postdoctoral Fellow - Harvard Medical School / Massachusetts General Hospital 
The morphogenesis of neuronal cells and their organization into functional circuits is a tightly controlled process that follows a series of well-defined steps. Once differentiated and integrated into networks, mature neurons also retain a remarkable capacity to rapidly change the arrangement of their synaptic connections in response to activity, a feature that is believed to critically support cognition as well as our ability to learn and retain information for long periods of time. Accumulating evidence strongly suggests that perturbation of the molecular interactions responsible for the growth of neurons, or the capacity of these cells to adequately respond to activity-dependent signals, contributes to the pathophysiology of different brain disorders such as schizophrenia, intellectual disability, and autism spectrum disorders. Our laboratory aims to elucidate novel effectors and mechanisms that contribute to the development and/or plasticity of neuronal cells. We believe that our basic research into these questions will lead to new insights into the pathogenesis of different brain disorders and potentially help recognize original targets for pharmacological intervention and treatment of these debilitating diseases.
Current areas of research in our laboratory are:
Regulation and function of Store-Operated Calcium Entry (SOCE) in brain development and disease
Post-transcriptional and -translational control of neuroplasticity effector Arc/Arg3.1
Study of the molecular basis of bipolar disorder and schizophrenia with patient-derived iPSCs differentiated in neural progenitor cells (NPCs) and neurons
Brain tumour biology and cancer neuroscience
Cannabis-derived molecules and their influence on neurobiology
Our laboratory uses a multidisciplinary approach to explore these questions, which includes primary neuron cultures, genetic perturbations, calcium and live-cell imaging, confocal microscopy, gene expression profiling, proteomic techniques, as well as patient-derived models of neurodevelopmental disorders.
The Lalonde Laboratory of Molecular and Cellular Neuroscience is currently funded by NSERC, an NARSAD Young Investigator Award from the Brain & Behavior Research Foundation, as well as start-up funding from the University of Guelph College of Biological Science and the Department of Molecular and Cellular Biology.
Tilak M, Holborn J, New LA, Lalonde J, Jones N. Receptor tyrosine kinase signaling and targeting in glioblastoma multiforme. (2021) International Journal of Molecular Sciences 22:1831.
Tilak M, Alural B, Wismer SE, Brasher MI, New LA, Sheridan SD, Perlis RH, Coppolino MG, Lalonde J, Jones N. Adaptor protein ShcD/SHC4 interacts with Tie2 receptor to synergistically promote glioma cell invasion. (2021) Molecular Cancer Research, https://pubmed.ncbi.nlm.nih.gov/33495401/.
Zhao WN, Tobe BTD, Udeshi ND, Xuan LL, Pernia CD, Zolg DP, Roberts AJ, Mani D, Blumenthal SR, Kurtser I, Patnaik D, Gaisina I, Bishop J, Sheridan SD, Lalonde J, Carr SA, Snyder EY, Haggarty SJ. Discovery of suppressors of CRMP2 phosphorylation reveals compounds that mimic the behavioral effects of lithium on amphetamine-induced hyperlocomotion. (2020) Translational Psychiatry, 10:76.
Zimmerman AJ, Hafez AK, Amoah SK, Rodriguez BA, Dell'Orco M, Lozano E, Hartley BJ, Alural B, Lalonde J, Chander P, Webster MJ, Perlis RH, Brennand KJ, Haggarty SJ, Weick JP, Perrone-Bizzozero N, Brigman JL, Mellios N. A psychiatric disease-related circular RNA controls synaptic gene expression and cognition. (2020) Molecular Psychiatry, http://doi.org/10.1038/s41380-020-0653-4.
Jagtap S, Thanos, J, Fu T, Wang J, Lalonde J, Dial T, Feiglin A, Chen J, Kohane I, Lee J, Sheridan SD, Perlis RH. Aberrant mitochondrial function in patient-derived neural cells from CDKL5 deficiency disorder and Rett Syndrome (2019) Human Molecular Genetics, 28:3625-3636.
Robeson HN, Lau HR, New LA, Lalonde J, Armstrong JN, Jones N. Localization of phosphotyrosine adaptor protein ShcD/SHC4 in the adult rat central nervous system. (2019) BMC Neuroscience 20:57.
Zhao WN, Ghosh B, Tyler M, Lalonde J, Joseph NF, Kosaric N, Fass DM, Tsai LH, Mazitschek R, Haggarty SJ. Class I histone deacetylase inhibition by Tianeptinaline modulates neuroplasticity and enhances memory. (2018) ACS Chemical Neuroscience 9:2262-2273.​
Lalonde J, Reis SA, Sivakumaran S, Holland CS, Wesseling H,  Sauld  J,  Alural  B, Steen J, Haggarty SJ. (2017)  Chemogenomic analysis reveals key role for lysine acetylation in regulating Arc protein stability. Nature Communications 8:1659.
Iaconelli J*, Lalonde J*, Watmuff B, Liu B, Mazitschek, Haggarty SJ, Karmacharya R. (2017) Histone deacetylase inhibitors modulate AKT activity in human iPSC-derived neuronal cells. ACS Chemical Biology 12:2139-2149.
Tobe BTD, Crain AM, Winquist AM, Calabrese B, Makihara H, Zhao WN, Lalonde J, Nakamura H, Konopaske G, Sidor M, Pernia C, Yamashita N, Wada M, Inoue Y, Nakamura F, Sheridan SD, Logan R, Brandel M, Wu D, Hunsberger J, Dorsett L, Duerr C, Basa RCB, McCarthy M, Udeshi N, Mertins P, Carr SA, Rouleau G, Mastrangelo L, Li J, Gutierrez GJ, Brill LM, Venizelos N, Chen G, Nye JS, Manji H, Price J, McClung C, Akiskal HS, Alda M, Chuang DMM, Coyle J, Liu Y, Teng YD, Ohshima T, Mikoshiba K, Sidman RL, Halpain S, Haggarty SJ, Goshima Y, Snyder EY. (2017) Lithium-response pathway in hiPSCs implicates the phosphoregulatory set-point for a cytoskeletal modulator in bipolar pathogenesis. Proceedings of the National Academy of Sciences 114:E4462-E4471.
Bavamian S*, Mellios N*, Lalonde J*, Wang J, Sheridan SD, Madison JM, Zhou F, Fass D, Rueckert EH, Barker D, Perlis RH, Sur M, Haggarty SJ. (2015) Dysregulation of miR-34a links neuronal development to genetic risk factors for bipolar disorder. Molecular Psychiatry 20:573-584.
Lalonde J, Saia G, Gill G. (2014) Store-operated Ca2+ entry promotes the degradation of transcription factor Sp4 in resting neurons. Science Signaling 7(328):ra51. doi:10.1126/scisignal.2005242. Featured in: Neuronal STIMulation at rest. Science Signaling 7(335):pe18. doi:10.1126/scisignal.2005556.
Saia G, Lalonde J, Sun X, Ramos B, Gill G. (2014) Phosphorylation of transcription factor Sp4 is reduced by NMDA receptor signaling. Journal of Neurochemistry 129:743-752.
Pinacho R, Villalmanzo N, Lalonde J, Haro JM, Meana JJ, Gill G, Ramos B. (2011) The transcription factor SP4 is reduced in postmortem cerebellum of bipolar disorder subjects: Control by depolarization and lithium. Bipolar Disorders 13:474-485.
Postdoctoral Fellow
Tristen Hewitt
Alicia Walczyk-Mooradally
Yamna Rizwan (co-supervision with Prof. Elena Choleris, Psychology)
Jennifer Holborn
BIOL*1090 – Introduction to Molecular and Cellular Biology
NEUR*3100 – Molecular Mechanisms of Neurological Disorders
MCB*6500/7500 – MSc/PhD Research Topics in MCB