Previous Features
Mara Goodyear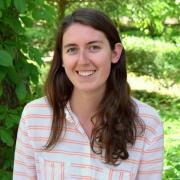 Ph.D. candidate, Khursigara Lab, MCB
Tell us a little about yourself...
"I completed my BSc in Microbiology at Guelph and then started my PhD in the MCB department. I am researching antibiotic resistance in the bacterium Pseudomonas aeruginosa. I use a combination of microbiology, biochemistry, and microscopy techniques in my project. Outside of my research I'm involved with science outreach with Let's Talk Science and enjoy playing frisbee and volleyball."
What is some advice you would like to give prospective students looking to join the MCB department?
"Meet with potential advisors and grad students in their lab to learn more about the research and work environment. Always remember that your research is contributing to solving a larger problem. This perspective is important on days when your experiments aren't working as expected!"
Tell us a bit about your relationship with your advisor?
"My advisor is very supportive and our lab group is great at collaborating with each other and helping each other learn new lab techniques. My advisor also encourages us to have interests outside of the lab and pursue other opportunities outside of our research."
Explain life as a graduate student at Guelph.
"In a typical week the majority of my time is spent planning experiments, doing lab work, and analyzing data. In addition to this, grad students work as teaching assistants, mentor undergraduate students completing research projects, and attend lab meetings and research seminars in the department. There are also so many ways to get involved on campus and in the city and I would highly recommend finding clubs, volunteer opportunities, or sports teams that interest you."
What is your favourite thing about the City of Guelph?
"My favourite thing about Guelph is all of the green space! I enjoy birding and being outside in my spare time and there are many great places to do this, including the Arboretum on campus."
How will the research you are doing today improve life?
"I am studying antibiotic resistance in the bacterium Pseudomonas aeruginosa. This bacterium can cause infections in people with compromised immune systems, such as people with burn wounds or the genetic disease cystic fibrosis. I am trying to figure out how the bacteria are able to survive treatments with antibiotics. We hope that by understanding how the bacteria are able to survive we can find new ways to target them in order to treat infections."
What is one of your most memorable moments at UoG?
"The first time I used a scanning electron microscope to look at the bacteria I'm studying magnified at 20,000x was very cool! A lot of other memorable moments have been through being involved with science outreach with the organization Let's Talk Science. These outreach activities with kids and youth at community events, public libraries, and on campus have been a great way to connect with the Guelph community and always remind me how fun science can be and why I started grad school in the first place!"
What are your plans after you graduate?
"I enjoy working in a research environment so I am planning to complete a postdoc after I graduate. Beyond that I'm still not sure!"