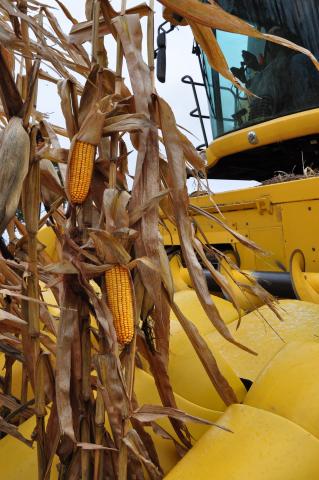 By Alicia Bowland
Will current Canadian agricultural government programming be sufficient in the case of a second outbreak of COVID-19?
In these uncertain times, farmers and agribusinesses face unprecedented obstacles that challenge current risk management strategies. Black swan events – rare and unpredictable events, like the COVID-19 pandemic -- are almost impossible to plan for.   
Business Risk Management (BRM) programs that are part of the Canadian Agricultural Policy framework -- AgriInvest, AgriStability, AgriInsurance and AgriRecovery – were created to help farmers manage weather-related risks and weather events to protect their production and crops.
They've succeeded, says Prof. Alan Ker, OAC Research Chair in Agricultural Risk and Policy and Director of the. Institute for the Advanced Study of Food and Agricultural Policy in the Department of Food, Agricultural and Resource Economics at University of Guelph. But they weren't designed with a global pandemic in mind.
Ker says the most notable risks for farmers that will stem from the COVID-19 pandemic are border closures, transportation issues, labour issues, and consumer income losses.
"In addition to agricultural risk, the COVID-19 pandemic has provided excessive fodder for intense but unjustified rent-seeking and alternative agenda enhancing efforts," he says. "To date the government response has been appropriately measured."
Under the current BRM programs, losses resulting from the pandemic-related challenges may not be enough to trigger claims for coverage. Ker expects that the result of this will be that many farmers will have to self-insure in terms of production and labour losses.
So far, policy responses from the federal government have included $50 million in financial assistance for farmers who are bringing in foreign workers during the pandemic. That's been especially helpful in the horticultural sector, where a large portion of foreign temporary agricultural workers are employed.
Certain sectors may experience more losses than others, or more gaps where farmers will have to cover those losses. Some predictions have surfaced lately about Canada losing a significant number of farmers.
However, Ker anticipates that generally the agriculture industry and the Canadian food system will weather these challenges and that the public should not expect significant shortages, whether the government steps in or not. Besides potential minor price increases from the added farm to table processes, Ker points out that consumers will continue to get the food they need.
"Despite the disruptive nature of the pandemic, the industry's response is a great demonstration of the resilience of our food system," says Ker.
A research paper about Ker's analysis can be found here: https://onlinelibrary.wiley.com/doi/full/10.1111/cjag.12232 in a special edition of Canadian Journal of Agricultural Economics.