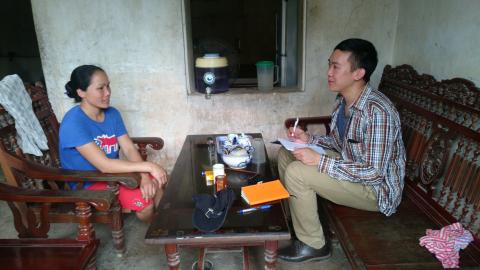 By Amy Westlund
Growing prosperity in Vietnam has led to increased agricultural intensification - along with its associated health risks. University of Guelph researchers in partnership with Vietnamese colleagues are trying to help Vietnamese officials identify the risks and research gaps involved with this agricultural intensification.
Steven Lam, a Master of Public Health student from the Department of Population Medicine, says rapid economic growth in Vietnam increases the demand for meat products. This both increases the demand for livestock production and increases livestock waste output.
The problem is that current waste management technologies may not be able to keep up the pace.
"It's important to understand that agriculture and health are linked," says Lam, "and it's crucial to know exactly how agricultural practices impact human health."
Lam's project contributes to a larger Ecohealth Field Building Leadership Initiative in Vietnam implemented by the Center for Public Health and Ecosystem Research – Hanoi School of Public Health, an initiative to improve human and animal waste management using an Ecosystem approach to health (Ecohealth). His project will enhance the understanding of the health risks connected to current agricultural waste management practices to better inform research, new policies and procedures.
During a three-month research visit in Vietnam earlier this year, Lam identified diarrhea, skin infection, and parasitic infection as potential health risks related to agricultural intensification. He says they are due in part to exposure to contaminants during agricultural waste management practices.
Lam was stationed in Hanoi and conducted fieldwork in the Hoang Tay commune in Ha Nam province (60 kilometres from Vietnam's capital city), an area that focuses on livestock production.  He undertook a literature review, as well as interviewed key stakeholders and community members, focusing on their perceptions of human and animal waste management.
"It was important to incorporate community perspectives, because they are the people directly involved in the issue," says Lam.
He found that the majority of the people in Hoang Tay knew about the health risks associated with their current agricultural waste management practices. The widespread open sewage systems are also a concern, due to the foul smell and biohazard potential.  
However, it's difficult for farmers there to address these health risks by upgrading their technology because of the expenses involved. And those who have more efficient technology, such as biogas waste management tanks, sometimes overload them due to intensification. 
Most livestock producers in the study site have relatively small operations and mainly focus on pork, typically 10 pigs or less. With the increased demand for meat, pork producers are increasing the stocking density of their livestock with similar inputs of time, energy and management practices.
Lam believes solutions for these problems are attainable. These could include organizing workshops to increase farmers' knowledge of the issues and current best management practices, and giving support to build better drainage systems.
This research project was developed in collaboration with Department of Population Medicine Dr. Sherilee Harper, Dr. Tran Thi Tuyet Hanh from the Hanoi School of Public Health, and Dr. Nguyen Viet Hung from the International Livestock Research Institute.
Funding was provided by the Mitacs Globalink Research Award.