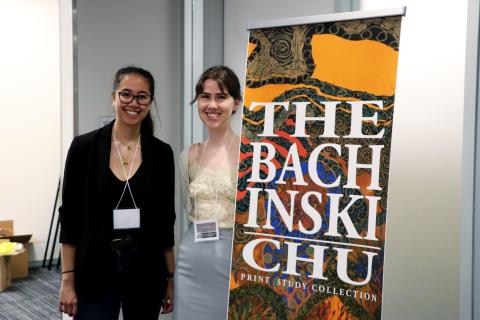 By Mya Kidson
Science and art are often viewed as different disciplines — but they have always been intertwined, and today, more so than ever before.
A University of Guelph project shows that learning skills in conducting formal analysis on works of art can help professionals, even with little arts background, to improve performance in visual observation. This form of analysis examines the elements of a work of art—including line, form, shape, space, texture, and color—that form the structure of what is perceived through human eyes. 
Dr. Christina Smylitopoulos, a professor in the School of Fine Art and Music (College of Arts), and research assistants Nakita Byrne-Mamahit and Anna Sutton, held a workshop for students and researchers from science, technology, engineering, and math (STEM) as well as arts disciplines. 
The group examined works in U of G's Bachinski/Chu Print Study Collection and discussed their diverse interpretations.  Located in Zavitz Hall on campus, the collection consists of 2,200 fine art prints dating from the 16th century to today.
"We all look at works of art differently," says Smylitopoulos. "What I may find important, someone else may not even notice. And knowing this can be helpful when researchers evaluate how they collect visual data in STEM sectors."
The project, Artful Encounters -- Sites of Visual Inquiry, aimed to gain insight into those differences. 
"As an undergraduate arts student, I am aware of the perceived barriers between the arts and STEM," says Sutton. "Students and faculty from these disciplines rarely have the opportunity to connect and collaborate."
In one of several exciting sessions led by an international group of museum educators, workshop participants chose works from the collection to examine and were then asked to describe the formal elements of the pieces without drawing any conclusions about what they observed. A challenge for many participants, the goal was to force them to evaluate how much they rely on unexamined conjecture when they observe their surroundings.
They then discussed the exercise.
"I'd initially felt that conversations between members from such different backgrounds might be challenging," says Sutton. "However, these discussions turned out to be some of the most valuable components of the workshop, and they engaged the curiosity of all the participants."
While the main goal for this project was to learn more about the applications of arts-related skills in sciences, researchers and participants took away much more. 
STEM participants were interested in learning about how arts-based interpretive methods could help in developing their own practices in teaching and research and were also eager to learn more about the potential of these skills for other aspects of STEM work. 
The researchers discovered that STEM professionals face challenges in calibrating data collected visually across researchers and time and can often rely on what they expect to see, or what they are drawn to see at any given moment, rather than what is most significant in their fields of vision. 
Integrating methodologies of examining art into the mix can help STEM professionals observe and interpret their objects of analysis in more diverse ways. 
There is no right or wrong way to look at art, but there are ways to train the eye to examine things more effectively. Training in formal analysis can challenge STEM professionals to begin looking at the bigger picture with greater skill and confidence. 
"Through this research, we found that arts-based programs are crucial to offering tools that enhance visual observation," says Byrne-Mamahit. "This is not only important for individuals from the arts disciplines but also STEM." 
This research shows the importance of integrating arts and STEM, says Smylitopoulos. Although many STEM fields require visual observation, there are relatively few opportunities for students training in STEM to improve their skills in this area. 
Without a methodology, valuable data can be excluded from the scientific process. These and other issues will be explored in a series of workshops beginning in the Fall 2021 term and the research team is looking for participants. For those interested, please contact Nakita Byrne-Mamahit: nbyrnema@uoguelph.ca.
"I've found that people leave with an increased appreciation for the arts and how difficult it is to interpret work," says Smylitopoulos. "I like to think of this gallery as a laboratory – it's a place for constant experimentation, for learning, and for engaging with art with a wider scope."
A comprehensive summary of this research, with photos and details of the works chosen, can be found on the University of Guelph Atrium website.
This project is supported by the Social Sciences and Humanities Research Council of Canada; the University of Guelph Office of Research, as well as U of G's Office of Graduate and Postdoctoral Studies; the College of Arts; the School of Fine Art and Music; and an Ontario Ministry of Research, Innovation and Science Early Researcher Award.