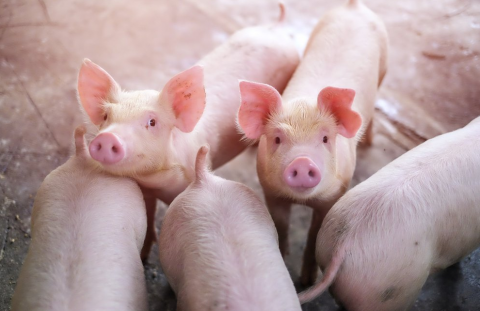 By Dianne Priamo
The economic turmoil brought on by COVID-19 has not spared Canada's pork industry, a sector that depends significantly on export markets. A U of G professor says open trade and a healthy labour force will be key to the sector's recovery.
Prof. Ken McEwan warns that there would be huge economic repercussions and food security issues if protectionism or import restrictions were enacted to help the pork sector, which is grappling with a $675-million loss this year according to industry estimates.
"It is of upmost importance to maintain open trade between Canada and nations abroad for the sake of essential agricultural industries such as pork," said McEwan. "The economic turmoil caused by closed borders would be hard to recover from."
A whopping 1.3 tonnes of pork worth $4.2 billion were exported from Canada just last year, while domestic consumption only accounted for 32 per cent of total pork production. The U.S. is an important player in the Canadian pork market; one quarter of Canada's total pork exports go there. With the border closed to travel, some are also suggesting it be closed to trade, to encourage consumers to buy Canadian.
Likewise, Japan and China are also big Canadian pork importers, at 21 per cent and 20 per cent of total exports, respectively. 
McEwan says lockdowns like the one implemented in Wuhan, China could have similarly disastrous effects on the industry.
"Interruptions to such a large portion of exports will cause financial repercussions along the entire value chain," he says, adding that open borders and trade reduce the economic impact of the pandemic on the pork sector, says McEwan. Open borders protect the economic prosperity of the industry and its ability to serve consumers and helps contribute to food security of both producers and consumers.
Efforts to support the sector are particularly important now, he says.. The impacts of illness, fear, social distancing measures and some travel restrictions on foreign workers are causing labour shortages across the supply chain. Processing plant closures are impacting producers' abilities to sell livestock.
"Processing facility closures, even for only a two-week period, can lead to a surplus in livestock that forces producers to sell to other plants at a reduced cost," says McEwan. 
He says he hopes the Canadian government's support for agriculture, such as increasing credit availability and reducing operating costs, will help the pork sector stay buoyant during this time of crisis.
"The COVID-19 pandemic is a dynamic and unpredictable situation," he says. "Ultimately, only time will tell the overall impact."
A research paper about McEwan's study can be found here: https://onlinelibrary.wiley.com/doi/abs/10.1111/cjag.12236
This research story is from one of 18 articles on various aspects of COVID-19 and the Canadian agriculture and food sectors, in a special edition of the Canadian Journal of Agricultural Economics.